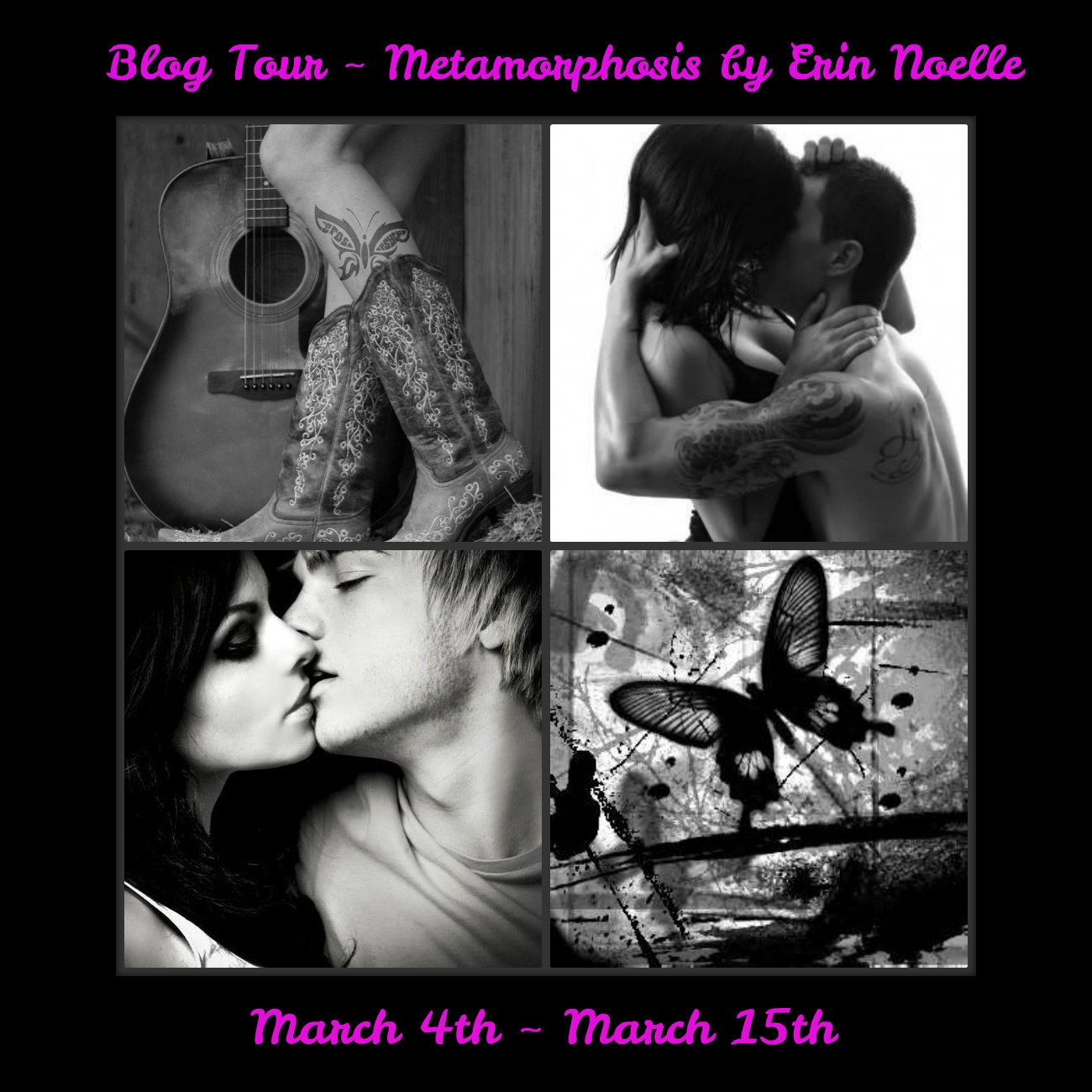 We are excited to be participating in the blog tour for new author Erin Noelle and her debut novel Metamorphisis.  Stop by our blog on March 15th for our review and to enter to win some awesome giveaways!
Blurb
Scarlett MacGregor has lived a very sheltered life courtesy of her over-the-top controlling parents. Having never been to a co-ed party, much less on a date, Scarlett has relied on her books, her music, and living vicariously through her best friend Evie to keep her sanity as she's patiently awaited her freedom from their rule.
When Scarlett and Evie go away to college, Scarlett quickly meets Ashton, Dylan, and later, Mason, and is thrown into a crash course of like, love, and lust. With Evie's help, she must figure out the difference in the three and which one she wants before she ends up without any of them.
Metamorphosis is the story of Scarlett's transformation from a young, naive girl to a strong, mature young woman and her search for self-discovery and true love.
Recommended for readers 17+ due to sexual content and harsh language.
Sequel to Metamorphosis, Ambrosia, set to release later in 2013.
Tour Schedule
March 4th ~ Sugar and Spice Book Reviews
March 5th ~ Reality Bites, Let's Get Lost
March 6th ~ First Class Books and Fab, Fun, and Tantalizing Reads
March 7th ~ The Little Black Book Blog
March 8th ~ Stick Girl Book Reviews and Wofel's World of Books
March 9th ~ Swoon Worthy Books
March 10th ~ Book Crush
March 11th ~ An Asian & White Chick Walk Into a Book Blog and Flirty and Dirty Book Blog
March 12th ~ Natashia is a Book Junkie and Angie's Dreamy Reads
March 13th ~ The Book Enthusiast and Becca the Bibliophile
March 14th ~ Smardy Pants Book Blog
March 15th ~ My Secret Romance and Shhh Mom's Reading