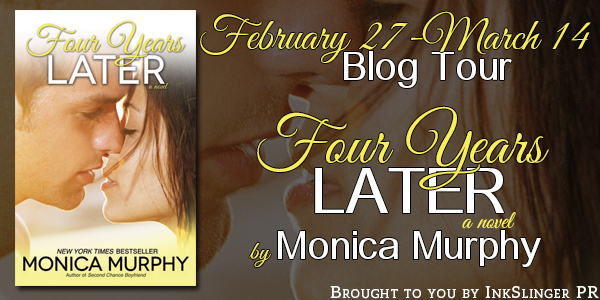 Today we welcome Monica Murphy to our blog as she celebrates her new release FOUR YEARS LATER! We have been waiting for Owen's story! Make sure to enter for a chance to win some amazing giveaways below! Good luck!!!
---

New Adult bestselling author Monica Murphy winds up her sensational series with this sexy story of two college kids with nothing in common but a bunch of baggage and a burning attraction.
Over. That about sums up everything in my life. Suspended from my college football team and forced to cut back my hours at The District bar because of my crappy grades, I can't keep turning to my sister, Fable, and her pro-football playing husband, Drew, to bail me out. I just can't seem to find my own way. Weed and sex are irresistible temptations—and it's messed up that I secretly hand over money to our junkie mom. A tutor is the last thing I want right now—until I get a look at her.
Chelsea is not my type at all. She's smart and totally shy. I'm pretty sure she's even a virgin. But when she gives me the once over with those piercing blue eyes, I'm really over. But in a different way. I won't deny her ass is killer, but it's her brain and the way she seems to crave love—like no one's ever given her any—that make me want her more than any girl I've ever met. But what would someone as seemingly together as her ever see in a screwed up guy like me?

She gives me directions to her apartment in this subdued voice that makes me nervous. Why, I'm not sure but she's scarily quiet, keeping her head bent, her fingers busy as they scrape across the tops of her thighs. Back and forth, back and forth in this rhythm I can hear since she's dragging her nails along the denim.
I check out her legs when I hit the brakes at a stoplight. She has slender thighs. Thighs I wouldn't mind grasping hold of and spreading. Just for me. Just for her. I bet no guy has ever stepped between her thighs before. Placed their hands on them and pushed her wide open. I have a feeling I'd be her first.
For whatever strange reason, I like this. Makes me feel all possessive and shit.
The light turns green and I hit the gas extra hard, making the car jerk as it lurches forward. I can feel Chelsea's eyes on me. She's probably wondering what is wrong with me and I can't give her an answer. I have no freaking clue what's wrong with me.
Yeah you do. She's what's wrong with you.
Within minutes I'm driving into the parking lot of her apartment building, pulling into an empty spot. She climbs out of the car without a word and I do the same, following her as she walks down the sidewalk, cuts across the grass.
"I got this," she calls over her shoulder. "Thanks for the ride."
Now she's dismissing me? Screw that noise. "I'm not going to let you walk into the darkness and disappear without at least making sure you get to your front door."
She stops and turns on me, her expression downright ferocious. "So what? You're a gentleman now? Give me a break. Like you care. You won't even answer me when I ask you a question."
Jesus. So we've circled back to that again? I know exactly which question she's talking about too. "You don't want the answer. Trust me." I already told her what they thought she was to me.
An easy lay. She's not though. Not at all.
"Actually, I do. I'd love the answer." She marches toward me, her eyes blazing with indignation. She's furious and beautiful and when she reaches out to shove at my chest, my entire body reacts at her touch.
"I already told you. They think I'm going to try and get into your panties," I say, wincing the moment I blurt out the words. I'm putting it mildly. Wade's been on me since he realized I didn't screw one of the tramps he brought over last weekend. I woke up Sunday to his endless crap. He thinks I'm hot for Chelsea.
His thinking would be correct.
She stills, her eyes going wide. "Are you?"

New York Times and USA Today bestselling author Monica Murphy is a native Californian who lives in the foothills below Yosemite. A wife and mother of three, she writes New Adult and contemporary romance for Bantam and Avon. She is the author of One Week Girlfriend and Second Chance Boyfriend.
---
Series Reading Order
Book 1 – One Week Girlfriend

Book 2 – Second Chance Boyfriend

Book 3 – Three Broken Promises

Book 3.5 – Drew + Fable Forever

Book 4 – Four Years Later

---