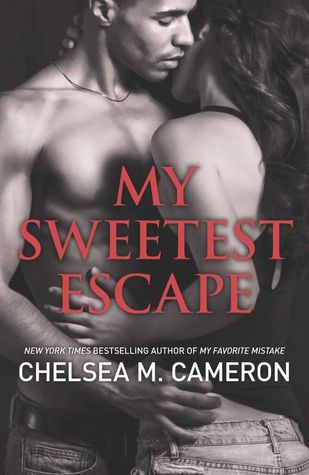 Today we welcome Chelsea M. Cameron to our blog as she celebrates her new book MY SWEETEST ESCAPE.
Enjoy an excerpt below and make sure to enter the giveaway!
---

The past will always find you.
Jos Archer was the girl with the perfect life; until the night it all came crashing down around her. Now, nine months later, she still hasn't begun to pick up the pieces. Even transferring to a new college and living under the watchful eye of her older sister, Renee, isn't enough to help her feel normal again.
And then she meets Dusty Sharp. For reasons Jos can't begin to fathom, the newly reformed campus bad boy seems determined to draw her out of her shell. And if she's not careful, his knowing green eyes and wicked smile will make her feel things she's no longer sure she deserves.
But even as Dusty coaxes Jos to open up about the past, he's hiding secrets of his own. Secrets about the night her old life fell apart. When the truth is finally revealed, will it bring them closer together;or tear them apart for good?

"Hey, Dusty, you wanna give me a hand, man?"
"Sure," a guy said, coming around the corner. "Hey, Tay," he said, smiling at Taylor. "And…Red, we meet again," he said with an even wider smile for me. Seriously?
"You two know each other?" Taylor said, giving me a look. I knew what that look meant, and I knew what it implied, and I had to shut that down before it went any further.
"No," I said at the same time the guy, who was apparently named Dusty, said, "yes."
"We're acquainted," Dusty said with another wink. Jesus, he thought he was God's gift, didn't he?
"We met. Once," I tried to clarify.
"Where?" Taylor said. Hunter hadn't said anything, but he was looking at Dusty and then looking at me, and I could feel my ears getting hot. One of the major downsides of being a redhead is that when you get uncomfortable or embarrassed, you broadcast it to the world. Which was what I was currently doing. Dusty seemed to get a kick out of it. D-bag.
"It was at the hospital the other night. So, um, I think that's everything. We should probably go," I said, leaning down to pick up the basket. I was determined to get it myself. A set of arms beat me to it.
"Let me get that, little lady," Dusty said as I looked up to find our faces only inches apart. He laughed a little under his breath and I stood up so fast the blood rushed to my head.
"I don't need your help."
He looked like he was going to make a snappy comeback, but he just ducked his head.
"Well, you've got it anyway."
"Okay, then. Ready to go?" Taylor said, taking my arm and steering me toward the checkout counter. I heard Hunter and Dusty talking behind me and I distinctly heard Hunter tell Dusty my name. Like it was any of his business.
After I checked out and gave the UMaine bookstore a good chunk of my bank account, we carried the books back to Hunter's car. Of course, being the always-helpful guy he was, Dusty had to come, too.
"So Hunter tells me you're enrolling here," he said as we put the books in the trunk. Taylor and Hunter were deep in discussion, probably about me.
I just nodded.
He leaned against the car. "Look, I appreciate you've got this whole, 'don't touch me, don't look at me, don't even fucking think about me,' thing going on, but I'm just trying to be nice. You could, you know, thank me for it."
"Thank you," I said, giving him a completely fake smile. Yes, I knew I was being a complete asshole to this guy, but there was something about him that just made me grit my teeth. There was also something familiar that had gotten under my skin and was itching like crazy.
He shook his head.
"Okay, fine." He started to walk away.
"Hey," I said, and he stopped. "I'm sorry I'm such an asshole. It's kind of my thing." I laughed at the truth of it.
"No, I don't think it is," he said, looking at me intently with those green eyes that seemed to see everything. "See you tomorrow, Hunter?"
"Right," Hunter said, as if he'd just remembered something. "Tomorrow."
"Bye, Red," Dusty said, walking backward with his hands in his pockets.
"Bye," I said, closing the trunk of the car.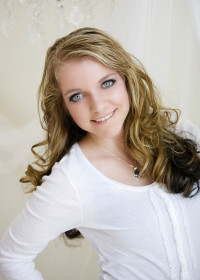 Chelsea M. Cameron is a YA/NA New York Times/USA Today Best Selling author from Maine. Lover of things random and ridiculous, Jane Austen/Charlotte and Emily Bronte Fangirl, red velvet cake enthusiast, obsessive tea drinker, vegetarian, former cheerleader and world's worst video gamer. When not writing, she enjoys watching infomercials, singing in the car and tweeting (this one time, she was tweeted by Neil Gaiman). She has a degree in journalism from the University of Maine, Orono that she promptly abandoned to write about the people in her own head. More often than not, these people turn out to be just as weird as she is.
Her New Adult Contemporary Romance titles include My Favorite Mistake, which has been bought by Harlequin along with a sequel, Deeper We Fall and Faster We Burn (April 20, 2013)
Her Young Adult books include Nocturnal, Nightmare and Neither, the first three books in The Noctalis Chronicles. The fourth and final book, Neverend will be out in 2013. Whisper, the first in The Whisper Trilogy is also available, with the second book in the series, Silence and the final book, LIsten coming out in 2014.
---

Series Reading Order
Book 1 – My Favorite Mistake

Book 2 – My Sweetest Escape