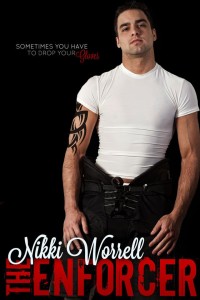 Today we welcome Nikki Worrell to our blog as she celebrates her new book The Enforcer which released on May 11th.
Enter for a chance to win some awesome giveaways below.
---
Synopsis
Lacey Benoit is in need of a fresh start. Her best friend, Dr. Zoe Millis, has been begging her to make the move from Maine to California. Taking a leap of faith, Lacey does just that.
Living in San Diego definitely has its perks, such as, sunshine and beaches. The best part of moving to the west coast, however, is that Steven is still on the east coast. Catching your almost husband having sex with one of your bridesmaids on your wedding day would make even the strongest woman jaded. Therefore, Lacey has sworn off men for a while, especially men who travel a lot that have easy access to loose women.
When Lacey meets the new enforcer for the San Diego Scorpions, she thinks she might be in trouble. But she is determined to fight her attraction to the sexy NHL hunk. And she is successful…for about a day.
EXCLUSIVE Prologue to Goalie Interference (book 2)
Prologue to Goalie Interference

(This piece has not gone through final editing and may change by the time it is published)

Two years ago …

Vlad Bejsiuk (Bay-schick), a Ukrainian goalie for the NHL's San Diego Scorpions, was on his way to see a doctor. Periodic therapy sessions with the team's sports psychologist were mandatory for the players, which was the only reason he was standing outside Dr. Zoe Millis' door.

He had put off going for as long as he could. Therapy sessions were the bane of his existence. It took him over a year to get used to Dr. Phillips and then she quit, becoming a stay-at-home mom. He was happy for her, but he didn't like change.

Dr. Millis' office was in her house, instead of at the rink where he had previously gone for his sessions. Taking a calming breath, he raised his hand to push the doorbell. Before he actually hit it, he got a look at the new doctor through the glass.

Nice …

The first thing he noticed was a faint pink streak in her pixie cropped hair. She was on the short side, which he loved. Her arms were toned, and her legs and ass looked incredible in jeans that hugged her like a second skin. He got all of that from just a quick peek at her as she walked into the hallway and bent down to pick something up off the floor.

When she stood back up, Vlad got a nice view of her head on. She jumped back, throwing her hand over her heart in surprise when she saw him standing on the other side of the door. He still couldn't seem to make himself push the doorbell.

As she walked toward him, he checked out her breasts. They were small and fit her petite frame perfectly. Vlad was more of an ass guy anyway. He forced himself to stop ogling her and pasted on what he hoped passed as a friendly smile.

***

When Zoe saw a man standing at her door, staring at her, her heart just about jumped out of her chest. It took her a second to recognize the Scorpions goalie. The only times she'd seen his face were when he was being interviewed after a game. Other than that, he had his goalie mask on so he wasn't as immediately recognizable as some of the other players.

Since she had noticed the way he checked her out, Zoe thought it might be a good idea to establish professional boundaries with him right from the start. She gave him a slight smile as she opened the door and introduced herself. "Hi, I'm Dr. Millis."

Vlad shook her hand as he took a step towards her. "Zoe, right?"

Keeping her smile intact, she said, "Let's stick to Dr. Millis for now. Come on in, and we'll get started." Zoe led the way through her kitchen to the rear of the house where her office was. "Have a seat, Vlad."

"I think we can stick to Mr. Bejsiuk for now."

Zoe's smile was real when she said, "Touché, Mr. Bejsiuk. I didn't mean to offend you; I just like to keep a professional relationship with my clients." That was actually not true. The real truth was that Zoe hated being so stuffy, but she was taught in school to keep a professional distance from her clients. Be nice but not overly friendly; Caring but not to the point of emotional attachment. She was starting to think that approach might not work for her. Maybe it was because she was working with athletes. They were mostly laid back, and treated everyone like a buddy. Vlad could be her first experiment on a new way to interact with her clients that was less stuffy, but still professional.

As they took their seats, Zoe in one chair with Vlad in another facing her, she asked him how he felt the season was going. He had one of the best records in the league that year, and seemed like he was happy and healthy.

"My win record can tell you how the season is going. I'm having a hell of a year, and our defense is the reason for that. The team's hot so far. I don't have any issues to talk about yet. I'm only here for my periodic, mandatory session to meet the new shrink." He winked at her, trying to get her on a more personal level.

"Fair enough," Zoe said. "How about if you tell me a little about yourself? I'd like to get to know you." Zoe knew the basics, but she purposefully stayed away from the sports pages and gossip rags. She'd rather form her own opinion directly from the source. "From your name and your accent, is it safe to assume that you're Russian?" His accent was slight, but could still be detected. She wanted to hear him speak more.

"Close. I'm actually from the Ukraine. I do speak Russian though since I'm from the south. Most of the people in Southern and Eastern Ukraine speak Russian. The rest speak Ukrainian, but the languages are very similar. Russian is a bit more … polished I guess." Most people lumped the Ukraine in with Russia. The people looked the same and sounded the same to outsiders.

"Your accent is so slight. Most of the Russians, or Ukrainians, in the NHL can be hard to understand. Where did you learn to speak English?" Zoe had always found it amazing that people could be fluent in more than one language. It was very impressive.

"My mother is English and my father is Ukrainian. I learned both languages growing up. It wasn't hard because I was taught both from the time I was born." Vlad didn't think he could have spoken two languages if he hadn't been taught from birth. A scholar, he was not. Thank God he was good at hockey. "How about you Zoe? Where do you come from?"

Zoe noticed that he didn't call her Dr. Millis, but she let it go. "My parents were both from Maine. Both Heinz 57 varieties, so that makes me quite a mix. Mostly Irish I guess. Some English, Scottish, German …" Zoe trailed off with a wave of her hand.

"Were? Where are they now?" Vlad couldn't imagine that she'd lost both her parents. She couldn't be more than 30, if that.

"Both of my parents died when I was thirteen. They were coming home from a dinner party at their friend's house and a guy in one of those huge pickup trucks ran a red light. I was told they didn't suffer, so that's one thing I guess." Zoe still didn't like talking about it. It had been a little over 15 years, but she'd always have an empty spot in her heart for her parents. They had been a close family. She still had her brother, Aidan though. He had made the move from Maine to San Diego with her when she got the job with the Scorpions.

Vlad couldn't imagine losing his parents like that. It must have been a horrific time in her life. "I'm really sorry to hear that. Who raised you after that?"

Zoe thought about telling him the rest of her story, but she could see that this session was getting a bit off track. "A family member. Anyway, let's get back to you. Is there anything that you'd like to accomplish that you haven't yet in your career?"

Vlad was enjoying getting to know Zoe and he frowned. "Okay, so I guess we're done talking about you." Sighing, he continued. "Well, obviously I'd like to win the cup before I retire. I'm already thirty-six and there are tons of young guns coming up through the ranks. I can't say it's not intimidating."

"Are you thinking about retirement now?"

Vlad laughed. "Good God, no. Not right now anyway. I'm at the top of my game; it's just something that's in the way back of my mind. At the end of the day, my hips are sore and my groin, well, being a goalie is particularly tough on those areas."

"I can't imagine how you feel after a game. I'm a runner and I'm already starting to feel some aches and pains that I didn't used to have. I'm only thirty-one, but I'm not twenty anymore. Time catches us all I suppose." Zoe had always loved to run. She stared in high school, lettering in track and she never looked back. She'd even run a couple of marathons. The first one she'd run was in Philadelphia, and it was a total rush!

"It's all good for now. I can deal with some aches and pains. The pros far outweigh the cons." Vlad couldn't imagine doing anything else. Hockey was his life.

Zoe glanced at the clock and was surprised to see that their session was over. "Well Vlad, it was a pleasure to meet you. You'll be happy to know that you survived your first mandatory session." Zoe gave him a smile and got up to show him out.

When they got to the door, Vlad took her hand in both of his. "It was great to meet you, Zoe. I don't like having to come to these sessions, but I think you may make it just a bit more bearable for me." He rubbed his thumb over the back of her hand as he released her and walked out the door.
About the Author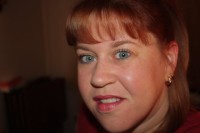 I am a hockey fan (Go Flyers!) who loves to read. And now I am enjoying writing. What do I write about? Hockey and men. Really, is there anything better?
I live in Hammonton, NJ with my husband of over 18 years. It's not always easy but it's always worth it.
I have a B.S.B.A. in Human Resources and work for a law firm in Philadelphia.
Favorite Books: Pretty much anything with strong characters. I also love some supernatural thrown in and anything that involves a hockey player!
---
GIVEAWAY
Leave a comment below (including your email address) of your favorite Hockey Team and player! Winner to be picked tonight. Good luck!
---
GRANDPRIZE GIVEAWAY
a Rafflecopter giveaway