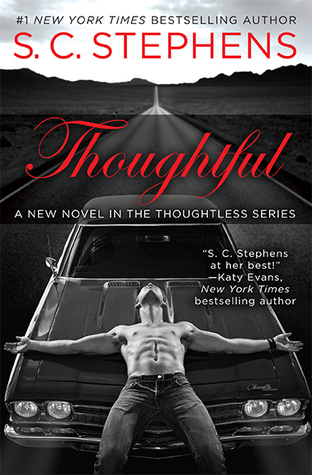 Thoughtful

by S.C. Stephens
on February 24, 2015
Pages: 560
Buy on Amazon
Goodreads

A new novel in the Thoughtless series from #1 New York Timesbestselling author S. C. Stephens!

Every story has two sides, and in this new book, the epic love story between Kiera and Kellan is shown through his eyes.

All Kellan Kyle needs is his guitar, and some clean sheets of paper. Growing up in a house that was far from a home, he learned a hard lesson:You're worthless. Now his life is comfortably filled with passionate music, loyal band mates, and fast women...until he meets her.

Kiera makes him ache for more. Makes him feel for the first time that he'sworth more. But there's one problem - she's his best friend's girl.

Just when Kellan thought his emotional defenses were rock solid, Kiera's indecisive heart wreaks havoc on his soul, changing him forever. Losing Kiera is not an option.
Happy Release Day to S.C Stephens and her new book Thoughtful!
For fans of the series, this is Thoughtless from Kellan's POV! If you have not read Thoughtless, we recommend you doing so first! Christine was first introduced to Kellan back in Ms. Stephen's Fiction Press days and has been in love since! Find out what all the buzz is about!
We had the opportunity to sit down with Ms. Stephens to ask her some questions – see what she had to say and make sure to enter the giveaway!! Good luck!

Shh…Moms: Do you have any hobbies or activities that you enjoy outside of writing? 
S.S: I'm a group fitness junkie. I live for my step class! And I'm starting to get into lifting weights, which means I'm sore. A lot. I love that feeling though. I also love sitting on my butt and watching movies all day. Movie-marathon weekends are my favorite!
Shh…Moms: If Kellan and Kiera's relationship had a theme song, what would it be? 
S.S: There are so many good ones, but I always find myself going back to I Can't Not Love You by Every Avenue.
Shh…Moms: Many readers say Kellan was the first/favorite book boyfriend. What do you think appeals to readers about him? 
S.S: I think it's a mixture of his job, his past, his looks, his pain, and the fact that he is so incredibly devoted to the people he cares about.
Shh…Moms: How has music played a role in your life and in your writing? 
S.S: Music gives me ideas, and is basically the reason for Kellan's existence. I "saw" him singing every song I listened to on the radio. I fell in love with him long before I wrote his story.
Shh…Moms: What did Kellan and Kiera exchange for Valentine's Day this year? 
S.S: They're very busy, so time alone together is what they cherish most.
♥READ THE SERIES♥
Book 1 – Thoughtless
Book 1.5 – Thoughtful – Amazon, Barnes & Noble, Books-A-Million, IndieBound , GooglePlay , iTunes , Kobo
Book 2 – Effortless
Book 3 – Reckless
Book 4 – Pre-Order Untamed (Griffin's story)