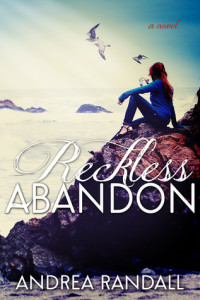 Today we welcome Andrea Randall to our blog as she celebrates her new book Reckless Abandon, which released on March 8th.
Enter using Rafflecopter below for signed paperbacks of RECKLESS ABANDON, TEN DAYS OF PERFECT & IN THE STILLNESS.   Good luck!
Listen to the Reckless Abandon Playlist here.
---
3.5 STARS!!!
Synopsis
This is the second book in the November Blue series.
November Harris is lost. After a failed romance with musician Bo Cavanaugh, Ember is left struggling to regain her true self. The problem is, Bo won't go away and Ember's stance is firm—she doesn't want him back.
Adrian Turner, Ember's ex-boyfriend-turned confidant, is patient with her heartbreak, but he can't hold back his own feelings forever.
As she sorts through her past, in an effort to plan a solid future, Ember will find that sometimes even the best laid plans bow to the soul's desire for reckless abandon.
Christine's Review
I read Ten Days of Perfect and Reckless Abandon back to back as I had not read book 1 in this series previously.  Ten Days of Perfect was a little rushed for me as this was when November (Ember) Blue and Bo Cavanaugh met on a chance encounter one night.  This was a story of love at first sight and the connection between these two characters was very evident.  Ember grew up with hippie parents but lived a completely opposite life – more structured, more in control.  The only thing she inherits from her parents is her love of music and singing.  Bo is a musician, as well as a businessman and has his fair share of secrets.  This book ends after 10 days of a seemingly perfect relationship and we the readers ask ourselves – when the secrets are revealed at the end of this book, will this love at first sight relationship last?
Reckless Abandon picks up where Ten Days of Perfect left off.  I have to admit that I enjoyed this story much more than book 1 as I felt that the characters were more developed and the storyline reeled me in.  Because of the secrets that were revealed prior to this, Ember finds herself conflicted and caught in a love triangle with her ex-boyfriend Adrian and Bo.  I truly liked Bo despite his secrets because I still felt that he was a good man and had a big heart.  His secrets weren't terrible secrets – he was protecting the ones he loved.  I was frustrated at times with Ember because I felt that she was rushing back to Adrian to cover her true love for Bo – that she was diving in too quick and reacting without really thinking about the whole big picture.  I know in my heart that she loves Bo and in my opinion she didn't give him a chance to really explain – she was throwing away a swoon worthy man too fast and being completely selfish and only thinking of herself!
That being said, I truly enjoyed the secondary characters in this series – Monica and Josh, Regan and Rachel and CJ.  All of these characters added that layer of depth and sense of family and love.
There is a heartbreaking part in this book that made me gasp out loud….it's totally unexpected and I will forewarn you that you will need to be ready with the tissues.
Will the timing EVER be right for these characters?  Who will Ember choose?  You will have to read this book to find out!  I enjoyed the ending and had a smile on my face 🙂
Excerpt
"I thought I should try to avoid you at first because I was scared of hurting you again. Then I made you cry anyway . . ." As he trails off he reaches across the table and grabs my hand. His heat travels to my heart and a million memories of his touch flash through my brain; I pull my hand away and set it on my lap before my resolve passes out.

"Bo. Stop. We can't do this. You hurt me. And, now, I'm kind of your employee. We can't go back. I just came here to tell you I'm fine. I'm ready to work with you, but only if you're ready to work with me. What happened two weeks ago was a fling and we both could have gotten into a lot of trouble for it. I hope sometime we can sit down and really go through everything that happened, but today's not the day." I push my chair back from the table. I actually believe the words I'm saying, and that scares me. It scares him, too, judging by the white pallor that's overcome him.

"November, wait." He follows quickly behind me as I make my way through the diner. When I open the door he reaches in front of me and pulls it shut; the loud jingle of the bells forces gazes in our direction. Bo leans forward until his mouth is an inch from my ear. "I'm not going to stop trying to make this right," is all he whispers before opening the door again and releasing me into the humid Concord air.
About the Author
I started writing poetry long before writing fiction. I firmly believe Poetry is
a solid foundation for all other forms of writing. It taught me that a single
word can make or break the world.
I write fiction because my characters have a story and they want me to tell it.
I hope you enjoy the pieces of my soul that I share with you.
---
GIVEAWAY