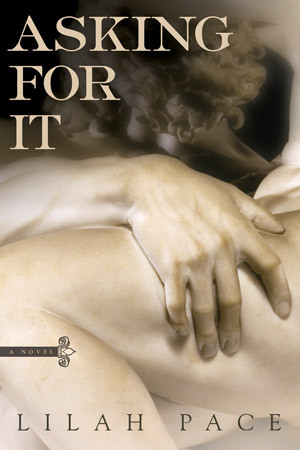 Asking for It

by Lilah Pace
on June 2, 2015
Pages: 336
Goodreads


"This is who I am. This is what I want. Now I need a man dangerous enough to give it to me."

Graduate student Vivienne Charles is afraid of her own desires—ashamed to admit that she fantasizes about being taken by force, by a man who will claim her completely and without mercy. When the magnetic, mysterious Jonah Marks learns her secret, he makes an offer that stuns her: they will remain near-strangers to each other, and meet in secret so that he can fulfill her fantasy.

Their arrangement is twisted. The sex is incredible. And—despite their attempts to stay apart—soon their emotions are bound together as tightly as the rope around Vivienne's wrists. But the secrets in their pasts threaten to turn their affair even darker...

Reader Advisory: Asking for It deals explicitly with fantasies of non-consensual sex. Readers sensitive to portrayals of non-consensual sex should be advised.
WOW! This is not my usual read…But the blurb caught my attention – I mean how could it not?!
This is my first book to read by Lilah Pace and will DEFINITELY not be my last.
Never did I ever expect to like a book like this – so out of my comfort zone with the subject matter and what the book was all about BUT Asking For It is so well written, so thought out, and perfectly put together that I couldn't help but devour it, love it even though it makes me a little uncomfortable to like it so much..BUT I DID and now I WANT MORE!
Vivienne Charles has dark sexual fantasies and these fantasies are the only way that she can enjoy sex. She needs it hard, she needs it rough and to be completely taken by a man. Sadly Vivienne has a dark past that makes her the way that she is..she is broken inside and I was completely heartbroken for her.
Enter Jonah Marks, a professor at the University where Vivienne works. He is a complete stranger yet there is a connection that ties them together. Jonah offers to be the man that Vivienne needs. Jonah was the epitome of a male lead – hot, aggressive, smart and thrilling. Jonah kept a lot hidden..not wanting to reveal who he truly was to Vivienne. Quite honestly Jonah confounded me a little bit…I liked him but I wanted to know more about him. Who was this man and what secrets is he hiding?
The intimacy and illicitness of their affair is raw and hot and just panty melting! But beyond that, the relationship that began to form outside of the sexual pleasure, the trust that these characters began to find in one another was simply beautiful. What started out as purely fun truly became so much more.
How did this man with the power to terrify me also become the one person who truly makes me feel safe?
I've come to realize that speaking the truth can be a form of love. Maybe listening can be too.
I am beyond excited to read the next installment to this story…to find out if these two broken people can find their way back to one another, to mend each other, to heal and to find a happiness together and they truly deserve. <3
Lilah Pace created a complete masterpiece that I have fallen in love with. Beautifully created characters and a story that takes risks and really makes the reader think and feel….for anyone looking for their next captivating and different read – give this one a try – you won't regret it for one second!

"It's okay. This is difficult." He pauses a moment before adding, "Are you scared?"
Deep breath. Honest answer. "Yes and no. I believe you aren't going to do anything without my permission. But what we're doing feels a little like jumping off a cliff. I've had this fantasy since – since always, but I never thought I'd act it out with a stranger –"
At that moment, a waiter appears by our sofa. Why do bar waiters only show up when you least want them around? Offhandedly Jonah says, "Bring me whatever she's having."
I don't think he's even looked at my glass. What if I had some ridiculous tropical drink, the kind of thing served in a pineapple with pink straws and paper umbrellas? The thought of someone as serious as Jonah sipping one of those makes me smile. Finally I'm able to relax a little – but not much.
As soon as the waiter hurries off, Jonah turns to me. "What would it take to make you feel safe?"
I like that he asked this. But how do I answer?
Cut to the chase, I remind myself. Jonah's blunt honesty is the only way to go. "I'd need you to wear condoms. Unless you want to show me your medical records."
Jonah nods. "I can get those for you. Can you show me test results too?"
It hadn't even occurred to me that Jonah also might be concerned about that. "Um. Yeah, sure."
"No rush," he says. "I don't mind wearing a condom at first. Makes it last longer."
My cheeks flush as I envision Jonah inside me, pounding me, going on and on and on without mercy –
Jonah must know what I'm thinking, because he tilts his head as if he's relishing the effect he has on me. He murmurs, "What else?"
Another sip of wine steadies me enough to answer. "I wouldn't want you to tie me up. Not the first time, anyway."
He smiles. "I like that you're thinking about the future. I'll have plenty of chances to give you what you want."
It hadn't even occurred to me before today that Jonah might have been considering a one-time fling. Now that I think about it, that makes more sense than assuming we'd keep playing out this scenario. But I've wanted this too long, too much, to assume one night will be enough to get it out of my system. If Jonah's the right partner for this fantasy, then we have a chance I don't intend to waste.
Already I sense that one taste of Jonah Marks won't be enough.
♥READ THE SERIES♥
Book 1 – Asking For It
Pre-Order Book 2 – Begging For It