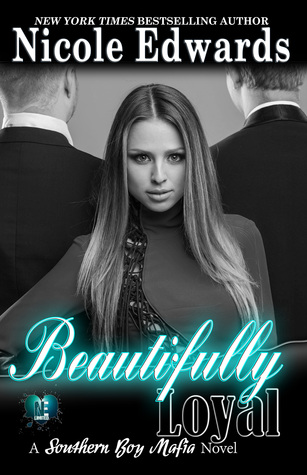 Beautifully Loyal

by Nicole Edwards
on September 22, 2015
Buy on Amazon
Goodreads


Menage Romance

Sometimes love isn't enough…
Sometimes you're required to be beautifully loyal.

If you think you know her… You're wrong.
If you think you know her family… Wrong again.
If you think you know her story… You don't.

Ashlynn Adorite is no stranger to the cruel and unusual world she was born into. In fact, she accepts it, understands it, embraces it. However, in her world, falling in love isn't simply a choice. It causes problems, changes lives, disrupts business.

Sex, pleasure, carnal desires ... those things Ashlynn understands. Love ... not so much. Her world is turned upside down when she starts to feel something for not just one man, but two. The question is, can she have all that she desires, or will loyalty to her family interfere.
Ms. Edwards has proven yet again that she is the queen of menage, I loved Beautifully Loyal. This story was powerful, hot and kept me glued to my kindle!
This book is part of an interwoven series by author Nicole Edwards. Reading in this order will offer the reader the story in timeline order:
Wait For Morning (Sniper 1 Security, #1)  http://amzn.to/1f5E0iD
Beautifully Brutal (Southern Boy Mafia, #1) http://amzn.to/1dGjF30
Never Say Never (Sniper 1 Security #2) http://amzn.to/1JSOlLv
Beautifully Loyal (Southern Boy Mafia, #2) http://amzn.to/1P10zkE
Having said that, if menage is your "sweet spot" I highly recommend you read this book, it is an easily read and loved standalone!
Beautifully Loyal offers the reader a friends to lovers story, a look inside an existing relationship and the opportunity to bear witness to a new love coming to be. Ms. Edwards masterfully pulls all three off with the use of flashbacks the reader is able to understand, the deep connections and bonds all three share, you will truly find yourself rooting for these three who are clearly meant to complete each other. Leyton, Ashlynn and Jase come together to create a happy that truly completes all three of them.
The connection between Ashlynn and Leyton is so powerful, the reader can truly feel their pull to each other (this is the friends to lover relationship):
"Ash," Leyton whispered, drawing her attention once again. "You need to go back to your room."
She had the sudden urge to kiss him and she couldn't seem to resist it. Leaning forward, she pressed her lips to his softly. He hissed again, but didn't pull away until she did.
With her lips tingling and something strange stirring deep in her belly, Ashlynn met his gaze.
"Go," he commanded, his tone harder, his eyes narrowed on her. "You can't be in here."
Having said that it should also be noted that Ashlynn and Jase have a deep bond as do Leyton and Jase, yes Ms. Edwards masterfully has the reader believing love all around!
A must do if the reader is going to believe a happy m/m/f end for a menage read.
I loved that when Leyton decided he was going to give into this attraction he did it full force and with no holds barred:
"I'm loyal to the people I love. And yes, I'm loyal to your brother—he's my family." 
"What about me?" He noted a hint of insecurity in her tone. 
 "You're more than that to me." Cupping her face in his hands, Leyton pressed his mouth to hers. 
"You're everything. And I'm gonna prove that to you very, very soon."
Thorough this book your heart will break for each of these three characters, sometimes because of the backstory and sometimes because of present day events.
I need to pause here and say OMG Leyton's past, his connection to his best friend and boss Max truly had me understanding why he fought the connection to Max's little sister Ashlynn.
And Ashlynn's past will have you believing monsters do exist! I hate Samuel, yes he is dead but that didn't make he hate him any less, I think I wish he was alive so he could die another painful death!
Jase.. poor Jase… I love how his pain showed that living this life doesn't come with out sacrifice (nope not telling more read the book).
Ms. Edwards, I have to add I so hope we get a happy for Dane! And I am truly excited for the rest of both of this series!

Ashlynn turned to see Jase sauntering down the hall toward her, his thigh muscles bunching with every step. She loved the way those faded jeans hugged him in all the right places, accentuating his muscular thighs, fantastic ass, not to mention the giant bulge he sported between his legs. The man had caught her attention from the very first day he'd stepped into her house five years ago, looking for a job. He was mouth-wateringly good-looking, and that voice of his… His words alone made her insides quiver with need.
She was ready for some action of her own, and Jase was just the man to provide that for her.
When Jase's six-foot-two-inch, extremely powerful frame pressed her up against the wall, Ashlynn clutched his broad shoulders as she peered up into those sexy, crystal-blue eyes. His blond hair was cut short but not so short that she couldn't slide her fingers through it and pull him down to her.
Jase nuzzled her neck as he slid his big, warm hand beneath her skirt, easing inside her panties and pressing his finger against her clit.
"Is this what you've been waiting for?" Jase's tongue caressed the sensitive skin beneath her ear.
Closing her eyes and enjoying the tingle that ignited in her core, Ashlynn nodded her head.
"You're wet for me," he whispered against her ear. "So fucking wet."
"Yes," she hissed.
The man knew exactly which of her buttons to push to ratchet up her heart rate, and he didn't have any qualms about giving her what she needed when she needed it.
"Were you thinkin' about me?"
Ashlynn nodded again, her eyes rolling back as the pleasure intensified. "Don't stop," she murmured, riding the sensual high her body craved as he teased her clit.
His lips brushed hers lightly. "What'll you do if your brother comes in and sees us?"
Ashlynn smiled against his mouth. "I'll tell him I'm a big girl and I can fuck my head of security if I want to."
"I love when you say head," Jase muttered.
"You love more when I give it."
"No doubt." Jase's free hand slid around to cup her ass, squeezing her close as he adjusted their positions so that he could push two fingers inside her. "Is that an offer?"
That was another thing she liked about Jase. He sated her every craving and wasn't afraid to ask for what he wanted.
She offered another nod.
"Yes, it was an offer? Or yes, you want me to make you come with my fingers, right here?"
"The first, although the second's not a bad idea, either," she told him breathlessly, hating that his hand was forced to retreat as she slid her back down the wall, her eyes still locked with his.
While she fumbled with his zipper, Jase pressed his fingers against her lips. "Suck them clean and I'll give you my dick."
Never looking away, she took his fingers into her mouth, licking them clean while she freed his cock from his jeans. When he removed them, her tongue instantly lapped at the bead of pre-cum pooling on the wide, swollen head. His hands slid into her hair, gripping her firmly while she proceeded to blow him right there, in the hallway of her brother's house.
This was probably one of the more private places she and Jase had gotten down to business in. They'd become notorious for acting on their urges spontaneously. It kept it interesting, to say the least.
Ashlynn wasn't embarrassed to say that her sex drive was high, significantly higher than most women. Previous lovers hadn't been able to keep up, which was likely the reason she had never settled down long enough to have a real relationship. That and she didn't believe that sex and love had anything to do with one another. But if she was ever going to give in to love—if it even really existed—then she was damn sure going to be certain the man could sate her every physical need first.
Regrettably, finding that man wasn't as easy as she would've preferred. Not until Jase, anyway. Not that this thing between them could be categorized as a relationship. But it was the longest amount of time she'd been with any one man exclusively. They'd been fucking like rabbits for about a year, and the frequency hadn't lessened with time. In fact, Ashlynn was inclined to think she wanted him even more now. It was as though he knew her, knew what she liked, what she needed, what she wanted.
It helped that he wanted the same things. Such as Leyton crushed between them.
Jase was openly bisexual, although he hadn't been with a man in all the time they'd been sleeping together. To help alleviate that desperate need that ate at him, they'd started talking about their fantasies while she secretly plotted a way to get Leyton to succumb to his own desires. It was the twenty-first century, after all, and a woman was allowed to ask for what she wanted, to explore her sexuality and admit she had needs. It had been during one of those fantasy discussions that she and Jase had both learned that adding Leyton to the mix would be the cherry topping on a fucking kick-ass sex sundae.
"Aww, yeah," Jase moaned, tugging her hair as he pressed his hips forward. "You're so fucking hot like that, Ash. My dick buried in your mouth."
That was another thing she enjoyed about Jase. He was incredibly vocal. There were times when he could almost get her off with little stimulation and a hell of a lot of that dirty talk.
However, as good as he was, no one was perfect. The one thing about Jase she'd noticed early on … although he was supremely alpha, when it came to sex between them, he had always submitted to her to some degree. Even if he topped from the bottom so to speak, he had always allowed her to maintain the ultimate control. And she knew, deep down, Jase worried she would break if he took that away from her.
Sometimes she feared he might be right about that.
Movement out of the corner of her eye caught Ashlynn's attention. While she continued to suck Jase deep into her mouth, using her hand to stroke him simultaneously, she flicked her gaze down the hall. There, in all of his sexy glory, was Leyton.
Watching them.
He looked almost bored, but Ashlynn knew better. He was likely trying to figure out whether or not he should join them. She already knew what his final answer would be, but a girl could definitely hope.
-Copyright 2015 Nicole Edwards Limited

♥SERIES READING ORDER♥
Book 1 – Beautifully Brutal
Book 2 – Beautifully Loyal