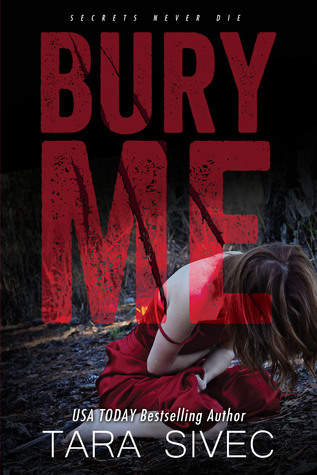 Bury Me

by Tara Sivec
on August 11, 2015
Buy on Amazon
Goodreads


"All things truly wicked start from innocence." – Ernest Hemingway

I hear screams in my head.
I see blood on my hands.
When I look in the mirror I see a stranger.

How is it that I can remember bits and pieces of my life, but nothing of any importance and nothing that makes any sense? Everything is twisted and nothing is right. I'm choking with every breath I take, suffocating on the unknown.

Two days ago, everything changed. Two days ago, the people I should trust the most became strangers in my convoluted head. The dreams I have can't be real. The fleeting memories that whisper through my mind are scary and wrong…they have to be. If they aren't, I have something much worse to fear than my fractured mind. I need to find out the truth, even if it destroys me.

I've been told my name is Ravenna Duskin. I'm eighteen years old and I live in a prison…
Omg! I DID NOT see that coming! Tara has done it all…comedy, romance, suspense and now dark and twisted. She has conquered it all!
Readers looking for a book that will mess with your mind, make you think and try to figure out what the heck is going on and maybe make you a little afraid to turn the page (because that was me…I was afraid to learn the truth!) pick up Bury Me! I love when an author keeps me in suspense and at the edge of my seat and I truly enjoyed this book!
I don't want to reveal anything about the book as you should read this book as the author intended and go in blindly not knowing anything. It is definitely a psychological thriller that will really make you question everything, wondering what is real and what is not and WHAM! It will leave you with the creeps with its twists and turns and I LOVE a good mind fuck!!!!
Buy this book and meet dark and twisted Ravenna and find out what her truth is…..

Before I can command my feet to move toward the shape—the safer of the two evils—I hear another sound in the opposite direction and foolishly turn my head. Something heavy and solid crashes against my skull and I feel myself falling. Darkness descends over me one last time, covering my eyes, clogging my ears and stealing the breath from my lungs. Nothing will ever be the same again.
Nothing will ever be good again.
It will all be bad.
Bad
Bad
Bad.