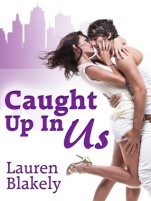 Today we welcome to our blog, Lauren Blakely, as she promotes her new release Caught Up in Us which released on January 20th!
Lauren is giving away 3 ebook giveaways today.  Please leave a comment on our facebook page and winners will be picked tonight!
Lauren is also giving away one GRANDPRIZE of a $50.00 gift card to winner's choice of either Fandango, Amazon or Barnes & Noble. In order to enter the grand prize, you need to leave a comment and follow the steps in the punch tab below. You must also add Caught Up in Us to your TBR list on Goodreads.  Good luck!
---
3.5 STARS!!!
Summary
Five years ago, Kat Harper fell into a dizzying summer romance with her brother's best friend Bryan. It was a mad, crazy love full of kisses all through the night — but he broke her heart and she had to move on.
Five years later, Kat is finishing her graduate degree and building her business as a jewelry designer, when Bryan, head of his own successful company, walks back into her life. Bryan has been assigned to Kat as her new business mentor and the rules are clear. No hanky panky permitted. That works for both of them. Kat needs to grow her business to help her parents; Bryan needs to run a clean operation after his former business partner's romantic scandal that rocked his firm.
Kat can handle that because she's totally over him… right? Except, he still makes her laugh. And he remembers all the things she likes. And he's more handsome now than he was then. Then there's the spark between them — the simply undeniable chemistry.
Can they resist each other? Or are they willing to risk everything for a second chance at first love?
Excerpt
So much for my plan to be tough, to be civil, to be immune to his charms. I threw that playbook out the window and started writing a new one – one that was filled with payoff. This was the real starting over, because he'd called me pretty, he'd remembered my coffee drink, he'd told me he was glad to see me. This wasn't one-sided and I was going to take what I wanted most right now. To be touched. To be kissed. 

I removed my bulletproof vest, and spoke my mind. "Come here."

He walked to the back of the couch and leaned down, his face inches from me. 

"Hi," he said softly.

"Hi."

"Can I?" he asked, and then reached a hand into my hair, letting my dark brown strands fall through his fingers. I leaned into his hand, like a cat, as my answer. I wouldn't be surprised if I had started purring. 

"Kat," he said in a hungry voice. 

I looked into his eyes, those crisp green eyes that drew me in. "I need you to kiss me now," I said, as if it were a command.

"Consider it done."

I closed my eyes as his lips brushed mine with a softness, tenderness and eagerness all wrapped up in one. I felt as if the whole office, the factory, the city was gone. There was nothing else but this kiss and I melted into him, as I had with all our kisses five years ago. But then, there was something new, something less innocent, as the kiss shifted into another gear. The way his lips suddenly crushed mine was feverish. It was frenzied, and it was electric, and full of need. I needed to feel him. I needed to touch him. I explored his arms, traversing the shape and size of his forearms and the strength in them, and then outlining the sharp contours of his flexed biceps, until I returned to his chest, then down to his belly, so trim and tight that I longed to touch and trace and hold onto his perfectly cut waist all through the day and the night.

He stopped, moving to the door, locking it this time, then returning to the couch with me. 

"We can't go all the way. Not even close," I said, holding up my hand as a stop sign to sex.

"I'm good with that. But we don't have much time for anything."

"Do you want to stop then?"

He shook his head, and nodded to the bulge in his jeans. "Hell no."

He wanted me as much as I wanted him. But did he like me too? Or was I just the girl who was hot for him and so, why not? A part of me knew better. A part of me knew I should pull back the reins. But there was a bigger part of me in that moment that didn't care. Because my body had no questions and no qualms. Because inside all I felt was the weight of five pent-up years of missing him. My mind was a jumble, a mixed-up mess of hurt and want, but I didn't know how to sort out the crazy rush of thoughts, and frankly, I didn't want to. I was burning for him, so I let my body lead me on.

I touched his hair, his soft, thick hair that I'd missed running my hands through, then traced the back of his neck in a way that made him groan. Bryan's hands drifted lower, down to my waist, and I didn't stop him.
Christine's Review
This was a sweet quick read for me – my first by Lauren Blakely.
Kat Harper hasn't seen Bryan Leighton in 5 years.  Kat and Bryan dated when she was 17 years old – he being the best friend of her older brother.  Their relationship didn't end well when she was about to go to college and Bryan became her first favorite mistake.
Now Bryan is assigned to be her mentor in her graduate business class and she is already feeling tortured about remembered feelings and memories from the past and possible distractions that could get in the way of her passing her class and graduating with her MBA.
Right off the bat, Bryan shows Kat how he wants to wipe the slate clean and start over with her – getting to know her and her likes/dislikes all over again.  I enjoy Bryan's flirty bantering with her though she obviously does not.
I enjoyed the author's writing style – going back and forth from past to present so we could understand how Bryan and Kat's relationship started and then ended 5 years ago.  My heart broke for her when she relives him breaking up with her.  But in my mind, I couldn't help but think that he was doing this for her because she was young at 18 (he being 23 and already working and established) and because he wanted her to live life and get the most from her college experience rather than being tied down in a serious relationship.
Throughout the book, Kat does her best to avoid him when it is very apparent that he wants to talk to her.  When he finally confronts her to tell her how he feels, I feel that they are FINALLY getting somewhere.  There are definitely some hot scenes that will leave you breathless 🙂 
I truly enjoyed this couple's journey for a second chance in love – a new beginning.  I recommend this book for anyone looking for a quick romantic read with a HEA.  I look forward to reading more from this author.
Character Inspirations
---
GIVEAWAY

About the Author
Lauren Blakely is an unabashed fan of clever jokes, toast, and good guys in novels. Like the heroine in CAUGHT UP IN US, she thinks life should be filled with movie kisses and coffee drinks. Lauren lives in California with her husband and children, and spends her days writing both true stories and make-believe ones.
Twitter  Twitter.com/LaurenBlakely3
Website http://laurenblakelybooks.blogspot.com/
Facebook http://www.facebook.com/LaurenBlakelyBooks?ref=ts&fref=ts
Goodreads  http://www.goodreads.com/book/show/17157757-caught-up-in-us