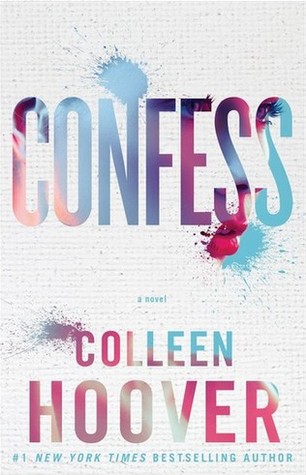 Confess

by Colleen Hoover
on March 10, 2015
Pages: 320
Buy on Amazon
Goodreads


From #1 New York Times bestselling author Colleen Hoover, a new novel about risking everything for love—and finding your heart somewhere between the truth and lies.

Auburn Reed has her entire life mapped out. Her goals are in sight and there's no room for mistakes. But when she walks into a Dallas art studio in search of a job, she doesn't expect to find a deep attraction to the enigmatic artist who works there, Owen Gentry.

For once, Auburn takes a risk and puts her heart in control, only to discover that Owen is keeping some major secrets from coming out. The magnitude of his past threatens to destroy everything important to Auburn, and the only way to get her life back on track is to cut Owen out of it.

The last thing Owen wants is to lose Auburn, but he can't seem to convince her that truth is sometimes as subjective as art. All he would have to do to save their relationship is confess. But in this case, the confession could be much more destructive than the actual sin…
I confess that I'm in love with@colleenhoover's CONFESS. #ConfessYourTruth, too @AtriaIndies
Colleen Hoover books are simply mesmerizing; transporting the reader to another world as you immerse yourself in her stories and characters. Confess was no different. It is different from Colleen's previous books but I loved it all the same. Rich dialogue, heart wrenching grief and ultimately an epic romance – Ms. Hoover writes with care and purpose. Everything has meaning. The love and care that goes into character development, the prose in her words all layered together brings readers another beautiful, meaningful and powerful story.
Before getting into my review, I have to say that I LOVED the idea of true confessions from readers incorporated into the book making the story even more personal and real. With that said, Colleen always does something new and different with her books and with this – the art incorporated into the story. Now I must admit that I received an Advanced Copy of this book so didn't get to visually see the art on the pages (I could only use what was in my imagination) but I will say without a doubt that I will be purchasing this book so that I can re-read it and experience the art combined with the readers confessions as Colleen intended.
So what's Confess about?
The prologue introduces us to Auburn, who is young and in love with her first real love and devastatingly we know that she will soon experience loss. Five years later, Auburn is still living in Texas, in need of a job to help pay not only her bills but her lawyer fees. Why she has a lawyer, we won't know until later in the story but upon looking for a job, Auburn walks into Owen Gentry's art studio. O-M-G – I am seriously smiling already (and to understand this you will have to read the book yourself). Owen is an artist who has a mailbox where random people leave confessions for him which he uses to create art. Whoa! Can I just say this was such an AWESOME IDEA and never done before; so interesting and real and emotional.
But who is Owen? And what are his secrets?
Unknowing to Auburn, there is a a tie from the past that links them together.
I love the idea of fate but within this story there are so many lies and secrets that are withheld on both sides that I can't help but be so afraid for who will get hurt and how this will affect the outcome of any possible relationship with these two.
I will say this about this book…I laughed, I got teary eyed, I was scared and I loved EVERY MOMENT. I enjoyed how this story all came together in the end – a full circle journey that was simply fate and meant to be.
I will read anything and everything that Ms. Hoover writes – her intensity, the beauty of her stories – just everything about her books is perfection – she is an author that is a must click and must read always in my book <3
 ♥GET YOUR COPY NOW♥
Amazon: http://amzn.to/1vC2Ii6

Barnes & Noble: http://bit.ly/1ByXO2t

Blio: http://bit.ly/1poLcFa

Books-a-Million: http://bit.ly/1v1oPJu

Google eBookstore: http://bit.ly/1uziFDT

iBooks: http://bit.ly/1poL8W3

IndieBound: http://bit.ly/ZoQqes

Enter for a chance to win! Visit Atria's Tumblr page from 3/9 – 3/22 to enter to win and a grand prize of a signed framed print of one of the images in the book plus a signed copy of CONFESS or one of the runner up prizes of one of four signed copies of CONFESS.