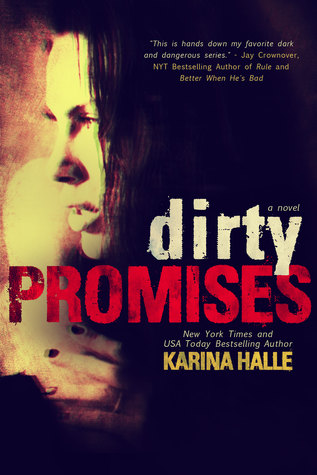 Dirty Promises

by Karina Halle
on September 15, 2015
Buy on Amazon
Goodreads


Dirty Promises is the final book in The Dirty Angels Trilogy. While the first two books can be read as standalones, Dirty Promises can not. Reading Dirty Angels and Dirty Deeds beforehand is HIGHLY recommended.

Also, people sensitive to violence and immoral characters who make questionable decisions should refrain from reading this book. The real cartel life is not pretty, not easy and certainly NOT romantic and that is more than reflected in Dirty Promises.

Blood. Sex. Revenge.
It ain't easy being king.
Drug lord Javier Bernal has sliced and diced his way to the top of the Mexican drug trade, presiding over the country's largest cartel. But his rise to power comes at a brutal price: the death of his sister, Alana. Devastated and wracked with guilt, he turns away from his new wife, Luisa, forcing their marriage into a steady decline. But it isn't until she's pushed into the waiting arms of Esteban Mendoza, his right-hand man, that Javier realizes everything he's lost.
And it isn't until he learns the truth about Alana, that he realizes everything there is to gain.
Blood will spill.
Cities will burn.
Heads will roll.
Because Javier will stop at nothing until he gets what he wants.
And what he wants is raw, ruthless revenge.
The most dangerous man is the one with nothing left to lose.
I have loved many of Karina Halle's books, each one so different, really showcasing the author's ability to write different genres, different types of stories and characters, and to do it really well.
Dirty Promises, for me, is one of Karina's best works to date. Javier Bernal, is the type of character you want to hate, but I never did. You see, in my mind, the way you turn out to be as a person is because of the life you live, the history that makes you who you are and Javier is definitely a product of that. Now I am not saying in real life, that I would love this type of man or believe in what he does for a living or even be friendly with someone who is so tortured and evil but in my book world, I want this man to have a happy. I am a romantic at heart and I believe that everyone should have love in their lives.
This book is not for the faint of heart. Sexy, dark, gritty and sometimes disturbing to read, this book really pushed my comfort zone time and time again and I LOVED every minute!!!
I don't want to tell to much of the story because I truly believe that this is one you have to experience on your own but I will say that my emotions were all over the place while reading Dirty Promises. I was sad that Javier and Luisa's marriage was falling apart and that the life that I had hoped they would have was nothing that I expected. Javier's need for violence was disgusting and sad.
This book really shows the readers the screwed up thinking of being inside a cartel…the lies, the deceit, the unsuspecting things that people will do to rise to the top and the no holds barred way that they will step on people to get what they want.
I cried, I was scared and I was tortured throughout my read. I suffered along with the characters as I couldn't do anything to stop the helplessness and torture and let me tell you that I so badly wanted to jump into this book to kick some ass. Karina really put me through the ringer but I knew in my heart that revenge would never be so sweet.
Normally, I refrain from the gore but I can't help but say that I was cheering with my hands up in the air because at the end there was a chance for rebirth, to start new and fresh and my heart was happy for the possibilities of a brighter future for the winner.
I know I am being vague and I can't help myself….because I want you to dive right in and experience the well written story of these characters who you will never forget.  Great job Karina! <3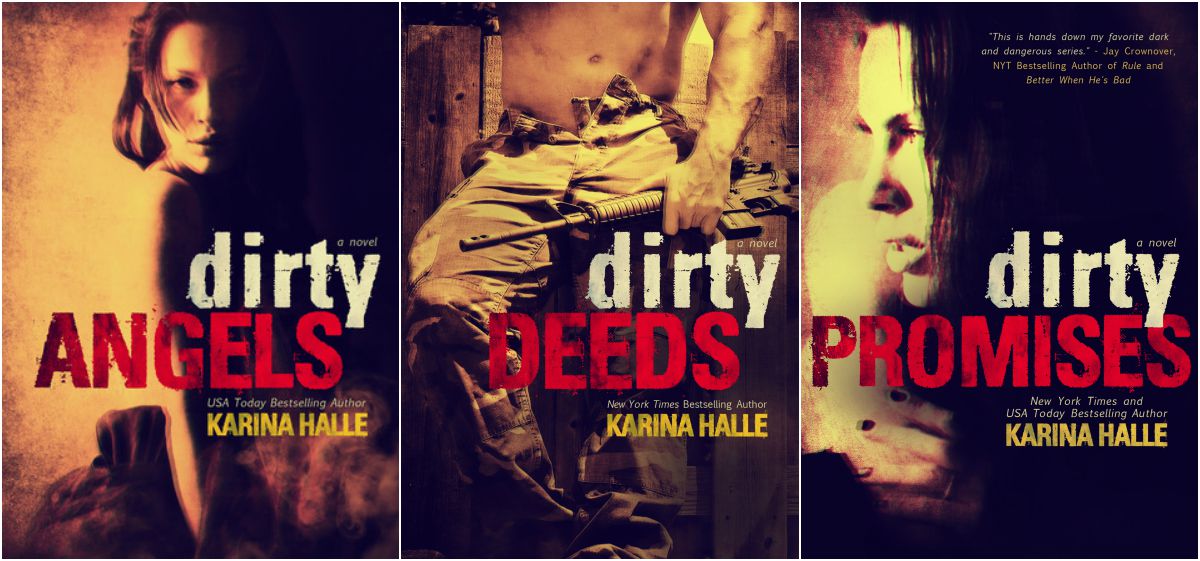 ♥READ THE BOOKS ♥
Book 1 – Dirty Angels
Book 2 – Dirty Deeds
Book 3 – Dirty Promises