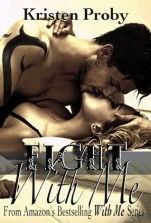 Today we welcome Kristen Proby as she promotes her newest release Fight With Me!  We are so excited to be helping to promote this hot new book by this great author!
Enter below for a chance to win a prize from Kristen!
5 STARS!!!
Summary
Jules Montgomery is too busy and content with her life to worry about a man, especially one Nate McKenna. If growing up with four brothers has taught her anything, she knows to stay away from sexy men with tattoos and motorcycles. That goes double if he's your boss. During the one incredible night they shared, he violated the no fraternization policy…among other things, and it won't happen again. Jules won't risk her career for mind-blowing sex, no matter how much her body and her damn heart keep arguing with her.
Nate McKenna could give a shit about the no fraternizing policy. He wants Jules and he'll have her. The rules could bend around them, or be damned. He's not a man to be taken lightly, and Jules Montgomery is about to find out just how he responds to being pushed aside after the best night of sex he's ever had. She can fight all she wants, but he'll have her in his bed in the end.
FIGHT WITH ME is the second novel in the With Me In Seattle Series.
Denise's Review
FIGHT WITH ME is the second novel in Kristen's With Me in Seattle Series and is  a wonderfully entertaining read.   This book tells the story of Jules Montgomery, Natalie's best friend in book 1 in the series, Come Away With Me. I highly recommend you read Come Away with Me first.
For those of you who read Ms. Proby's novella UNDER THE MISTLETOE WITH ME, you know Jules and Nate light up the pages in FIGHT WITH ME's prologue.  The reader quickly feels the connection between these two.  There is a hot moment when we learn under the custom suit that Nate wears, is a bad boy and it is explained that the company they work for has a strong and enforced fraternization policy.
The story picks-up months later with these two trying to obey the company's no fraternization policy.  Nate is a strong male character, a charmer who knows what he wants and he wants Jules. I adored that Nate was the one who finally pushed though the distance between the two of them. Nate makes grand gestures, small gestures and heartfelt gestures all of which will have you loving him.  Hearing Nate explain why he uses Jules full name will break and melt your heart all at the same time.  
Jules is a strong working professional woman who grew up with four brother.  Jules is a wonderful combination of tough, smart and feminine.  She thinks she has life figured out, that is until she gives into the attraction to her boss Nate McKenna.
I want to make sure to say that the gesture Nate makes in the end of this book speaks so much to his respect for Jules as a woman and a professional, it was really well done and felt true to both characters. 
The interactions between the characters in this story really engages the reader.  When Nate meets Jules family (remember we are talking about 4 brothers and an extended family) Ms. Proby makes each interaction unique, reflecting not only the character but also highlighting Jules unique relationship with each family member.
For those of you who loved Nat and Luke you will see them and their story develops as well. 
Kristen is building a wonderful family saga, a family who you want to know more about.  As with other Kristen books, the epilogue is told in the male's voice.  I really enjoyed hearing Nate's voice and I truly loved the end of this book.  I am also excited that this is not the end as I hope to see more of these two (as well as Nat and Luke) as this family saga continues.
This book left me even more in love with Kristen's writing, her characters and it so left me wanting PLAY WITH ME, Will Montgomery's story, the brother closest in age to Jules.  
So the waiting has begun again for more in the With Me in Seattle Series – I am truly looking forward to my date with Will in March!
We asked Kristen for one of her favorite excerpts from her book and this is what she provided to us – enjoy this little sneak peak!!
"I see you got a leather jacket," he murmurs as he slowly saunters toward me.
"I had orders."  I shrug.  "I'm good at taking direction."
"So you are."  He stops about three feet away from me and rakes those hot gray eyes over my body, from my Choo-clad feet to the top of my blonde head, then looks me in the eyes and takes a deep, deep breath.
"Fuck, you're beautiful."
I can't speak.  I can't move.  I can just gaze back into those lust-filled eyes, and the blood rushes south, pooling between my thighs.  I bite my lower lip and reach out, bunching his shirt in my fist, my eyes still on his and jerk him forward so his chest is just an inch from mine.  His hands are still hanging at his sides, balled into fists, our lips are inches apart, and I can't stop gazing into his eyes.
"Nate," I whisper.
"Yes, baby," he whispers back.
"If you don't touch me, like thirty seconds ago, I'm not responsible for my actions."
We also asked Kristen for her picture inspirations of her characters….
Nate
                                                    Jules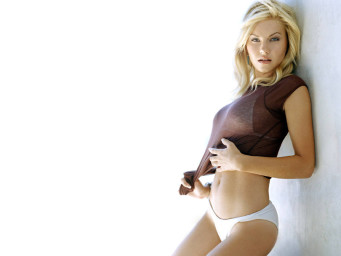 About the Author
Kristen Proby has made a living as a massage therapist, a medical biller, a registrar in an Emergency Room, and a professional photographer. But what feeds her soul is writing romantic, erotic love stories about strong women who don't necessarily need saving, and gorgeous, alpha-type men who want to save them anyway.   She is the author of the With Me In Seattle Series.
Kristen lives in the amazing Pacific Northwest where, conveniently, her muse lives too.
Kristen loves hearing from readers! You can contact her on her Facebook page, www.facebook.com/BooksByKristenProby or via email at kproby.author@gmail.com.
Happy Reading!
Twitter Handbagjunkie
Website http://www.goodreads.com/kristenproby
Facebook http://www.facebook.com/?ref=tn_tnmn#!/BooksByKristenProby?fref=ts
Goodreads http://www.goodreads.com/author/show/6550037.Kristen_Proby
Here's your chance to win a copy of this great book… Kristen is raffling off 2 ebook copies and a Grand Prize of a signed paperback to 3 lucky winners from the various stops of her tour!  Enter using rafflecopter below.