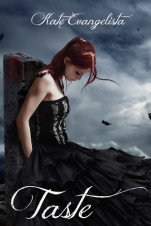 We are pleased to welcome Kate Evangelista to our blog today as she promotes her book Taste, which released 4/29/12.
Kate will be giving away 5 digital copies and 1 print copy of her book.  Enter below using rafflecopter.  Winner will be selected January 17th!
4 STARS!!!
Summary
At Barinkoff Academy, there's only one rule: no students on campus after curfew. Phoenix McKay soon finds out why when she is left behind at sunset. A group calling themselves night students threaten to taste her flesh until she is saved by a mysterious, alluring boy. With his pale skin, dark eyes, and mesmerizing voice, Demitri is both irresistible and impenetrable. He warns her to stay away from his dangerous world of flesh eaters. Unfortunately, the gorgeous and playful Luka has other plans. When Phoenix is caught between her physical and her emotional attraction, she becomes the keeper of a deadly secret that will rock the foundations of an ancient civilization living beneath Barinkoff Academy. Phoenix doesn't realize until it is too late that the closer she gets to both Demitri and Luka the more she is plunging them all into a centuries old feud.
Christine's Review
This is unlike most paranormal novels I am used to.  I usually gravitate towards the traditional witches, vampires, werewolves, shape shifters, but I thought I would give flesh eaters a try as it is a different twist to my norm and I am glad that I did.  Kate Evangelista had me captivated by page 1. 
Phoenix McKay is an intelligent, funny, strong and independent 17 year old attending the prestigious Barinkoff Academy.  Phoenix realizes that she has broken curfew by falling asleep in the library resulting in the possibility of getting expelled from school because day students cannot be on campus after dark.  As she is walking through the library looking for a way to return to campus, she runs into the "night students" who want to taste her flesh.  Before Phoenix has any real time to react she is rescued by the handsome Demitri who the night students show respect to when they kneel before him.  Demitri brings her home to campus and Phoenix is saved from expulsion by "a higher authority".  Like any normal teenager her mind is intrigued by this world she has seen and this boy that rescued her that she breaks her promise and returns to the library at night to find answers.
What we learn is that Phoenix's mother passed away from a sickness that doctors could not find a cure for.  As Phoenix is brought into this new world to help save them from a disease that is killing their kind, it is in her nature to want to help them as she could not help her own mother – even if it means becoming somewhat like them and not be fully human.  Even if it means that she may die from the disease plaguing these people.
In this world that she is in, we see that Demitri is actually a Prince and next in line for the throne.  Complicating matters is his cousin Luka who is just as handsome and captivating to Phoenix.  I find myself laughing out loud with their funny banter but I can also sense that there is danger in him too.  He is not as serious as Demitri but reading how Phoenix and Demitri interact with each other, you can taste (sorry pun intended) the chemistry between them.  Behind the seriousness, Demitri has a heart of gold – he wants to fix her, he wants to keep her safe and he wants to love her despite their differences and the obstacles that they face.
"You have no idea how much effort I need to exert just to stop myself from crossing this room and holding you in my arms when I saw you enter.  Being away from you is my personal version of hell."
Will the flesh eating race survive?  Is the connection between Demitri and Phoenix from the bite or is it more?  How can love survive between two different worlds where they cannot co-exist together?
I thought the writing in this book was exceptional and it flowed very nicely.  You will have to find the answers to these questions for yourself as I don't want to reveal what happens.  Ms. Evangelista touches upon a caste system among these people and you really have to read about to fully understand.  I am looking forward to the twin release this year of the 2 companion novels called Savor and Fervor.  Anyone who enjoys YA paranormal will certainly enjoy this book – job well done!
Video Trailer

About the Author
When Kate Evangelista was told she had a knack for writing stories, she did the next best thing: entered medical school. After realizing she wasn't going to be the next Doogie Howser, M.D., Kate wandered into the Literature department of her university and never looked back. Today, she is in possession of a piece of paper that says to the world she owns a Literature degree. To make matters worse, she took Master's courses in creative writing. In the end, she realized to be a writer, none of what she had mattered. What really mattered? Writing. Plain and simple, honest to God, sitting in front of her computer, writing.
Twitter KateEvangelista
Website http://www.kateevangelista.com/
Facebook http://www.facebook.com/pages/Kate-Evangelista/165693410143202?fref=ts
Goodreads http://www.goodreads.com/author/show/5752810.Kate_Evangelista
Purchase Links:
Amazon: http://www.amazon.com/Taste-ebook/dp/B007Z1AC78
Barnes and Noble: http://www.barnesandnoble.com/w/taste-kate-evangelista/1110599907?ean=9781937254551
Kobo: http://www.kobobooks.com/ebook/Taste/book-Q8M5pIKoJkKLo_FgBJ_BOQ/page1.html?s=vUVZkfrXZUeDOQXRE7MhuA&r=4
The Book Depository: http://www.bookdepository.com/Taste-Kate-Evangelista/9781937254551