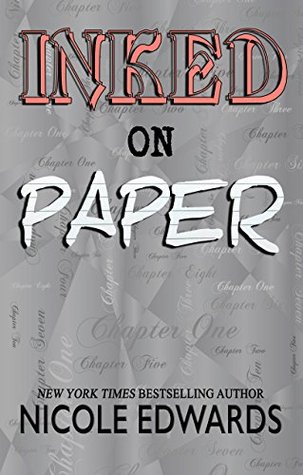 Inked on Paper

by Nicole Edwards
on January 12, 2016
Pages: 506
Buy on Amazon
Goodreads


Chapter One...

What happens when you don't know what comes next?

Jacob Wild has had a lucrative writing career, but somewhere along the way he misplaced his muse. Now, unable to put anything on paper, he's resorted to hanging out in the neighborhood coffee shop with a pen and paper, trying to find something to spark his creativity again.

That's when he meets her.

Presley Abrams.

The coral-haired, tattooed beauty with the piercing gray eyes and sweet smile draws his attention in a way no woman before her ever has. Jake soon learns that when he's around her his world is set to rights once more. Presley sparks something inside him and not just his ability to put words on paper.

But, Presley's not the easiest woman to get close to and Jake finds himself trying to answer the burning question:

Does happily ever after only exist in fiction?
Well, Inked on Paper is a tough one to review as I don't want to give way anything not already mentioned in the blurb. I will say I went into this book cold, knowing nothing about it. I was pleasantly surprised with the turns the story took and really enjoyed this one.
The author's note in the front of the book is one that lays out some of what you will experience, and yes it is a true experience!
I highly recommend reading all the way through to the end of this book. Yes I know that doesn't make sense, but it will after you read the note from Ms. Edwards.
When Jacob, an author with writer's block, meets Presley a tattoo artist who has lost her mojo, the sparks fly… well truth be told the first time Presley sees Jacob is a very interesting scene (yes her male roommates are part of the scene, no I am not telling you). So I should say the first time they are introduced, the sparks fly!
I adored how these two creative souls found each other and how they inspired each other, both taking the time they shared breathing new life into their passions.
Presley's before mentioned male roommates and best friends, Gavin and Gil, have a number of memorable scenes in this one and though Ms. Edwards has said this book is a stand alone, I would definitely read a story about either man.
The use of mental illness in this book pulled at my heart. It was wonderful to see the family rally around to offer support. I hope that someday everyone in crisis has family that will drop everything to help them!
The way Presley and Jake find their happy was so well done. Is love only in romance novels? Well, read this one and get a love story times two! Nope not telling what that means either #1click the book.
Enjoy an excerpt from the book below!

From Inked on Paper
Jake
One week later, Saturday night
By the time seven o'clock rolled around, I was going stir crazy. My total word count for the entire week was a big fat fucking zero. And like I'd assured Liz when I talked to her on Wednesday, I had tried. Really.
Okay, mostly.
After I'd spent two hours at the coffee shop that morning and managed to research everything from tattoos to tater tots—on my phone, because, fuck, what the hell else was I going to do?—I'd come back to my condo, changed, gone to the gym, watched the midday news, showered, and fought the urge to clean more shit around the house that had no business being cleaned. Not by me, at least.
Same shit I'd done almost every day this week. And last week, now that I thought about it.
Now that the sun was down and the night was coming to life, I needed to get out of the building. To do something productive that didn't involve staring at a blank screen or a blank page and wondering whether or not I would ever be able to write anything again.
So, that was the plan.
A night out.
I had moved to downtown Austin for the scenery. I'd lived in the area most of my life— with the exception of the five years I'd spent in New York—having grown up twenty-something miles north in the city of Round Rock. The suburban life had worked well for my mom and stepdads (all nine of them)—still did—but I needed something a little more … lively. My sister, Paige, thought I was having a midlife crisis. At thirty-six, I seriously doubted that. I was reserving that for when I turned forty.
As I was riding the elevator down to the lobby, my cell phone rang. After digging it out of my pocket, I glanced at the screen and sighed.
Liz.
Great. It was eight o'clock in New York—on a Saturday, no less—where she lived and worked, so I knew this wasn't going to be a hi, how are you? conversation. I answered anyway.
"Jacob Wild, where the hell are you?" Her raspy, take-no-shit tone made me smile.
"Elevator, why?" I asked, pretending I didn't know what she meant.
"Where have you been?"
"Before I got in the elevator? Well, if you have to know, I was walking down the hall."
My editor growled. Actually growled. And it wasn't one of those sexy purring things that some women did. This was an all-out Gremlin sort of sound that made me want to laugh. I refrained. Barely.
"You should be at your desk."
"Why?" I stepped off the elevator into the lobby. "Nothing going on there at the moment."
My comment was met with silence, and I could picture Liz standing in the middle of her Manhattan apartment, hand fisted in her short blonde hair as she stared at the phone in disbelief.
Truth was, I liked Liz. She was one of the top editors in the publishing industry, and she always played me straight. After I had self-published my first book and it had done surprisingly well, and after my agent had landed me my first seven-figure, three-book deal, I had been working with Liz directly. I'd liked her so much, and my books had done so well with her help that I'd even signed another contract, for another three books—with, get this, an eight-figure advance.
Which, I knew, was the reason she was calling.
That was a lot of money to invest in someone, and the first book was due to her in roughly thirty days, and she'd come to expect me to be ahead of the game, as I'd frequently turned in my first draft manuscript way early. It probably hadn't helped that I'd asked for an extension this go-round—a three-month extension.
"Where's my book?" she demanded. "I was looking forward to spending the weekend reading your stuff, enjoying a bottle of wine, and now I have no choice but to go to that stupid gala."
I barked a laugh. I couldn't remember what it was she was doing, but I recalled her mentioning it had something to do with her husband's public relations firm. From what Liz told me, she did not enjoy getting dressed up and going out. But I'd known her long enough that I recognized the lie for what it was. She did enjoy it; she simply didn't want anyone to know she did.
"I've still got a month," I told her as I stepped out of the building, the cold wind slamming into me.
There was a brief pause before she said, "Tell me when I can schedule an interview. Your fans want to know what the hell happened to you."
"You know I don't do interviews," I told her. That had been a point of contention between us from the beginning. I'd been called reclusive and mysterious, but the truth was, I didn't like being in the public eye. I just wanted to write.
"You're going to have to give in sometime," she said. "Seriously. The media fucking loves you. They want to see your face."
"Liz, shouldn't you be getting ready for your thing?" I asked, purposely changing the subject.
Liz huffed. "What's the book about? At least tell me that much."
I should've known she wouldn't let it go. I sighed. "I will, just as soon as I know."
More silence before she said, "Jacob." Her tone was admonishing and I understood her pain.
"I'm looking for my muse," I assured her.
"Your muse? What the hell are you talking about? We agreed—"
Before she could go off on a tangent—something Liz was really good at—I interrupted her. "Don't worry. I haven't let you down yet, have I?"
Another growl. This time I did laugh.
"Fine. But next time I call you, you better answer the damn phone."
"I did answer the phone." Just not the first twenty-two times she'd called since yesterday morning. "Talk to you later, Liz."

Join in the #NEINKEDPSH2016 fun and come play our Inked On Paper Photo Scavenger hunt for one awesome prize! Click here to play!