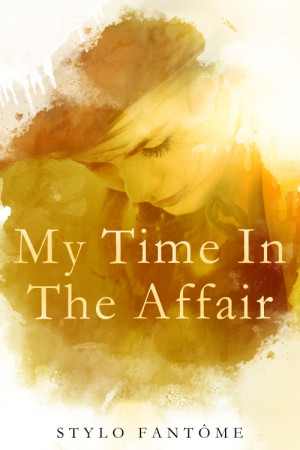 My Time in the Affair

by Stylo Fantome
on May 2, 2015
Buy on Amazon
Goodreads


~Mischa~

I made a conscious decision to cheat on my husband.

Now, before you judge me, hear my story. Hear how much I'm like you, how similar my thoughts are to your own. Yes, I'm a horrible person. Yes, I've done horrible things. Yes, I don't deserve forgiveness. Yes, bad things happened because of my actions.

But I'm willing to bet I've done things that maybe, just maybe, you have thought of doing.

Maybe, just maybe, you're not as innocent as you'd like to think.

Or maybe I'm not so guilty ...

WARNING: This book involves CHEATING. The word AFFAIR is in the title. The main character has an AFFAIR. In the synopsis (directly above), she states that she intentionally has an AFFAIR. If you don't like CHEATING, then you have been VERY WELL warned. Also, this book is primarily written in the third-person narrative.
I am not one to shy away from cheating in books…yes in real life, it's a different story but in books, I don't mind it. It's an escape from reality…it's a different way to think and look at things.
I read Ms. Fantome's Kane Trilogy and loved it…this is so much different…and in a very good way.
This was a journey…a journey to finding what Mischa was missing from her life and in her marriage. A journey to find herself again and even more importantly a journey to finding a forever love…get ready to put judgments aside and live this journey because this is one you don't want to miss.
Mischa married her husband when she was 19 years old, he was her high school love. We all know that as we grow, we change and become different people and that's what happened between Mischa and her husband; living in the same home as two best friends never truly living together as a married couple in love. Yes, we all know that when you get married that your love for your spouse evolves over time but you should always still feel that love in your heart and sadly that was missing for Mischa and she left with her job to another country in order to find herself and yes, possibly even cheat on her husband.
Tal Canaan was a mystery to me…I didn't know whether I should like him or not like him; trust him or not. He has a way with words that completely sucks you in but is he real? Are his intentions true? Or is he just playing a game with Mischa's already vulnerable heart?
Mischa wanted a one night stand but in the end she got so much more than that…what you might ask?? Well, I won't tell you 🙂
I will say this….Stylo Fantome has become a must click author for me. I enjoy the way she writes stories and makes you think outside the box. My Time in the Affair was so much more than just about sex…This was about a woman who from the beginning to the end of the book truly grew as a character. She took risks and ultimately came out being a better person than who she started out to be because she found her true self…she found the love of her life.
Angsty, sexy and completely thought provoking….this book gives you an inside look at what people may be thinking when they decide to cheat. Not all of it is wrong or bad and it's not our place to judge when we are not in the relationship. Ultimately we need to do what our heart tells us..because you only live life once and you should live with no regrets at all. The passion and love from this couple exuded from the pages and this is a story that I won't soon forget.
Well done!

"Where are we going?" she breathed when she realized they weren't heading out of the hotel.
Tal didn't answer. They were heading towards a bank of elevators, and one had just opened up, depositing a group of people into the lobby. He picked up his pace, practically dragging her into the lift.
He let go of her and she lost her balance, stumbling into a corner. By the time she righted herself, he'd pressed a floor button. When she turned around, he was back up against her, flattening her against the wall. She held her breath, staring up at him. It was the best lighting she'd seen him – he really did have super dark eyes. Black whirlpools, intense as they swallowed her whole.
I never stood a chance.
"God, you tasted good," he groaned, lowering his mouth to her neck.
"Tal … we can't … I'm …," she struggled for air. For thought.
"In another country, looking for something you aren't getting at home," he finished for her as his hands swept over her hips.
Am I that transparent?
"That doesn't mean I'm going to -," she ended in a gasp when his hands slid down to her butt and gripped her, hard.
"Yes, it does."
"No, I'm not -,"
"Yes, you are."
"Please," she whined. He chuckled.
"You'll be saying that a lot more tonight."
When his hands moved up to her breasts, she felt like she was going to jump right out of her skin – she actually jerked to the side involuntarily, her body so shocked by the contact. She started shivering and his hands stopped moving.
"My husband is the only one who's touched me like this in eight years," she whispered. There was a long pause.
"I'm willing to bet it's been a long time since anyone has touched you like this, period," Tal called her out as the pressure from his hands increased, pushing her breasts together.
Correct.
"How do you know these things? How do you know me?" she asked. He finally lifted his head, looking down at her.
"I'm a very observant person, Mischa," he sounded serious.
She felt like shit.
"I don't know how to be this kind of woman," she said, her voice small. He chuckled.
"I'll teach you."
♥BUY THE BOOK♥
*It's only $.99 for a limited time!!!*