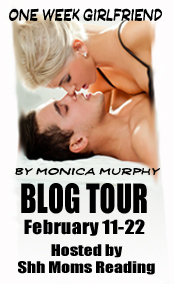 Please welcome to our blog today, Monica Murphy, as she celebrates her debut novel, One Week Girlfriend, which released on January 11th.
Monica is giving away an ebook copy at each blog stop.  Please leave a comment on our facebook page about what you love most about your true love.  Winner will be picked tonight!
Monica is awarding ONE winner a $25 Amazon gift card.  Enter using punchtab below.  Winner will be selected on February 22nd.  Good luck!
---
4 STARS!!!
Summary
New Adult Contemporary Romance
**Mature situations and sexual content – recommended for ages 17+**
Temporary. That one single word best describes my life these last few years. I'm working at a temporary job until I can finally break free. I'm my little brother's temporary mother since our mom doesn't give a crap about either of us. And I'm that temporary girl all the guys want to get with because I give it up so easily. According to the rumors, at least.
But now I'm the temporary girlfriend of Drew Callahan, college football legend and all around golden guy. He's beautiful, sweet—and he's hiding way more secrets than I am. He's brought me into this fake life where everyone seems to hate me. And everyone seems to want something from him. The only thing he seems to want though is…
Me.
I don't know what to believe anymore. All I know is, I think Drew needs me. And I want to be there for him.
Forever.
Excerpt
Here's the deal. I could have any girl I want. I know this. Yes, I'm an arrogant ass to think like this, but it's true. I look all right, I'm smart and I play decent football. The girls want me even more because I don't pay them any attention.

They all want something. Something I can't give. At least with Fable, I was upfront with what I needed from her from the start and I compensated her right away. She won't want anything else from me.

It's easier that way. Safer.

"Can I ask you a question?" She knocks me from my thoughts with her sweet voice. She looks all tough, with the heavy eye makeup and the dark clothes, and that platinum blonde hair. But she has the most lyrical voice I've ever heard.

"Sure." I'm opening this discussion up for potential disaster. I can sense it.

"Why me?"

"Huh?" I play dumb. I know what she means.

"Why did you choose me to be your pretend girlfriend? I know I'm not the ideal choice. Let's be real here."

She must be a mind reader. "I knew you wouldn't give me a lot of trouble."

"What do you mean?"

I'm going to fuck this up, I can feel it in my bones. "Any other girl wouldn't want to just pretend to be my girlfriend. She would really want to be in a relationship with me, you know? And I knew you wouldn't."

"How? You don't know me."

"I've seen you at La Salle's." Weak reasoning.

"Big deal. Lots of guys come into La Salle's. Lots of guys you play football and hang out with go there all the time. I've hooked up with a few of them." She crosses her arms in front of her, plumping up her boobs so I catch a glimpse of creamy skin ready to spill out over her low cut top. I don't usually slobber over girls, but there's something about this one that makes me want to see her naked. "I'm not going to have sex with you."

She's being defiant and I kind of like it. What the hell is wrong with me? "I don't want to have sex with you. That's not why I hired you."

"Hired me." She snorts, like she doesn't care what she sounds or looks like when she does it, and I can't help but admire that. "You make it sound like a proper job when really I'm your paid girlfriend-slash-whore. Where did you get that sort of money anyway?"

"It's mine, don't worry." I have money saved. My dad's in finance and has made a lot of money throughout his career. He's generous with it, especially now that I'm his only child. "And don't call yourself a whore. You're not." I don't want her to feel like one. Even though whatever she's done with other guys might qualify her as a whore, sex is the farthest thing on my mind when it comes to her.

Or at least, it was. Now though…fuck. I don't know.

She confuses me. What I think, what I feel when she's around, confuses me. And I don't even know her. I'm totally getting ahead of myself and I don't know how to stop it.

"There's going to be no sex," she says again. Almost like she's trying to convince herself as well as me. "No blowjobs either."

"I don't want any of that." It's the truth—at least, that's what I tell myself. She's hot, there's no denying it, but sex brings nothing but trouble. I'm not about to fool around with a girl who has an easy reputation and who's literally at my beck and call for the next week. It's pointless.

Right?
Christine's Review
The author had me hooked within the opening pages.  What a great debut novel by Monica Murphy!
Fable Maguire is 20 years old, works at a bar instead of going to college, and lives with her alcoholic mother and 13 year old brother, Owen.  She is beautiful and rumor has it that she is easy.
Drew Callahan is your typical golden boy with blue eyes – gorgeous, sweet, plays football and has NFL aspirations.  But he is hiding something…
Drew waits for Fable outside of her job one night and propositions her to pretend to be his girlfriend for one week in front of his parents in exchange for money that she desperately needs for her family.  And she agrees.  And we learn that perception is not everything and not everything is as perfect as it seems.
When Fable and Drew go to his parents' home, we meet the cold hearted father and inappropriate stepmother.  I dislike them instantly because of all the tension they cause.  We learn more and more about Fable and Drew's back story as they talk more and begin opening up to each other about their pasts.
The chemistry and attraction between Fable and Drew is undeniable.  What starts off as a job instantly becomes more as they start caring for one another exposing their vulnerabilities, insecurities, wants and needs.  Each character realizes that they are falling for each other – she wants him to REALLY like her while he recognizes that he hasn't felt anything emotional or physical for anyone in years but DOES with her.
I open my eyes, staring uneasily into the dark.  "What are you most thankful for?" I ask, my breath lodged in my throat.  I both want to know and dread knowing what he's about to say.
He's silent for a moment, as if gathering up the courage and my heart constricts for him.  "You.  Being here, spending time with you, how you take care of me no matter how hard I try to push you away." His voice hitches and he clears his throat.  "I'm thankful for you."
I guessed early on in the book what Drew's secret was and even when it was confirmed later on, I was still surprised.  And I couldn't blame Drew for becoming the person he was because really how could you?  It made me love him and want to protect him even more.  Once the other twists started occurring, I couldn't even believe what I was reading!  All I have to say is pick up the book and be prepared for the roller coaster you are about to get on – it's definitely a cliffhanger so I am preparing you now…you will not want to miss this book and this author.  Great job Monica!
Safe word – MARSHMELLOW.  Sighhhhhhhh!!!!!!
Character Inspirations (courtesy of Reality Bites)
---
GIVEAWAY
About the Author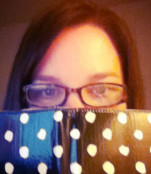 Monica Murphy is a writer, a wife and a mom. She drinks too much coffee and spends too much time in front of her computer. She likes to read, she watches bad reality TV and she sometimes acts younger than she really is. Though most of the time she's sure her kids think she's a complete buzz kill.
One Week Girlfriend, a new adult/contemporary romance, is Monica's first book. 
Twitter  MsMonicaMurphy
Blog http://missmonicamurphy.blogspot.com
Website http://monicamurphyauthor.com
Facebook http://www.facebook.com/MonicaMurphyauthor
Goodreads  http://www.goodreads.com/author/show/5934418.Monica_Murphy