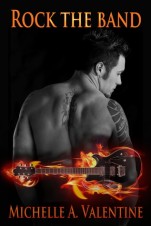 Today, we are excited to welcome Michelle Valentine to our blog as she promotes her new release Rock the Band!
Michelle Valentine is giving ONE lucky winner ebook copies of Rock the Heart and Rock the Band.  Leave a comment on our Facebook page of your favorite band.  Random winner will be selected at 10pm tonight!  GOOD LUCK!  
4 STARS!!!
Summary
After Noel Falcon professed his love to the one girl who truly holds his heart in the palm of her hand, he decides to try his damndest to keep Lane Vance in his life forever this time. There's no way he'll let her slip through his fingers again without a fight.
The instant they are together Noel begins to plot a way to ask his headstrong lady-love to be his wife, but every attempt to pop the question is foiled by a string of mishaps that prevents him from the perfect moment to get the job done before he goes back on tour with Black Falcon.
Distance is a bigger challenge than Noel expects, and the one-eyed beast of jealous raises its ugly head when Lane takes on a job working on an ad campaign for Embrace the Darkness. With Striker—a man that's made it clear in the past he's very interested in more then her business sense—lurking around her constantly, Noel wants to claim Lane now, more than ever.
ROCK THE BAND is a 27,000 word novella from the Black Falcon Series
Excerpt
"Come here, you," I growled as I pulled her back down for one last round of mind-blowing sex while I was still allowed to touch her.

She squirmed and giggled beneath me as I traced her face with the tip of my index finger. Her green eyes stood out against her olive skin.

They were beautiful. It was possible that I might be able to stare into them all day without moving.

Jeesh. What was she doing to me? I was becoming a total pussy.

She swallowed hard and then licked her lips. The mood between us shifted from playful to serious in nearly an instant. The rhythmic pace of her chest increased in speed and I bit my lip as I felt my cock harden against her body.

Even though I couldn't get enough of her body, this crazy chemistry I felt between us stemmed from more than just sex. We had something here.

Love. And it was undeniable.

Every time I thought it wasn't possible to love her anymore, I found my heart swelling more each second I was around her. "I love you so much that sometimes it hurts."

The delicate fingers on her right hand cupped my cheek, and she ran her thumb across my lips. I shut my eyes from the pure exotic pleasure of her intimate touch. Tremors shot down my spine, and my mouth hung open slightly. Lane used that as an invitation to slip her thumb into my mouth a little. I closed my lips around it, tasting her flesh with my tongue.

How was it possible for someone to taste so fucking delicious?

"Noel, I want you," she whispered.

Lane pulled her thumb from my mouth and ran it down the center of my neck, crossing my Adam's apple before she curled her fingers around my neck and pulled my head down. Her lips crashed into mine, and a wave of emotions flooded me. I couldn't be without this. Not for even one damn day. I had to win this bet.
Christine's Review
I love Noel, Lanie and the Black Falcon characters and this was a wonderful short story to hold me over in the interim until Michelle's next book comes out – Rock the Bed!
Rock the Band continues with Noel and Lanie's story and the next chapter in their life together.  This novella is in Noel's point of view and we see how determined he is to keep Lanie with him at all times.  Distance will prove to be a challenge for this couple as Noel must continue on his tour while Lanie searches for a new job and Noel immediately begins to strategize on how he will keep them together and show his commitment to her and their love. 
Never in my life had I loved another person as much as Lanie Vance – I knew that now more than ever.  I had to figure out a way to make her mine forever.
A week getaway from his bandmates and the constant touring is what this couple needs to connect with each other and have some much needed alone time.  This couple is so sexy and hot – the sex scenes between them are explosive!  What I love about them is that it isn't just sex between them – there is an undeniable love and chemistry that you can feel between them.
The green eyed monster rears its ugly head when Striker from the Embrace the Darkness band offers Lane a job to work with him.  Noel knows that there are ulterior motives for this but Lane is adamant of needing her independence.
Will this couple finally get to a good place together?  Will Noel be able to convince Lane that she is the woman of his dreams and that they are meant to be together?
You will just have to read it to find out! 🙂
Music Inspiration – Only Girl (In The World) by Rhianna (Boyce Avenue Cover)
 
 

About the Author
New York Times Best Selling Author Michelle A. Valentine is a Central Ohio nurse turned author of erotic romance of novels ROCK THE HEART (2012), ROCK THE BAND (2013) and ROCK MY BED (2013). Her love of hard-rock music, tattoos and sexy musicians inspired her BLACK FALCON series.
Twitter M_A_Valentine
Website http://www.michelleavalentine.blogspot.com
Facebook http://www.facebook.com/ShhMomsReading#!/michelle.valentine.7923?fref=ts