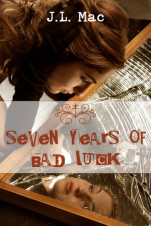 Today, we welcome J.L. Mac to our site as she promotes her new novel Seven Years of Bad Luck which released on January 20th.
Leave a comment on our Facebook page for a chance to win an ebook of this great book!  Winner will be picked tonight at 10pm.  Good Luck!
4 STARS!!!
Summary
When twenty-six year old Kathleen Cooper realizes that she forfeited her dreams and aspirations of becoming a lawyer after a brash decision to run off and marry the insanely charming Aidan Cooper, she decides to regain what she lost over the course of their seven-year relationship and start fresh.
With a renewed sense of hope and determination, she moves to a different city, lands a new job, and meets the handsome Benjamin Chase in a serendipitous way.
But even with all of these changes and hopes of gaining a new life, Kathleen is still not happy with the person she sees in the mirror staring back at her. She is an insomniac. She generally has bad luck in just about everything she attempts. She's clumsy, and even if Prince Charming fell into her lap, she would likely push him in the opposite direction, for fear of getting hurt or worse, hurting someone else. This time she can't blame any of these things on her bad luck or her destructive marriage. This time, it's not her heart that's in danger. This time, she has much more to lose and everything to gain.
Will she realize her mistakes in time to repair the damage? Will she be able to reverse her shattered self-image and discover true happiness? Will she ever find her way back to the person she was before seven years of bad luck?
Excerpt
I slid my chair from the table and began towards my lonely lover, intent on changing that. Once I made it to his side, he pushed back from the table, and I slid into his lap. I grasped his muscular shoulder with one hand and lightly cupped his angular jaw with my other hand. "You're lonely Ben." I leaned in and kissed him gently then sat back to look at him. "But you won't be tonight. Tonight I'm yours. Take me to bed," I whispered against his cheek as the stubble on his jaw lightly scratched across my face.

As graceful as could be, Ben slipped his arms beneath my knees and around my back before he lifted me easily and began striding towards his room. He sat me on his plush bed and stood back. He stared at me for a moment for reasons unknown to me with a curious look on his face.

"Don't stand there. Come here," I demanded. He walked slowly over to me, propped on the side of his bed, feet dangling. I hooked my fingers into the belt loops of his pants and pulled him forward between my knees. He said nothing while allowing my hands to roam his body freely. I knew what I had in mind was far more intimate than I should have allowed considering I needed things with Ben to remain physical despite my growing affection for him. But, I couldn't refuse. I was compelled to help him. To fix him. To repair the broken bits of the lonely man I met at the dinner table over shrimp scampi not ten minutes before.

Then, I threw caution to the wind and exposed myself to Ben and not just physically. I let him in. Not for me, for him. There we were. The lonely and the damaged giving each other the best of what we had to give in hopes that it would be enough. Even if just barely, it would have to be enough.

"What are you doing to me, Kathleen?" he muttered.

"Probably the same thing you do to me, Ben," I whispered back. I looked into his beautiful eyes and wished I could lose myself in them every second of every day. Before I knew it, I had rid Ben of his clothing and began working on my own. He stood there, motionless, allowing me to take charge. I moved further back onto his bed and pulled his hand to join me. Once he was lying on his back, waiting for me, I straddled him and lowered my mouth to his. I was sure to do my best to convey my feelings through the kiss I was sharing with him.

Not alone.
Christine's Review
Seven Years of Bad Luck is one woman's journey – of neglecting her dreams for something that she thought was love thus losing her true self in the process and finding her way back to salvation.
Kat (Kathleen) Cooper was married to her husband Aidan for 7 years.  They married young and what started off as love turned into animosity after years and years of disappointment and infidelity.  On the outside, Aidan is the perfect, handsome, wonderful husband.  But reading from Kat's perspective shows us the unbearable unhappiness and pain he caused her throughout their marriage thus causing her to lose her sense of self and who she is.
After finally coming to her senses and moving to Dallas with her friend Cheyenne (Chey), Kat looks to rebuild herself, reclaim her independence and find true happiness.  On a chance encounter at a local book store, we meet Ben Chase and things begin to look up for Kat.  Ben immediately catches Kat's (and my!) attention as he is a dominant, attractive and successful man.  She can't stop thinking about him though his behavior is totally unbecoming to her.  Thinking she will never see him again, she is surprised when he is a lawyer in need of a paralegal and now she is working for him and constantly in his presence. 
Ben wants a relationship outside of work but Kat is scared of what she feels for him though he tells her there is nothing for her to be afraid of.  She needs this intimacy with him – she deserves someone to worship her as Ben seems to do.  But Kat continues to push him away.
Will Ben be able to show her that she is worth more than she realizes?  Will she let this need to prove that she has the strength to be independent harm her chances for true happiness and love?  Will she be able to every trust someone again with her heart?  And will she find her true self again and become who she once was?
This was a wonderful debut novel by JL Mac.  I had some minor issues in the beginning getting into the novel as I have issues with infidelity.  I was so mad that Aidan was so charming and that Kat could not resist him!  I wanted to scream!  But as the story continued and Kat finally had the backbone to send him packing and then she met hottie Ben – the story really picked up for me!  Ben is demanding and sexy – he is what Kat needed to build her confidence again – I especially liked how he talked to her and made her always look him in the eye.  He helped her restore her inner strength as the book progressed and Kat became more and more strong and outspoken.  There were some unexpected things that happened in the book that I didn't see coming with a jaw dropping scene at the end that is so suspenseful!  I can't wait until the next book to see what happens!  Great job Jaimi!
Picture Inspirations
 
About the Author
J.L. Mac is twenty-six years old and currently resides in El Paso, Texas, where she enjoys living near her parents and siblings. She was born and raised in Galveston, Texas, until she married her husband in July of 2005. She has two young children and is married to a soldier in the United States Army. J.L. and her family have lived all over the United States and have enjoyed each new experience in each new place. J.L. admittedly has had a long and sordid love affair with the written word and has loved every minute of it. She drinks too many glasses of wine on occasion, and says way too many swear words to be considered "lady-like." J.L. spends her free time reading, writing, and playing with her children.
Twitter JaimiLMcCormick
Website http://jlmacbooks.blogspot.com/
Facebook http://www.facebook.com/jlmacbooks?fref=ts
Goodreads http://www.goodreads.com/JLMac