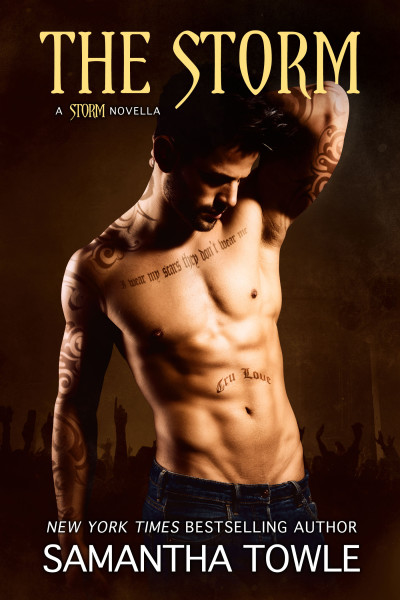 The Storm

by Samantha Towle
on December 23, 2015
Buy on Amazon
Goodreads


STORM (noun)—a turbulent disturbance; a disruption or dispute.

Jake Wethers's life is perfect. He's married to the woman he's always loved, and they have three beautiful children. The Mighty Storm is still going strong, and his record label is thriving.

Jake has everything—a life he thought he would never have and one that he didn't think he deserved.

Not so long ago, Jake's life wasn't perfect. The unexpected and untimely death of his best friend, Jonny Creed, sent an already out-of-control Jake spiraling down further.

Drug addiction. Alcohol. Women.

Jake was in the fast lane to following Jonny to the grave until Tru Bennett walked back into his life and changed everything.

But now, the past that Jake left behind has come back to find him. And what the past brings with it is going to be one of the biggest challenges he has ever faced.
I adored this book… The Storm is told in Jake Wether's POV. Now if you don't know who Jake is stop reading this review and 1-click The Mighty Storm  and Wethering the Storm to experience first hand the true love that is Jake and Tru's story You don't need to read Taming the Storm (book 3) as that is about Tom – another band member.
I am going to attempt to show my love of this book without revealing any spoilers, but I will tell you this book does NOT have cheating, it does NOT kill off a main characater and Jake remains true to his love for Tru. So die hard fans can take a breath, 1-click and enjoy this look in to the life of Tru and Jake as an event threatens to upset their happy.
The Storm, which by the way is the perfect name for this book, has a very valid reason for being told in Jake's POV. Well OK not the whole book as the very end of this book gives you a POV that will cause many to tear up.
Fans will remember Jake's best friend, Jonny Creed who is deceased.  Well this book allows Jake closure of sorts. Losing a loved one especially at a young age is never easy, moving on takes strength and though Jake finds that in the prior books even naming his oldest son after his friend, in this one Jake gets something back of sorts and more importantly gets a major question about that fateful night answered.
My heart broke for many as I read this story: for Jake, for Jonny's father, for Tiffany, yes Towle brings a woman the readers haven't met prior into this one and yes it works (again no cheating I promise), and finally my heart broke for Jonny… how can your heart break for decreased man you ask, well read the book and you will find out!
The Storm is Jake and Tru living their lives, moving forward, taking events as they come and overcoming as a family.
Tru yet again shows how her capacity to love is endless and the unconditional love and support she shows her husband speaks to the marriage they have created.
Ms. Towle –  thank you for this one; I felt like I needed this one, for Jonny, for the band….
And yes I do hope a certain someone gets a his happy told a few years down the line!
♥ READ THE BOOKS THAT STARTED IT ALL ♥
Book 1 – The Mighty Storm
Kindle Edition
Amazon UK | US
Paper Back
Amazon UK | US
Audiobook
Amazon UK | US
Book 2 – Wethering the Storm
Kindle Edition
Amazon UK | US
Paper Back
Amazon UK | US
Audiobook
Book 3 – Taming the Storm
Kindle Edition
Apple
Kobo
Barnes & Noble
The Storm
Amazon US | Amazon UK | iBook US | iBook UK | Kobo | Barnes & Noble