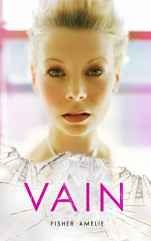 Click here to enter to win a Kindle Fire from Fisher!  Contest ends January 30th!    
Leave a comment on our Facebook page under this post or website on what you are most thankful for in your life.  Winner will be chosen 10pm tonight for an ebook copy of Vain!  Good luck!
 
 

 
5 STARS!!!
Summary
If you're looking for a story about a good, humble girl, who's been hurt by someone she thought she could trust, only to find out she's not as vulnerable as she thought she was and discovers an empowering side of herself that falls in love with the guy who helps her find that self, blah, blah, blah…then you're gonna' hate my story.
Because mine is not the story you read every time you bend back the cover of the latest trend novel. It's not the "I can do anything, now that I've found you/I'm misunderstood but one day you'll find me irresistible because of it" tale. Why? Because, if I was being honest with you, I'm a complete witch. There's nothing redeeming about me. I'm a friend using, drug abusing, sex addict from Los Angeles. I'm every girlfriend's worst nightmare and every boy's fantasy.
I'm Sophie Price…And this is the story about how I went from the world's most envied girl to the girl no one wanted around and why I wouldn't trade it for anything in the world
Christine's Review
Vain is the first novel I have read from Fisher Amelie and it will definitely not be my last!  This was a beautiful story of second chances and how people can change for the better both inside and out.
Sophie Price is a rich, self-centered, popular, flawlessly beautiful bitch.  There really is no other way to describe her.  She hates rejection and is SO unhappy with her life, she will do anything and everything to get attention since she gets none from the people she should be unconditionally loved by – her parents.  Sophie gets caught doing cocaine and is sent to jail overnight.  Circumstances eventually see her sentenced to 6 months working in an orphanage in Uganda.  Her father's lawyer, Pembrooke, knows that Sophie has had an awful upbringing so by sending her to "do good" he is really trying to save her from her own self destruction.  I cry for her as they say goodbye as he is the only family she has ever known.
When Sophie lands in Africa, she is amazed by the beauty that is in front of her.  And though throughout her young life, she has never felt anything for anyone; she is instantly attracted to Dingane (Ian Aberdeen), a white man from South Africa with full lips, blue eyes, shoulder length hair and a velvet voice.  As Sophie embarks on this new journey and she learns about the horrors that these African people and children face, we see through her eyes her realization that it is time for change and that this opportunity will show her how precious life is and to embrace it and to be thankful for what has been given to her.  For the first time, Sophie feels love from another woman, Karina, who helps to run the orphanage with her husband.  Sophie also encounters children and learns how to interact with them.  And for the first time, she learns to not cry for herself but for the innocents.
Although at first, Ian seems repulsed by her stuck up ways, we see their relationship build from the ground up – from learning about each other, to trusting one another and to rely on each other as friends first.  Ian is the first man to ever speak the truth to her.  He makes her realize that fear and sadness aren't weaknesses and that she doesn't need to despise herself for having those feelings.  Ian teaches her what it is to feel. 
And this was my new epiphany.  Men wanted me.  They all did, however briefly, but none of them wanted to keep me.  That's what I needed.  I needed to be owned, loved.  But not by a man.  I knew then that I never needed to be kept by a man.  What I needed was to love myself, to want to keep myself around.  And in that revelation, I knew that if I wanted to keep myself, that a man wanting to keep me would just be a by-product.  Who wouldn't want to keep someone who respected himself or herself?
As Sophie and Ian begin to fall in love, we see how much brighter she is and how full her heart is – and I find myself feeling complete happiness for them as it puts a smile on my face.  There is a definite chemistry and attraction between these two but it was told in such a way that it was just uplifting and completely heartwarming (I do have to mention that the shower scene was so intimate and their first kiss was just AMAZING – swoon!).
"I knew you were beautiful, knew it very well, but it's like I just woke up to the idea.  There's something about you now, Soph.  You exude something and I can't quite place my finger on it.  You practically glow with it.  You devastate me," he said, clutching at his heart.
And where there is happiness, there is also sadness.  The LRA (Lord's Resistance Army) come to attack the orphanage where Sophie and Ian live and Sophie's beloved surrogate mother, Karina dies.  Sophie leaves before her 6 month sentence is complete at the wishes of Ian's mother who is a mayor in South Africa.  She leaves because she loves Ian too much for him to lose his family but as she leaves Ian yells at her that he will never forgive her for leaving him and my heart breaks for them and their lost love.
Without revealing the ending, the epilogue was EPIC and to die for and made my heart burst with happiness.  I recommend this book for people not looking for the next hot read but for those wanting to read about someone who learns to truly value life.  This is a YA book and it was truly a beautiful read!
On a side note, for me to read and to experience the horrors that these poor people face in real life…it puts things into perspective and I truly realize how thankful I am to have the life I live.  And I just pray for peace for these people and hope that one day there is no war and no hurt for them.
 
 
"The shortest distance between two points is the line from me to you."
---
About the Author
Fisher Amelie resides in the South with her kick ace husband slash soul mate. She earned her first 'mama' patch in 2009. She also lives with her Weim, 'Jonah', and her Beta, 'Whale'. All these living creatures keep the belly of her life full, sometimes to the point of gluttony, but she doesn't mind all that much because life isn't worth living if it isn't entertaining, right?
Fisher grew up writing. She secretly hid notebooks and notebooks of dribble in a large Tupperware storage container in her closet as a kid. She didn't put two and two together until after college where it suddenly dawned on her, "Hey, I like writing". She's a bit dense. "No, I'm not." "Yes, you are. Put down that Oreo, your butt can't take any more." "You're rude." "Yeah, yeah." Anyway, she likes to write and has finally beaten her self-esteem into submission enough to allow herself to be scrutinized under the 'other readers' microscope. "No! No! Not a cover slip! Last time it gave me a ra…." (mumbling)
Twitter fisheramelie
Website http://www.fisheramelie.com
Facebook https://www.facebook.com/fisheramelie?fref=ts
Goodreads http://www.goodreads.com/author/show/4849669.Fisher_Amelie