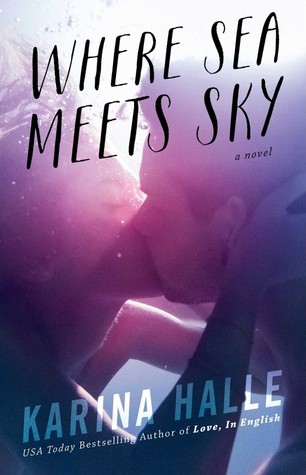 Where Sea Meets Sky

by Karina Halle
on March 31, 2015
Pages: 384
Buy on Amazon
Goodreads


A new adult novel that perfectly captures the existential angst of your early twenties with raw wit, fresh insight, and true feeling from a critically adored USA TODAY bestselling author.

Joshua Miles has spent his early twenties spinning his wheels. Working dead-end jobs and living at home has left him exhausted and uninspired, with little energy to pursue his passion for graphic art. Until he meets Gemma Henare, a vivacious out-of-towner from New Zealand. What begins as a one-night stand soon becomes a turning point for Josh. He can't get Gemma out of his head, even after she has left for home, and finds himself throwing caution to the wind for the first time in his life.

It's not long before Josh is headed to New Zealand with only a backpack, some cash, and Gemma's name to go on. But when he finally tracks her down, he finds his adventure is only just beginning. Equally infatuated, Gemma leads him on a whirlwind tour across the beautiful country, opening Josh up to life, lust, love, and all the messy heartache in between. Because, when love drags you somewhere, it might never let go even when you know you have to say goodbye.
I love Karina Halle books. In my eyes, she can NEVER do any wrong. Her books, her writing, the characters, the stories – every one so compelling, so exciting, filled with so much heart and soul that you know you are reading another masterpiece by this author.
What I always love about her writing is her ability to transport you into her books. Her vivid imagination, her descriptive words always suck me right into her stories and Where Sea Meets Sky was no different.
We met Vera's brother Joshua Miles in Love, In English and I liked his character and couldn't wait to take part in his journey to find his happy.
It is now Josh's turn to travel the world, to grow and find himself. After a one night stand with Gemma Henare, Joshua decides to follow her back to New Zealand because their connection is too great and unforgettable to just let go.
Much to his surprise, he is able to find her in New Zealand and what ensues is a backpacking journey in an orange Volkswagen van, traveling through this beautiful country experiencing the beauty of the mountains, the beaches, the culture and the people.
Josh and Gemma are traveling in a foursome including Gemma's jerk of a boyfriend Nick and her American cousin Amber which made the trip all the more interesting yet hard at the same time.
There were so many great things about this book that I want to mention. First and foremost, I loved seeing New Zealand through Karina's eyes and descriptions. Everything from the beauty of the country itself to the great personalities that these characters met while on the road made this trip freeing and fun and I could feel the happiness and independence that both characters felt while on their journey.
I simply loved Josh – on the outside a tattooed artist but on the inside, a sweet talking, charming and funny guy. Someone who you can relate to and I completely enjoyed being inside his head. The connection between Gemma and Josh felt real and heartfelt and sexy as all hell. This isn't an insta-relationship but a slow building romance that only makes you crave more.
What I loved the most – these characters needed this journey of self discovery to be able to find their paths both in their careers and in their personal lives. Both needed to find the people that they wanted to be both individually by realizing their self worth and then as a couple to be able to have a future together. Love is messy and it's hard, love is worth taking risks but home is where the heart is and these characters proved this in spades.
Emotionally beautiful, inspiring and unforgettable, Karina Halle has yet again touched my heart with her poignant writing and her beautiful stories and I can't wait to read Amber's story coming soon this summer!
♥ Read this Series ♥
Book 1 – Love, In English
Book 1.5 – Love, In Spanish
Book 2 – Where Sea Meets Sky
Pre-Order Book 3 – Racing the Sun