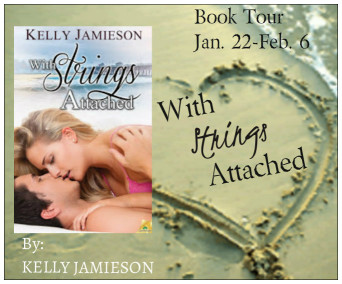 We are excited today to participate in the blog tour for With Strings Attached by Kelly Jamieson.
Enter below for a chance to win a prize from Kelly!  One winner will receive a silver necklace with a book charm and two runner-ups will win chocolate body paint!  Good luck!
---
4 STARS!!!
Summary
The melting point is where it all comes together…or makes a big mess.
San Amaro Singles, Book 1
Corey Fenwick keeps her bitter past as hidden as the sweet centers inside the handmade chocolates she sells to a growing list of upscale customers. Experience has taught her the only person she can rely on is herself, so her best-friends-with-benefits relationship with Matt is perfect—no strings attached.
After his last girlfriend deemed him "boring", Matt Ferber watched her ride off on the back of a Harley with a rock musician. Figuring he's doomed to "let's just be friends" with the women he cares about, the arrangement with Corey suits him fine too. Until his old friend Dylan Schell rolls into town to hang out while recovering from a surfing injury.
The sexy bad boy makes Corey's mouth water, and she figures a harmless fling won't hurt, especially when Dylan suggests she come between him and Matt—in bed.
It's a win-win-win situation…until somehow there are strings attached. And too late they realize they're getting all tangled up.
Warning: This book contains an independent woman, two hot guys, some trash talking, a little jealousy, a few beers, chocolate body paint and scary stuff like falling in love.
Denise's Review
Corey Fenwick and Matt Ferber are best friends; both have sworn off relationships due to prior bad experiences.  These two decide a best friends with benefits relationship is the ideal way to keep themselves sexually satisfied without dealing with all the strings that come with a relationship. They are both focused on their careers – Corey making high end chocolates and Matt expanding his brewery.
These two characters will bring a smile to your face.  Their interactions, their understanding of each other's needs, and the way they are there for each other.  Ms. Jamieson allows the reader to see what these two can't or won't – that they are so right for each other.
When Matt's old friend, professional surfer Dylan Schell returns to town to recover from an injury, the story gets very interesting. Dylan is forward and when he suggests that he and Corey turn their attraction into a threesome with Matt, the sparks start to fly. 
In true Ms. Jamieson fashion, the sex is lustful, hot and well played out.  The use of backstory in this book made for an enjoyable read.  Corey's history with her Mom and really lack of history with her Dad built on the story and allowed you to understand her and her motivations. It was also used to highlight just how well Dylan understands Corey.
The question becomes, as strings start to develop, are they willing to admit what they really want?
With Strings is wonderful look into what happens when what you want is in front of your face the whole time.
Kelly is planning two more books in this series. I really enjoy her stories and other characters so I am looking forward to How to Love (June 2013) about Jules a minor character in this book and Book 3 is Slammed – Dylan's story (September 2013), oh I am so excited for his story!  Some of his quotes in this book make for laugh out loud mementos.
About the Author
Kelly Jamieson writes romances with heat that's sweet. Her writing has been described as "emotionally complex", "sweet and satisfying" and "blisteringly sexy". If she can stop herself from reading or writing, she loves to cook. She has shelves of cookbooks that she reads at length. She also enjoys gardening in the summer, and in the winter she likes to read gardening magazines and seed catalogues (there might be a theme here…) She also loves shopping, especially for clothes and shoes. But her family takes precedence over everything else (yes, even writing). She has two teenage children who are the best kids in the world, not that she's biased, and a wonderful husband who does loads of laundry while she plays on the computer writing stories. She loves hearing from readers, so please visit her website at www.kellyjamieson.com.
Website http://www.kellyjamieson.com
Facebook http://www.facebook.com/#!/KellyJamiesonauthor?fref=ts
Goodreads http://www.goodreads.com/KellyJamieson
---
---
Tour Schedule
Here are the tour stops – Stop by and read more about chocolate, beer, friends to lovers and Corey and Matt and Dylan!