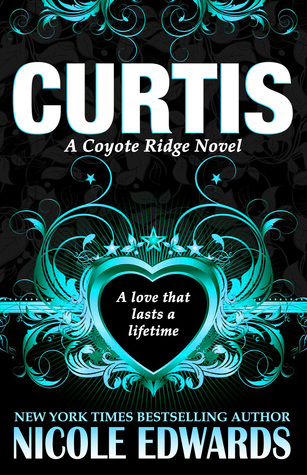 Curtis

by Nicole Edwards
on March 15, 2016
Buy on Amazon, Buy on B&N, Buy on iTunes, Buy on Kobo
Goodreads


"I've always believed for every person there was only one love that would last a lifetime. I never understood quite what it meant until I met you though. You're it for me, Lorrie. You are my love that lasts a lifetime." ~Curtis Walker

A love story 50 years in the making…

Curtis Walker has lived his life to the fullest and he attributes that to the woman who has always been by his side. The one thing he knows with absolute certainty: he can't live without her. Especially not now.

A love that has withstood the test of time…

It's no secret that Curtis and Lorrie, the proud parents of the seven wild and rowdy Walker brothers, have found their happily ever after. Now, it's time for the emotional journey of how they got there.
I am going to start my saying that I am struggling to find the right words to relay my love of this book. Yes, Nicole Edwards is an author whose books I adore, but CURTIS takes that to a whole new level. With literary genius, Ms. Edwards provides the reader with a glimpse inside a love that spans 5 decades.
I loved that CURTIS is not told in flashbacks. You see their love story from the beginning (starting in 1962) as well as the present day.
The first time these two meet was hysterical, very much not what one would expect and it takes some time for the reader to truly understand the context of that meeting and its deeper meaning as it relates to the larger story. But WOW did it work so well! It even comes back into play years later and was so well done. Truly speaking to all it takes to keep a marriage together for so long.
Though I loved Curtis, as the father to 7 men, the Curtis I met from the opening page of this book stole my heart!
The book is broken down into three Parts. I will not tell you why or how they place in the story but I will say that they are perfectly done!
Curtis is very clear about his love for Lorrie….
"I've always believed for every person there was only one love that would last a lifetime. I never understood quite what it meant until I met you though. You're it for me, Lorrie. You are my love that lasts a lifetime."
Though I will say in part 2, there were times he made my eyes tear and I wanted to strangle him for making Lorrie so upset… (nope not what you think, you will likely never guess. Read the book).
This book is an emotional journey from the very beginning; it's both sweet and intensely sexy and at times I may have shed a tear or two. The author's amazing literary prose shares this story of a deep love that spans 5 decades.
The tools used were masterful and I was glued to my kindle throughout this epic journey. It was so touching to read about the things we knew these two went through: like the birth of each son (so fun to read Lorrie's thoughts in those moments) but more than that, it was so enjoyable to read what we didn't know. Those who have read the Alluring Indulgence series, the Walker brother's stories might have wondered things like – why were Curtis and Lorrie married so many years before the birth of Travis their oldest son; well you get the answer to that question and so much more!
I loved how the name of the town (well now the series name) plays into the story – it exemplified what a wonderful and truly caring man Curtis is.
I will say part 3 takes place in the present day, and this one not only reinforced Curtis' devotion and love for Lorrie and his family, he made me call even more in love with the Walker boys (well men). Despite the heavy nature of this section, and the heart pounding OMG this can't be happening, the author managed to weave in moments of laughter and humor. Travis, OMG such a wonderful man, his protective nature showing through; oh and there is a chat with Ethan and Curtis that stole my heart. Kaleb and Zoe the two this all started with also have some wonderful moments in this part. And that tool Ms. Edwards used in this book provided the reader with Lorrie's voice was hysterical in this section!
Trust me, I could go on and on about what I loved about this one, but I think it is best to say – read the book, it is a beautifully written epic love story!
This book is standalone and the first book in the Coyote Ridge series. You do not need to read the Alluring Indulgence (AI) series to read and LOVE CURTIS. If you want to read the sexy Walker brothers (Lorrie and Curtis's sons), you can read the Alluring Indulgence (AI) series either before or after you read CURTIS.