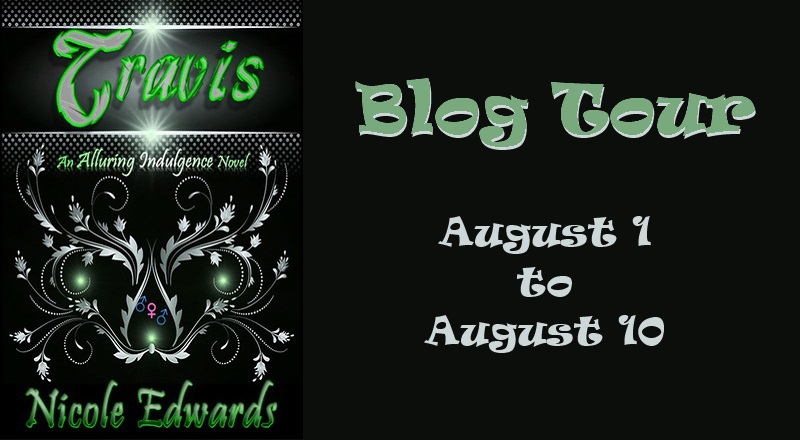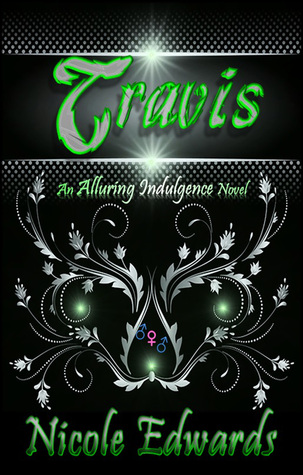 Today we welcome Nicole Edwards to our blog as she celebrates her new book Travis which released on July 30th.
Enter for a chance to win some amazing giveaways using Rafflecopter below!
---
5 STARS!!!
Synopsis
Travis Walker, the oldest of the seven Walker brothers, has been referred to as moody and mysterious, and for the most part, he would agree. Until recently, he spent his days helping his brothers run the family business. Now, he dedicates his time and energy to building a resort, Alluring Indulgence, that caters to fetishes and fantasies. And despite his attempt to work himself into the ground, Travis has never denied – at least not to himself – that something is missing.
Ten years ago, Travis made the hardest decision of his life, breaking his own heart in the process. A decade later, he is learning that life has a strange way of turning things upside down before placing the pieces exactly where they were meant to go?
Denise's Review
Travis Walker the oldest of the Walker brothers and is a character  in both Kaleb book 1 and Zane book 2 in Ms. Edwards' Alluring Indulgence series.
Readers of this series will certainly remember that a key piece of information about Travis' backstory was revealed at the end of Zane.
Well, after the build up and waiting I am pleased to say that Ms. Edwards does not disappoint.  Travis's story is engaging, hot, compelling and layered.
In the end it will have you smiling for this big man who readers will now truly understand.
Ok since Travis is a mystery, I am going to try to relay my love for this book without giving away how Travis finds his happy or who his happy is with.
This story to me asked some real questions:
Is love about finding the right person? Or is about the timing?
Would you break your own heart if you felt it kept a loved one from hurting more?
What would you do if you thought the world or even your closest friends would not accept who you were?
How far would you be willing to go if you thought you could finally have what you thought unattainable?
Ms. Edwards did an amazing job with this story, and yes in my head I was given answers to all the questions listed above, answers that to me felt true to the Travis that Ms. Edwards created.
The story will pull you in almost instantly and keep you reading, you know the kind of sneaking moments in whenever you can kind of reading.
The author wove in some heartwarming scenes with not only Travis' brothers, yes readers are going to love the Walker boys even more, but in this story you also see Curtis Walker, the men's father a fair amount.
I thoroughly enjoyed watching Curtis interact with his boys and there are two scenes with Travis that were so well done, they enhanced to the story and offered an insight into how these 7 men became who they are as adults.
As with the prior books in the Alluring Indulgence series, there is some overlap with Ms. Edwards Club Destiny series, this overlay truly added to Travis and brought back for me all the reason why I adore both series.
Ms. Edwards imagery in this book was outstanding, yes the sex scenes were laid out, yes I was able to get a vivid mental picture but beyond that I could see the storms over the Texas plains, I could envision the old farmhouse and oh yes I could see truly see the layout of Alluring Indulgence.
I adore the fact that Ms. Edwards characters are adults, this book uses real life situations, including a tragic turn of events to build the story and bond the characters together.
This story builds upon itself, adding depth to the characters and creating a world that will pull you in and likely wishing you lived on Coyote Ridge.
You will also get a look at new character again I am not telling you who or their part in the story but I will say it is one that if you are anything like me will now having you wanting of the twins, Brendon and Braydon's story… oh yes and I still want to read all about Sawyer and Ethan.
And in typically Ms. Edwards fashion, the interaction between the brothers will offer the reader a wide range of emotions, amazingly each man has his own personality and unique bond with the other brothers.
Travis and Sawyer's heart to heart touched mine; Travis and Zane's banter had me grinning from ear to ear and Travis and Braydon going toe to toe has me gripping my kindle pondering if these two might actually square off.
The epilogue… oh the epilogue, masterful is the only word I can think of, it not only offers you a wonderful look at Travis in his happy but it also will have you very much looking forward to Ms. Edwards next release, book 6 in her Club Destiny series.
This book is a novel, yes a hot novel but don't let the steamy sex mislead you, this is a story that develops and creates an amazing journey to a happy Travis never imagined possible and one that yes, you the reader will very happy with.
If you can't tell I highly recommend Travis!
If you have read Kaleb and Zane, go 1-click Travis now and prepare for yourself for a read you won't be able to put down
If you like you books hot and have not read the Alluring Indulgence series, go 1-Click Kaleb now and make sure to have Zane and Travis loaded as well so you can drive right in.
The path to happy in Travis is complete and will leave you wondering how Ms. Edwards is ever going to top this one!
Permission is NOT granted to re-post this content anywhere, so please don't do it. You may link to this page if you want to share it with others.
Deleted Scene from Travis – Zane and V
As Travis was turning to head back out the way he came, he heard something that stopped him in his tracks. No one was supposed to be there, at least according to the GC, but he could've sworn he heard something.

He heard the noise again.

It was the faint sound of voices as they echoed through the unfinished building. He moved as quietly as he could, up the stairs and across the unfinished floor, his boots making more noise than he would've liked, so he had to go slow.

The noise sounded again, and he turned in the direction he thought it was coming from. He stood in the extra wide hallway, staring at the glass doors with "Tranquility" etched across them. The sound was coming from the spa. The same one that V was going to manage.

Damn it. He had a pretty good idea of what he was going to find if he went in, so he didn't move. Staring at the doors and wishing like hell he could just turn and walk away, Travis wanted to go back the way he came and pretend he hadn't heard a thing.

Unfortunately, he couldn't do that. If it wasn't what he thought it was, he'd be pissed off like hell to find out something had been going down, and he did nothing to stop it. Placing his hand on the brushed nickel door handle, he took a deep breath and pulled it open.

Lord, please. Please don't let him walk in on Zane and V having sex… again. Please.

Travis opened the door to Tranquility, turned down the hallway that led to several rooms where clients were going to be masked and lotioned – or whatever the hell they did in a place like this – and… Sure as shit, right there in the first room he came to was Vanessa bent over a table. Although contorted was a better word for it. She was naked. Of course. And that wouldn't have been so bad, but Travis also got an unobstructed view of Zane's bare ass as he thrust double time into her, his fist wrapped in the long strands of her hair.

He had to blink twice before he accepted that what he was seeing was, in fact, real.

Oh, it was real all right.

The sound he heard had been V's moans, and for her sake, Travis backed right out of the room as quietly as he'd come in, praying he wouldn't embarrass the woman.

He was going to have to tell Zane to put a sign on the fucking door or something. Then again, the last time he'd found the two of them, they'd been at the club.

And now Travis had something else to use against his brother when he was being a pain in the ass. These moments, although he wished like hell he didn't have to see them, were priceless. These days, Travis had to store up as much ammunition as he could, considering his brothers were giving him hell left and right about his apparent change in personality.

Whatever.

Once he was back in the main hallway, he took a deep breath. How the fuck did he get her to bend like that?

Nope. No fucking way. Pretend you didn't even see that.

Travis had plenty of other things to think about that would help him to forget the image of Zane's naked ass, and he did his best to think of what they were as he headed back the way he came in.
Teaser
About the Author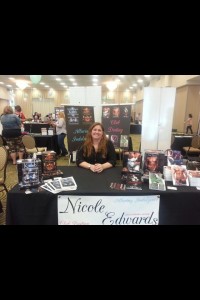 About me… hmmm…
Ok, I've been asked to provide a little bit of "real" information about myself. That's harder to do than you think it is, especially for someone who has difficulty talking about themselves. 😉 But, here goes…
I've been writing for as long as I can remember. Ever since I was a kid, I loved creative writing and as I got older, I got acquainted with those voices in my head and that led to putting my stories on paper. And now, here I am all these years later, spending my days doing what I love most. I decided to give myself over to writing full time in 2012 and I haven't looked back. I spent nearly 13 years in the corporate world and I have to say, this is a bit of a change (just a little) and I am loving every second of it.
I live in Texas with my husband and three amazing kids and our two beloved dogs. If I'm not writing, I'm usually reading. I devour everything I can get my hands on. I love romance of any type and being an Indie author myself, I'm always looking for new Indies to support. I haven't always been into reading, but about eleven years ago, I picked up a book – I'm pretty sure it was by Nora Roberts – and from there, I haven't stopped. Before I began writing full time, and my characters started taking up so much of my time, I was reading about 200 books a year. That has dwindled somewhat, but there isn't a day that goes by that I don't read.
An interesting fact… I don't watch television – aside from the occasional news anyway. I will go see a movie or two rarely, but for the most part, I get all of my entertainment from a book. Some of my favorite authors include J.R. Ward, Suzanne Brockmann, Lora Leigh, Jane Rylon, Lori Foster, and Jaci Burton just to name a few.