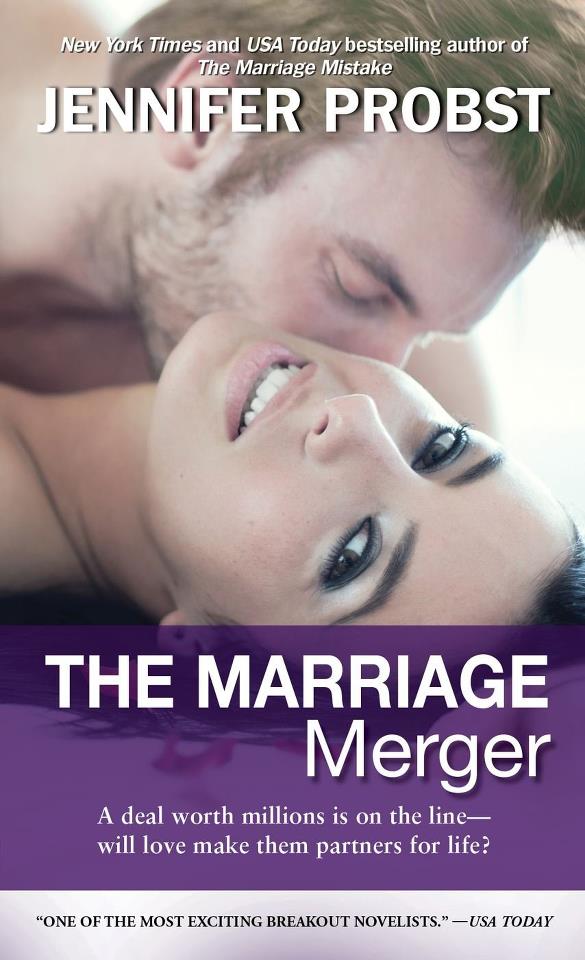 Today we welcome Jennifer Probst to our blog as she celebrates her new book in the Marriage to a Billionaire Series – The Marriage Merger. I have been waiting for Julietta and Sawyer's story and am excited to share my thoughts with you!
GIVEAWAY: Leave a comment following this post on who your favorite couple is from this series for a chance to win a signed paperback of this book! Winner to be picked tonight. Good luck!!!
---
4 STARS!!!
Synopsis
Her sisters have found wedded bliss with their wealthy, wonderful dream men, but not Julietta Conte. She's stayed on terra firma as top executive of the family's corporation, La Dolce Famiglia bakery. Work is her passion, and her trendy Milan apartment her sanctuary . . . until Sawyer Wells, a masculine masterpiece in a suit, lures her out of
hiding with an irresistible offer: an exclusive partnership with his international chain of boutique hotels.
Julietta's been burned before—and trusting her brother-in-law's friend, whose powerful gaze alone has her rethinking the best use of a conference room, is the riskiest proposition. But with a once-in-a-career chance to take the bakery global, will she mix stone-cold business with red-hot seduction?
Excerpt
She kept her body stiff and waited for him to finally pull away. When he began pressing tiny kisses to her brow and

down her cheeks, she bit back a sob. "Please let me go."  "No. Not yet." He tortured her with slow caresses over

her hips, sliding under her jacket and stroking the thin silk of her blouse. His touch was heated and strong, kneading

her muscles while his mouth drifted near her ear and played with her lobe, licking, biting gently, until a slow burn

simmered under her skin. "You've been screwed, baby, and not in a good way. Assholes have made you feel there's

something wrong with you. Tied you up in so many knots that your body is stuck."

She took a deep breath, quickly twisted and brought her knee up. Unfortunately, he anticipated the move and kept

her tightly pinned. His rock-hard erection pressed against her core, and a low animal moan escaped her lips. Where

had that come from? His soft laugh stirred the strands by her temple, and unbelievably, she grew wetter. "I could

show you things you've been missing," he taunted. His tongue licked the inner shell of her ear and a stream of hot

breath caused goose bumps to pepper her flesh. His hands continued to massage her hips and slide behind to cup her

buttocks, forcing her to arch on tiptoes. "Things that can free your delicious body and let you surrender to pleasure."

She panted. "Like sexual discrimination and harassment?  Oh, goody."  "Let's put that mouth to better use, shall we?"
Christine's Review
Julietta Conte is orderly, controlled, stubborn and a workaholic.  Sawyer Wells is handsome, dominant and her match.  Both believe that love doesn't exist for them and that marriage is hopeless.  What they find in each other is an undeniable attraction that is like no other.  And omg Jennifer Probst is again at her finest!
Julietta is convinced that the Book of Spells would never work for her like it did for her family.  But to appease her sister, she does the spell and in walks Sawyer into her life.
Julietta is the CEO of her family's company and she and Sawyer enter into a business agreement where her bakery will be located in all Purity hotels that Sawyer is building.  The reader can easily see the connection between these two characters but with this also comes the pain of their pasts and whether or not they will be able to overcome some of these issues.
We are introduced to a character named Wolfe who is like a little brother to Sawyer.  I enjoy the mentor/brotherly relationship they have with each other.  Through this, we see that Sawyer is not just the hardened exterior but also a caring person who saved Wolfe and steered him in the correct path to adulthood and success.
I am overwhelmed with emotions as I read this book as I have a vested interest in this family and their happiness.  Though Sawyer and Julietta are both strong willed and stubborn, we experience passion, freedom from rigidness and insecurities.  Above all, we see how two broken people can heal each other and take a risk in life for love.
Will Julietta be able to let go of her insecurities to experience love?  Will Sawyer be able to stop running and accept love from Julietta and this family that he so rightfully deserves?  Or will the pain and darkness from the past be a constant obstacle that these two beautiful characters can never overcome?
You will have to read this book to find out!
I LOVE this family!  Especially Mama Conte who is up to her old tricks again lol!  Jennifer knows how to write lust, passion and love that her words at times bring tears to my eyes and I can't wait to read more from this amazing author.  Another job well done!
P.S.  I do so hope we see more of Wolfe in the future as his story will make for an interesting read!!  (hint hint!!!)
About the Author

Jennifer Probst wrote her first book at twelve years old. She bound it in a folder, read it to her classmates, and hasn't stopped writing since. She took a short hiatus to get married, get pregnant, buy a house, get pregnant again, pursue a master's in English Literature, and rescue two shelter dogs. Now she is writing again.
She is the NYT and USA Today bestselling author of The Marriage Bargain. She is published both erotic and sexy contemporary romance with Entangled, Decadent, Red Sage and TWRP. She has also written a children's book, Buffy and the Carrot, co-written with her twelve year old niece, along with a short story, "A Life Worth Living." Visit her website for more info!
Book 1 – The Marriage Bargain

Book 2 – The Marriage Trap

Book 3 – The Marriage Mistake