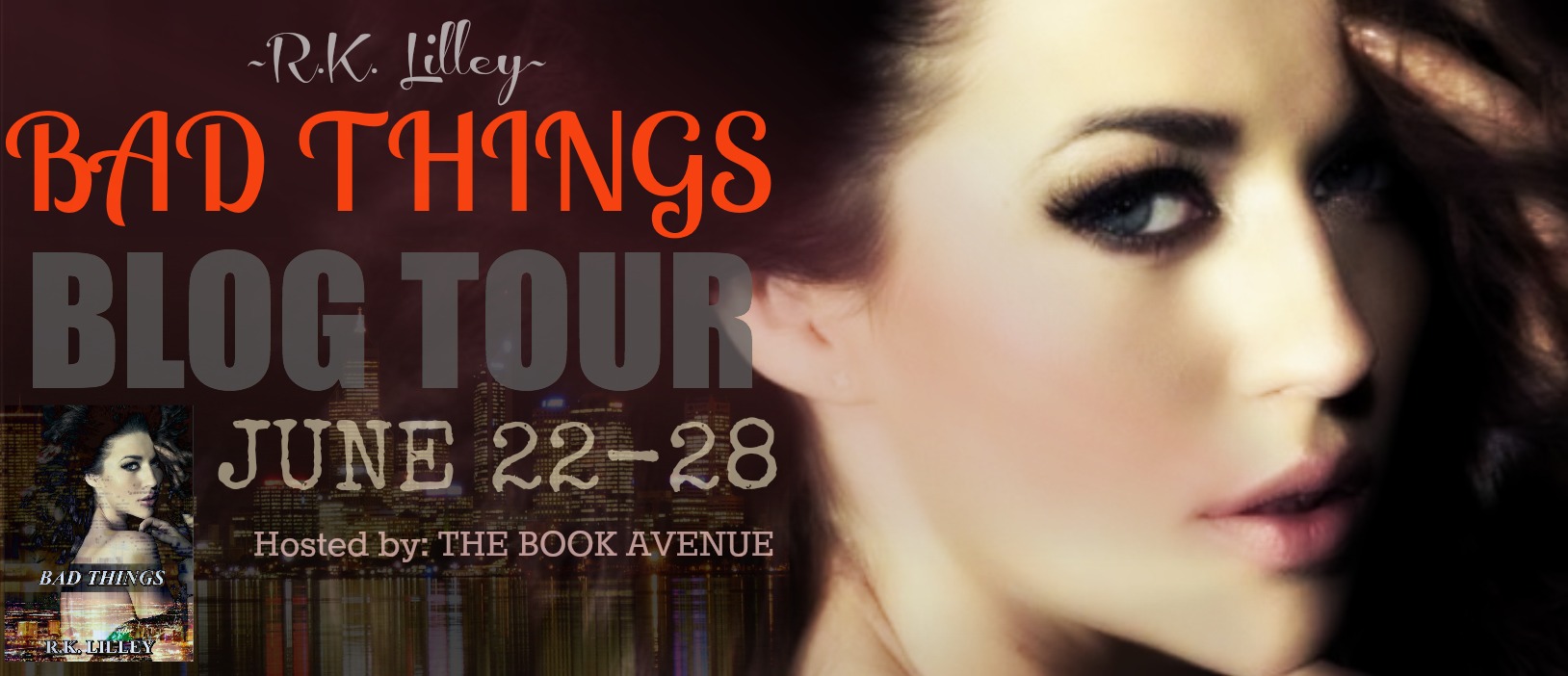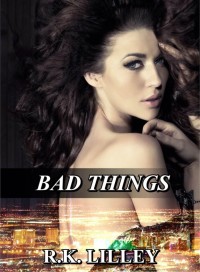 Today we welcome R.K Lilley to our blog as she celebrates her new book Bad Things which released on June 11th.
Enter to win an ebook copy of this book below.
---
5 STARS!!!
Synopsis
Danika hasn't had an easy life. Being insanely attracted to bad boys has never helped make it easier.
One look at Tristan, and every brain cell she possessed went up in smoke. This man was trouble with a capital T. It was a given.  She knew better. Bad boys were bad. Especially for her. Considering her history, it was crazy to think otherwise. So why did crazy have to feel so damn fine?
For as long as she could remember, Danika had been focused on the future with single-minded purpose. Tristan came along and taught her everything there was to know about letting go, and living in the present. She fell, hard and deep. Of course, that only made her impact with the ground that much more devastating.
EXCLUSIVE Deleted Scene
TRISTAN

I glanced around the goth themed tattoo parlor, looking for a girl that matched the description Jared had given me. 'Shows a lot of inked skin' seemed to be a theme in the place, for obvious reasons, and so I didn't immediately spot the infamous Frankie.

Luckily, she spotted me, sauntering up with a huge grin on her pretty, over-makeuped face. "You have got to be Jared's big brother. You look just like a roided out version of him."

I laughed, instantly like her. "I'm just big boned," I told her.

"Big boned…" She pursed her lips, studying me. "That one is so easy that I'll just let it go. So I hear you want a dragon tattoo. Tell me why and where."

I turned, pointing to a spot on my shoulder blade. "Here is the where.  The why is that I saw the one you did on Kenny, and it was badass. Plus, I've always wanted some dragon ink. I like the symbolism."

"Which symbolism are you referring to? Dragon tats have many different meanings."

"Well for me it would be that I think of myself as a protector. I take care of my loved ones."

"Jared told me that about you. You two are close, huh?"

I nodded.

"Well, Tristan Vega, I like your reasons. Let's go look at some designs."

She showed me several books filled with different dragon designs she'd done. I looked through them all carefully, but I'd had a pretty good idea of
what I wanted coming in.

I showed her an intricate eastern dragon with horns. It was similar to the one she'd done for Kenny.

"Is everyone in the band going to get one of these?" she asked as she led me to her ink station.

"It wouldn't surprise me," I mused. I shrugged out of my shirt, laying on my stomach on her table.

I heard her let out a contended sigh as she prepped. "I do love my job."

That confused the hell out of me. I cleared my throat. "Jared said you were, um…"

"A lesbian." I felt her moving close to my head. She tapped my shoulder and I lifted slightly to look at her.
She had her micro-mini skirt pulled down to show off a gold star on her hip. "Gold star lesbian, in fact, but that sure as hell doesn't mean I'm
blind."

I laughed, laying back down.

The golden dragon was a large, detailed tattoo, and we did it all in one sitting. She worked for hours, and it hurt, and hurt, until the hurt turned
numb with the needle's vibrations.

"Not making a peep, huh?" she asked at one point. "Tough guy, eh?"

"What am I supposed to say? Ouch? Ouch."

She chuckled. "You're a lot like Jared, you know."

"I would hope so. I taught him everything he knows. We're best buds. We rarely go more than a few hours without talking to each other."

"That's awesome. I'd kill to have a sibling and be close like that. I'm an only child."

"It's the best. We're five years apart, but we've always been close. I can remember taking care of him when he was a baby. He was a fussy little
thing, but he would always stop crying for me. I was his favorite. He favored me so much that my mom would get jealous."

"That's a strange reaction."

"Not for her. She's just like that. She likes attention, and is used to getting it." It wasn't something I held against her. It was just the way she
was, and the way she'd always been.

"If she's as pretty as you and your brother, I can see why."

That had me laughing hard enough that she had to pull the needle back until I stilled.

"You're a real ball buster, huh?"

She giggled. "Of course I am. I have no use at all for balls."

Towards the end of the process, Jared showed up, all smiles, to see the tattoo. I'd known that he would. He'd been excited for me to meet Frankie.

The two of them chatted at my back as she worked.

"Wow," Jared breathed as she finished up. "That looks amazing. I want one."

"Sure," Frankie agreed. "Just let me know when."

"Will do. Actually, I want mine to be slightly different."

"How so?"

"I want it on my stomach, and mine will be smoking a joint."

Frankie snorted, and I rolled my eyes.
Denise's Review
This is Tristan and Danika's story, secondary characters from Ms. Lilley's Up In the Air series.  Timeline wise Bad Things starts before the Up in the Air series so this book can absolutely be read stand alone.
I adored this book, it was the kind of story that had me thinking about it when I closed my kindle and wishing life did not interfere with reading.
I am not always a big fan of the bad boy but Ms. Lilley made me fall in love with Tristan through Danika's eyes.  Their chemistry is tangible but almost as amazing is the bond they develop, the friendship, the ease in which they are in each others space.
The use if secondary characters was so well done, I enjoyed getting to know Frankie better and Tristan's bandmates; all helped develop the story.  From almost the moment he is introduced I fell in love with Tristan's younger brother, Jared and I think you will too!
Jared's nickname is Diet T and the reason behind it is was too cute.
What is love?  It is actions, it is being there for each other, is it understanding and accepting the other person or is it simply saying three little words…. I truly enjoyed Ms. Lilley's exploration of this complex question.
I will warn you that Ms. Lilley broke my heart with this powerful story so you may cry.
In the end I did close my kindle with a smile on my face and with another cast of characters to hold close to my heart.
If you have not read Ms. Lilly before pick up this book!  It is masterful written, pulling a wide range of emotions from the reader and proving that she is an author to watch.
I am very much looking forward to the next book Rock Bottom; again this book is not a cliffhanger so read it NOW!
About the Author
R.K. Lilley lives in Colorado with her husband and their two beautiful sons. She's had a lot of interesting jobs, from being a first class flight attendant, to being a stablehand, but swears she never knew what hard work was until she had children. She's been addicted to both reading and writing fiction since she can remember. She loves to travel, read, hike, paint, game, watch anime, and make the most of every single day. She is the author of the erotic romance novels In Flight, Mile High, Grounded, and the novella, Lana.
---
GIVEAWAY
Leave a comment after this post (including your email) for a chance to win an ebook copy of this great book! Winner to be chosen tonight! Good luck!