Today we welcome Nicole Edwards to our blog as she celebrates her new book ETHAN which released on January 7th.
Enjoy a BONUS Scene below!!!
Enter for a chance to win some amazing giveaways using Rafflecopter below! Good luck!
---

Ethan is part of the Alluring Indulgence series (#5), however, this book was written to be read as a stand alone book as well.
Erotic M/M Romance
Mature Audiences
How long did it take you to find your place in the world?
For Ethan Walker, going through the motions of life, keeping his distance and never getting attached has become the mantra he lives by. Success is measured by how many hours he can work and how little attention he can draw. That was until he landed on Beau Bennett's radar. Until Beau, Ethan had never met a man who could get him to question his own logic and even consider taking a different path.
Beau Bennett knows exactly who he is – now. It might've taken him some time to figure it out, but now that he has his bearings, Beau has set his sights on the mysteriously sexy Ethan Walker. Pursuing someone has never been his style, but something is telling him to keep at it because the end result is going to be worth it.
Now that they've found one another, how long will it take Ethan and Beau to accept that their place in the world is… Together?
Warning: This book contains sexual encounters and graphic language that some readers may find objectionable, including, but not limited to: m/m encounters, anal sex. Contains graphic material that is not suitable for anyone under the age of 18.
Ethan is a male / male erotic romance; if you have not read the prior books in the Alluring Indulgence series this book can absolutely be read stand alone though do be warned, I think it will leave you wanting to know the rest of the Walker men so be prepared to 1-click the prior books in the series.
For those of you who have read the prior books in the series, this is Ethan's story the second youngest Walker sibling and as Holidays with the Walker Brothers revealed this book is Ethan Walker and Beau Bennett's story.
As I sit here and type this I am struggling to find the words to express just how much this book touched me; it is by far the most emotionally charged book Ms. Edwards has written and is one of the top m/m books I have read – check that one of the top books I have read in any genre.
Ms. Edwards has proven to countless readers in prior books that love is love and in that vein Ethan does not disappoint. The love and connection between Ethan and Beau is not about them both being male but them being soul mates. I know that is an overused terms but in this book Ms. Edwards demonstrated in countless scenes how these two men truly make each better and are meant to be together.
The reader is shown this connection in the prologue, yes the prologue is clear the pull these two have toward each other, the tension is palpable and the imagery so well done you will see inside of Alluring Indulgence on New Year Eve! It was so well done, it pulls the reader in and will have you wanting to know how Ethan and Beau find each other.
I thoroughly enjoyed the masterful way Ms. Edwards unraveled the man Lorrie Walker has called her loner. The reasons behind Ethan Walker keeping his head down and keeping to himself even distancing himself from his brothers pull at my heart and at times make me sick to my stomach.  No, I absolutely will not tell you Ethan's past as I want you to experience the heartache as Ms. Edwards slowly and masterfully reveals it to the reader.
The level of emotion Ms. Edwards pulls from the readers proves to me she continues to improve with each book; the layers of emotion I felt will have this story sticking with me for sometime to come. Wait, let me amend that I think Ethan and Beau will forever have a place in my heart.
Oh I must add that Curtis Walker is the best patriarch ever. I am so thrilled to see Curtis listed as an upcoming release in the Alluring Indulgence series because I so want to know the backstory for Curtis and Lorrie Walker.  I should also note Lorrie brought tears to my eyes, her desire to support Beau made we want to hug her and yes, you will know the scene when you get to it.
Sawyer in big brother mode adds a dimension to his man what will leaving you wanting more of him. Sawyer (the second oldest Walker sibling) was used to really open up the storyline, to add depth of emotion, and to remind Ethan that things that happen to you also effect those around you. Speaking of big brother, yes the oldest Walker sibling Travis also has a touching big brother moment. And although Zane (the youngest Walker) too has some serious moments as he and Beau being best friends have a deep share past, he will also remind you why he has always made the reader laugh!
So I told you what I loved, well in this book there were things I hated; I bet you thought you would never hear me say that about a Nicole Edwards book as it is no secret I am big fan of her writing. Well, in this book Ms. Edwards got me to hate; hate secondary characters with such distain they made my stomach turn.  I literarily said Omg out loud during chapter 25 for the swing of emotion Ms. Edwards has the reader experiencing. It was so well done, breaking my heart and sadly reminding me that some people make me sick. Poor E (yes Ethan nickname is E).  And as I have said before that level emotion for me equals 5 stars because getting readers to feel, to feel as if these characters are real truly hurting others is a thing of pure genius.
This book for me was a journey to a past that was required before Ethan the man could move forward. And stepping forward for Ethan was about more than just expression what happened but working to overcome and accept it (yes I loved how seriously Ms. Edwards handled the topics addressed in this book). For Ethan this is a move forward into the arms of the man he was meant to be with!
This book was emotionally powerful but not to be outdone by her prior books Ethan was one heck of a hot read. Ms. Edwards again has weaved hot sex with emotion. Ethan and Beau made sex hot, fun and endearing; their first's chat during sex was almost as wonderful as them being responsible and the moment that decide to take it to next level (yes I am being vague). Sex in this book is laced with a connection that had you knowing the first time these two connect that they are meant to find a way to be together; and that journey was so wonderful I almost wish I could re-read this book just to experience it again.  Many of us fell in love with big Beau in Zane (book 2) well in Ethan we finally get dominant Beau and let me just say he is sexy as all get up!!!
As this book comes to a close the reader sees the love and support we all knew the Walker family would show Ethan, it also comes from an unexpected place and I for one hope we learn more about Mack the bartender from Moonshiners!
Chapter 42 was wonderful, I love the play into the first two lines. And epilogue was heartfelt with amazing dynamics and heat they might light your kindle on fire!!!
Ending an emotional read with a huge smile for the reader and a warm fuzzy feeling in your heart!
There were so many scenes in this book that reminding me why I love the walker family so much. ps speaking of family scene one last thing, I love Uncle Ethan
Thank you to Ms. Edwards for this family that is a must-click because they have a permanent place in my heart!
Exclusive Scene – The Rings

Permission is NOT granted to re-post this content anywhere, so please don't do it. You may link to this page if you want to share it with others.

Ethan felt something that he'd never felt before, and it had nothing to do with the burn on his left hand from the needle on the tattoo gun. That he hardly felt.

No, what he felt had to do with the man sitting beside him. While Tim finished the last details on the design he was putting on Ethan's left ring finger, Beau was watching, waiting for his turn. Ethan had requested to go first. Why, he wasn't sure, but something spurred him to make the request and Beau had grinned that sexy smirk of his that made Ethan's insides spark to life.

The tattoo parlor was empty today except for Ethan, Beau and the tattoo artist, Tim, and maybe that helped, but as Ethan sat patiently waiting for Tim to finish up, he relished the feel of Beau's hand in his. Not that holding hands were new for them, but this was one of the most public places they had ever shown any sort of intimacy in, and Ethan had been the one to initiate the interaction, much to Beau's surprise. Ethan found he got a kick out of surprising Beau these days. But there was something about holding Beau's hand in his while Tim inked his wedding ring onto his finger that just felt right.

Being that they were mechanics, going the route of tattoo rings seemed like the most logical idea. Due to the risk of losing a finger or damaging an actual ring, this made much more sense. And Ethan had been looking forward to this day since they got married just a few short weeks ago.

"You're all done," Tim told him as he twisted on his stool to put his equipment on the counter. "What do you think?"

Ethan stared down at his hand, admiring the detail of the wide band that now wrapped around his finger. A series of knots joined together that represented eternity, which was exactly
what Ethan had envisioned. He fully intended to be with Beau for that long, if not longer, and this d sat there for a moment or "

"I think it's my turn," Beau responded with a sexy grin.

Ethan definitely agreed. Even though they had pledged their love to one another in front of family and friends not that long ago, this was a silent, permanent pledge to one another that was
so much more than mere ink. For Ethan, it was a symbol of love and devotion that would link them together for the rest of their lives.

♂♂

"Morning," Beau whispered to Ethan when he stirred beside him the following morning.

"Mmmm," Ethan mumbled, twisting to face him.

"Tired?"

"You kept me up until two," Ethan responded, his eyes still closed.

Beau informed him, throwing the blankets off of Ethan, revealing his naked body beneath.

The man was absolute perfection. Beau would be content to lay right there, letting his eyes rake over every inch of defined muscle covered by bronzed skin. Their time in Hawaii had
darkened Ethan's already tanned skin which only made Beau's desire to lick every inch intensify.  As he admired him, Beau's gaze traveled over his long length until it ended up on his left hand.

Right there was the ink that had been placed there the day before. The wedding band that s heart do that excited thump every time he saw it.

"What are you doing?" Ethan growled, one eye opening as he peered over at him. "It's fucking cold in here."

"Well then I'll just have to warm you up," Beau told him, moving closer and putting his arm over Ethan's broad back, his thigh across the back of Ethan's legs.

"That works," Ethan said.

Beau touched Ethan's hand, still checking out the tattoo.

"You still good with it?" Ethan asked.

"Yup," Beau confirmed. From the moment he realized he had fallen for this man, he'd envisioned this. But no matter how many fantasies he'd had, they had never been quite as perfect as this moment.

"How does yours feel?" Ethan asked, easing closer to Beau's chest and effectively situating himself underneath him.

Fully on board with what Ethan wanted, Beau crawled up over him, his chest to Ethan's lower back. Beau pressed his mouth between Ethan's shoulder blades, directly on the tattoo that was there, moving higher as he did.

"Fine," he answered when he got closer to Ethan's ear, his entire body now flush against Ethan's.

"Don't stop," Ethan whispered. "Keep doing that."

"I plan to," Beau assured him as he linked their right hands together, twining their fingers as he continued to kiss Ethan's neck and back. Beau couldn't take his eyes off of the tattoos on their left hands. Due to the fact they just had them done, he resisted the urge to link their left hands together, but he settled with weaving his thumb around Ethan's little finger.

"Oh, fuck," Ethan groaned as Beau slid his cock between his ass cheeks. "Inside me, Beau."

Beau shifted slightly, unlinking their hands long enough to line up and slide into Ethan. Having intended to do this, Beau had already been prepared, lubing his cock prior to Ethan waking up. Anxious was what he'd been, and his forethought had paid off.

As Beau eased into Ethan, he relinked their fingers and kissed the back of Ethan's neck again. "I want to make love to you. I want to take my time with you," Beau told him.

"Sounds like a perfect plan," Ethan stated, pushing his hips back gently and lifting his upper body, turning his head back as he did so that Beau had better access to his mouth.

Pressing his lips to Ethan's, he pulled his hips back slightly and then thrust inside of Ethan, eliciting a sexy groan from him. Beau didn't rush the kiss, he savored it. He savored all of it. The sensual glide of Ethan's tongue against his own, the warmth of Ethan's hands twined with his, and the exquisite sensation of Ethan's body consuming him. If it were up to him, Beau could stay just like this all day.

It didn't take long for the slow, leisurely slide of tongue against tongue to morph into something much more intense. Ethan was the first to break the kiss, pulling away so that their mouths separated. "Make love to me, Beau."

Beau wasn't about to argue. Buried deep inside of Ethan was a pleasure that threatened to rob him of all his senses.

"God, yes," Ethan moaned from beneath him when Beau began to retreat slowly only to thrust in deeper. "This is how I want to wake up every single day."

"That can be arranged," Beau said, his breaths ragged as the heat of Ethan's body consumed him. Keeping with the moment, Beau didn't rush things. He eased in and out of Ethan's body with measured strokes, letting the sensations crash through him. Within minutes, he was sweating from the energy it took to hold back.

"Come for me, Beau," Ethan urged as he released Beau's right hand to reach beneath them.

"Not until you do," Beau informed him, reaching beneath Ethan and forcing his hand away so that he could have the pleasure of stroking him.

"Fuck, yes," Ethan growled, thrusting his hips forward into Beau's palm and then back so that Beau drove in deeper. "I love when you're wrapped around me like this. I never want it to end."

Fuck. When Ethan put it that way, there wasn't much Beau could do to keep from losing it. He increased his pace, but not too much. This was another one of those moments that Beau wanted to last forever. Being close to Ethan was more than he ever imagined and the only thing he needed to keep his world running smoothly.

As he stared down at their left hands now fully twined together despite the pain from the new tattoos, Beau whispered, "I love you."

"I love you back," Ethan replied, squeezing his hand tighter.

The pure love he sensed in Ethan's words and his actions sent Beau over the edge.


a href="http://shhmomsreading.com/wp-content/uploads/2013/10/nicole-edwards.jpg">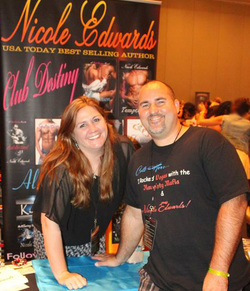 Nicole lives in Texas with her husband, Colt, three kids and four dogs. It's quite the household and most of the time you'll find her locked away in her office… writing. When she's not, you'll likely find her reading, swimming, or hanging out in the yard with the dogs, doing her best to keep them in line. (And no, it doesn't usually work)
Ever want to let that other part of you loose? The part that has secret desires and taboo fantasies? Well, that's what brought about Nicole Edwards. She's an alter ego. In truth, she's a full-fledged part of me. The secret part made up of sinfully hot desires and erotic thoughts. Get to know how Nicole's naughty mind works by checking out her books!
About me… hmmm…
Ok, I've been asked to provide a little bit of "real" information about myself. That's harder to do than you think it is, especially for someone who has difficulty talking about themselves. 😉 But, here goes…
I've been writing for as long as I can remember. Ever since I was a kid, I loved creative writing and as I got older, I got acquainted with those voices in my head and that led to putting my stories on paper. And now, here I am all these years later, spending my days doing what I love most. I decided to give myself over to writing full time in 2012 and I haven't looked back. I spent nearly 13 years in the corporate world and I have to say, this is a bit of a change (just a little) and I am loving every second of it.
I live in Texas with my husband and three amazing kids and our four beloved dogs. If I'm not writing, I'm usually reading. I devour everything I can get my hands on. I love romance of any type and being an Indie author myself, I'm always looking for new Indies to support. I haven't always been into reading, but about eleven years ago, I picked up a book – I'm pretty sure it was by Nora Roberts – and from there, I haven't stopped. Before I began writing full time, and my characters started taking up so much of my time, I was reading about 200 books a year. That has dwindled somewhat, but there isn't a day that goes by that I don't read.
An interesting fact… I don't watch television – aside from the occasional news anyway. I will go see a movie or two rarely, but for the most part, I get all of my entertainment from a book. Some of my favorite authors include J.R. Ward, Suzanne Brockmann, Lora Leigh, Jane Rylon, Lori Foster, and Jaci Burton just to name a few.
---
Series Reading Order
Book 1 – Kaleb

Book 2 – Zane

Book 3 – Travis

Book 4 – Holidays with the Walkers