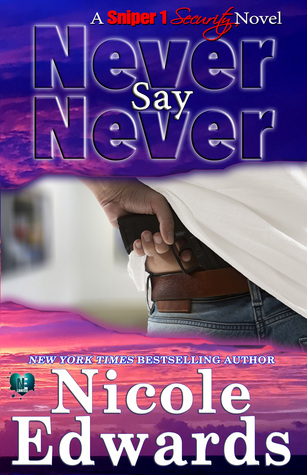 Never Say Never

by Nicole Edwards
on August 18, 2015
Pages: 326
Buy on Amazon, Buy on B&N, Buy on iTunes, Buy on Kobo
Goodreads


Ryan Trexler has devoted his entire life to his family's security business. And now that he's slated to take over the reins for the company, RT knows that his life is only going to get more complicated. Add in the fact that he's lusting over one of the men who works for him and RT knows that there are some serious tough times ahead.

Zachariah Tavoularis—nicknamed Z—has been employed by Sniper 1 Security for a decade. Despite being known as the most loyal enforcer outside of family, Z also has a reputation of being quite the playboy, though that was based more on rumor than fact. When an assignment comes up that forces the two of them to work together, Z knows it's time to show RT he's not the man he thinks he is.

Can they complete the mission, despite the fact that it puts them in a tenuous situation, bringing them closer than either of them ever expected? And will Z allow RT to convince him that they can never be together, no matter how much they both want it?
At the end of my review, enjoy a sneak peek into Beautifully Loyal, the next book in this interwoven series!
I was so thrilled when I learned that the next book in the Sniper 1 Security series would be about Ryan "RT" Trexler.
The tension between RT and Zachariah "Z" Tavoularis, a long time Sniper 1 employee, has been woven into a few Nicole Edwards books and let me say that after all the build up, she did not disappoint!
RT is a workaholic, the only one of the Bryce and Casper offspring who is willing to take over and run Sniper 1 Security. Side note: there is a nice layout in the front of this book that gives you each of the offspring's names and birth order (you may need to print it out and keep it next to you for reference).
Now RT… ugh… RT…there were times I wanted to reach into my kindle and shake him but his behavior did fit his character.
I loved Z. His sense of humor, the way he conducted his life. When readers get to know the real Z, how he truly spends his free time, I have no doubt that they too will fall heads over heels in love with him.
The mission RT and Z are sent out on was so perfect and I loved Bryce's hand in all of it!  Truly a man who knows his son so well!
Witnessing Z and RT push and pull as they come together and then pull apart pulled at my heart strings.. and lines this like make me want to hug each of them so hard:
"Tell me what it is you want from me"
"I want you to love me"
In true Nicole Edwards fashion, she does an amazing job with family dynamics, giving each family member their own personality and unique style of interaction with the family as a whole.  There are so many I can't wait to learn more about! Connor, poor Connor, I hope he heals and finds love again… and Hunter well I hope this man gets his second chance at love (going to pause here and say wait til you learn the reason Dani ran on their wedding day – great twist!).
I would be remiss if I didn't add that I loved the Thanksgiving dinner promise. It made for a make you smile from ear to ear grin as these families learn to blend their lives (that would be the Kogan/Trexler and Adorite families).
I also want to add I loved Z's visit home to Coyote Ridge, not only did we get to visit with the Walker clan and yes we get a wedding scene; we also get to spend time with Z's brother Reese, who I hope will get his story told too as this veteran returning home to Coyote Ridge so deserves a happy too!
As the suspense part of this book comes together or more accurately first falls apart, RT and Z have to struggle to find their way… because yet again I wanted to strangle RT! But the "how" it all comes together and what makes RT open his eyes were so well played out!
The end of this story pulled so many pieces together, RT and Z set forward on a new path, one that offers balance and love for both them.
Thank you Ms. Edwards for this wonderful love story. Please note if you are readers who only read gay romance this book can easily be read as a stand alone. If you don't read gay romance, I hope you will give this one a try as it had me wanting more from the Kogan, Trexler and Adorite families.  Both the Sniper Security and Southern Boys Mafia series are must reads for me!
This book is likely be read in the woven time frame:
Wait For Morning (Sniper 1 Security, #1)  http://amzn.to/1f5E0iD
Beautifully Brutal (Southern Boy Mafia, #1) http://amzn.to/1dGjF30
Never Say Never (Sniper 1 Security #2) http://amzn.to/1JSOlLv
Beautifully Loyal (Southern Boy Mafia, #2) http://amzn.to/1P10zkE

"How's the business goin'?" Travis asked as he steered Ryan toward a booth near the front of the bar.
"Busy," Ryan answered.
"That's a good thing, right?"
"Of course." Ryan smiled as they approached Travis's wife Kylie and their husband Gage. "Good to see y'all again."
"Same here. Have a seat." Gage motioned toward the opposite side of the table as he slid his other arm over Kylie's shoulders and pulled her close while Travis grabbed a chair.
Flipping it around backward, Travis straddled the seat, placing his elbow on the table. Ryan didn't miss that Travis's other hand disappeared under the table, likely resting on Kylie's leg if he had to guess.
"We weren't sure you'd be able to make it," Travis said.
Ryan knew he could always be called back to work at any time, depending on the case, but he didn't need to tell Travis as much. The man ran a multi-million dollar resort, so he understood. "I'm glad I could."
"How's Z doin'?" Kylie asked, peering toward the back of the room where Z had been pulled away by his friends a few minutes before.
"You know Z. Nothing gets him down."
Gage smiled. "Seems he's quite interested in you."
Knowing better, Ryan still turned to glance in Z's direction. He thought for sure he'd be busted stealing a look, but Z was paying him no attention.
"And you're quite interested in him," Kylie noted.
Ryan's head snapped back around to face her. He was about to fire off a rebuttal, but her smile silenced him.
"Leave the poor man alone," Travis injected. "He's in denial."
Ryan snorted.
"I concur," Gage added.
"Why's everybody gangin' up on me?" Ryan questioned, unable to hide the smile.
"Seemed like the thing to do." Travis took a sip of his beer.


Unedited Excerpt – subject to change prior to publication
Thirteen years ago
Ashlynn was lying on her bed, playing on her laptop when she heard Max come in. Her bedroom door was open, so she stared out into the hall, waiting to see him pass by her room on the way to his. Something had happened, she'd realized that earlier when the phone rang and her father had gone ape shit, yelling at Max. Eventually, he'd calmed down and told Max that he'd get it taken care of.
She didn't know what it was, but she was glad to see Max had come back in one piece.
Closing her laptop, Ashlynn was about to run to him, ask if he was okay when she saw Leyton. He briefly turned to look at her and her breath lodged in her chest.
His face…
God. It was…
"Are you okay?" she whispered, unable to keep from getting to her feet and walking toward him.
As usual, Leyton shook his head and then started down the hall. Ashlynn followed.
When he went into the guestroom he'd used on occasion, she followed him inside and shut the door behind her.
"What happened? Do you need a doctor?"
"No," he snapped, his eyes sliding back to the door as he sat on the edge of the bed. "I'm fine, Ash. You need to go back to your room."
Ashlynn knew that her father would go crazy if he caught her in there with Leyton, but she couldn't bring herself to care. So, rather than leave the way Leyton wanted her to, she closed the distance between them. She came to stand directly in front of him, her hands coming up to his face, her fingers lightly grazing the bruised and swollen skin.
He hissed lightly, his eyes locked with hers.
"I'm sorry," she whispered. "I didn't mean to hurt you."
"You didn't," he replied, his voice low.
With that knowledge, she gently cupped his jaw and turned his head so she could inspect his face more closely. "Looks like your nose is broken."
"I know."
"You should see a doctor."
Another head shake was all she got in response.
When he turned back to look at her, Ashlynn felt something strange deep inside herself. She'd known for a long time that she liked Leyton, that he was cute and she'd started wanting him to talk to her. She had tried to make sure she was around when he came over, but lately, he'd hadn't been there. When she asked Max where he was, her brother told her not to worry about it.
But she was worried.
She liked Leyton. A lot.
Her friend Amanda had told her she had a crush on him. Ashlynn knew what that meant because her best friend had a crush on a boy and they'd started "going together". That part was a little more confusing to Ashlynn because they never seemed to go anywhere together, but they said they liked each other.
"Ash," Leyton whispered, drawing her attention once again. "You need to go back to your room."
She had the sudden urge to kiss him and she couldn't seem to resist it. Leaning forward, she pressed her lips to his softly. He hissed again, but didn't pull away until she did.
With her lips tingling and something strange stirring deep in her belly, Ashlynn met his gaze.
"Go," he commanded, his tone harder, his eyes narrowed on her. "You can't be in here."
"Why not?" Ashlynn didn't understand. If she wasn't mistaken, he had kissed her back. His lips had moved against hers, hadn't they?
"Because I don't want your brother to kill me," he stated somberly.
Ashlynn frowned. Why would Max kill Leyton? They were best friends.
"Please," he pleaded. "Just go. I'll be fine."
With her heart feeling as though it was going to break in two, Ashlynn nodded, then backed out of the room, never taking her eyes off him until the door closed between them.
"He okay?" Max asked, surprising Ashlynn when he appeared suddenly holding a bag of ice.
"I … uh …" Ashlynn looked at the door once more. "I think he needs to see a doctor."
"Yeah," Max said. "I know. He's on his way now."
Ashlynn nodded.
"Don't worry, Ash. He'll be fine. I'll make sure of it."
Touching her lips with her fingers, she nodded again and then turned and fled to her room. It was then that she knew for sure that she had a crush on Leyton Matheson, and she was pretty sure he liked her too, but it would be years before she even knew what she was suppose