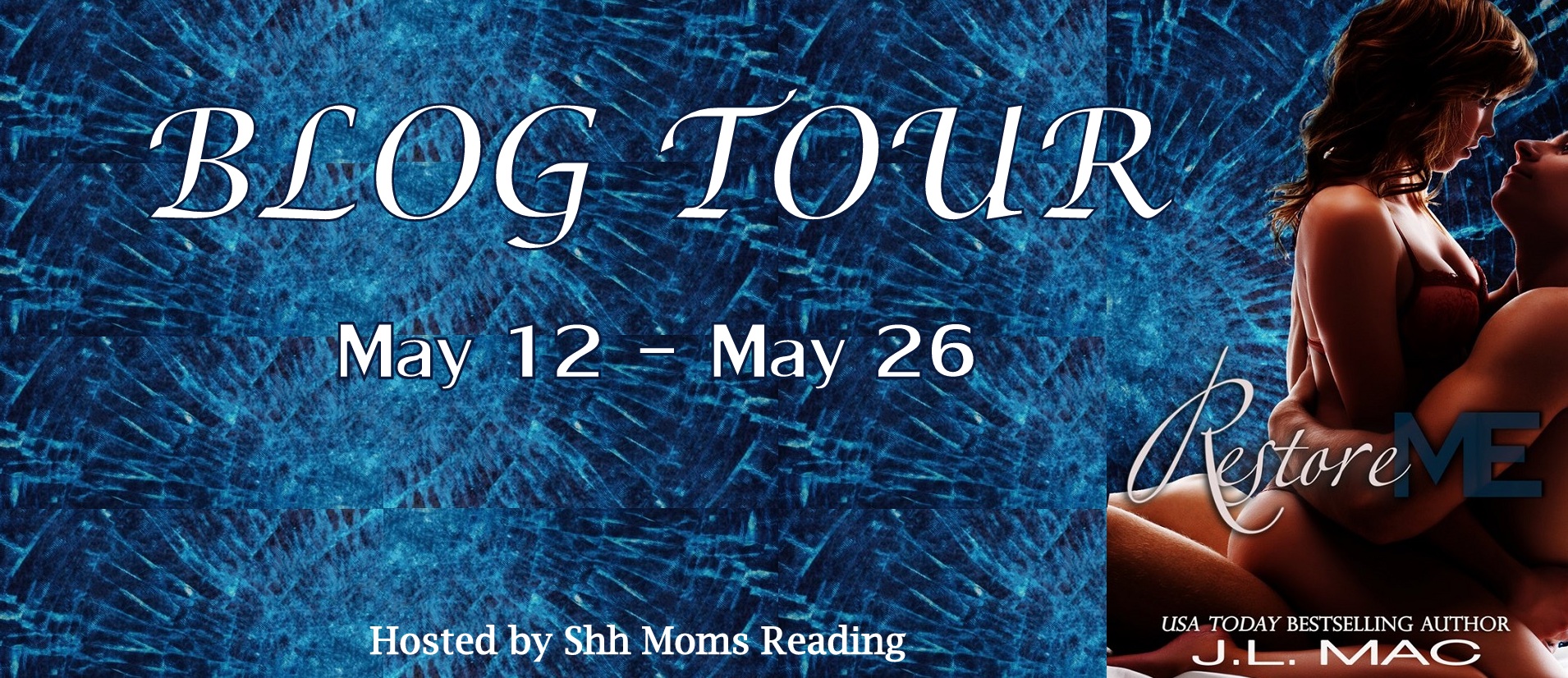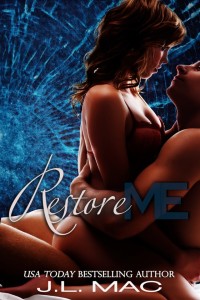 Today we welcome J.L Mac to our blog as she celebrates her new book Restore Me!
Enter for some AMAZING giveaways using Rafflecopter below!
---
4.5 STARS!!!
Synopsis
Navigating the world alone is all Josephine Geroux has ever known. Life altering tragedy struck early on for her. She endured an admirable struggle through her youth and learned the hard way how to adapt and survive. She managed to arrive at adulthood in one piece in spite of it all.
After such chaos, maintaining a life free of complications is a priority for her.
Everything changed when a man with amber eyes came through her door and claimed her heart. She fell hard in more ways than one. The pull between Jo and Damon seemed like fate bringing things full circle.
With another devastating loss looming, Jo fights to hold on to the very thing that brought her to her knees. She finds herself torn between a promising future and clinging to a devastating past.
But that's not the most worrisome problem on her hands.
She must convince more than just herself to let the past stay in the past, where it belongs, but on her journey to find closure and resolution, she does the exact opposite. An old wound caused by a heinous act becomes exposed for what it is. The truth is catastrophic and Jo is helpless, watching as the ruins of her fragile world endure more turmoil.
Can something conceived from tragedy and malice end well? Can something so completely poisoned conquer adversity? Jo is left to make a decision; accept the circumstances she finds herself in or fight with unwavering ferocity to restore what has been damaged.
*Restore Me is the second book in the Wrecked series*
Christine's Review
My heart resides in you.
This book surpassed so many of my expectations. I was destroyed at the end of Wreck Me after seeing this couple finally come together and Jo finally open up to Damon. To see how Wreck Me ended tortured me and I couldn't wait to get my hands on Restore Me.
I LOVE that this book starts off with the accident in Damon's POV as we see how everything transpired from the other car in the prologue from Wreck Me. I have to be honest and say that Damon's dad is a complete ASS for letting his son take the blame – what a coward! Having a father like this has obviously screwed with Damon's mind and heart in more ways than one and it breaks my heart to see him grow up with this person as a father figure.
As the book opens up and picks up from where Wreck Me left off, I am sick to my stomach with the possibility of Damon being dead and Jo being alone once more after finding someone to love and be her family. I go through the first couple of pages in total anxiety as I wait to see what has happened to Damon and when we finally see that he is NOT dead but what has happened to him – that he is alive (THANK GOD!) but with no expression, not talking and suffering from acute stress disorder – I am DEVASTATED for both Damon and Jo!
It literally breaks my heart to see such a dominant man so quiet and I have a huge feeling of HOPE and LOVE in my heart for this character to recover and return back to the love of his life.
I am saddened for Jo as all of her hopes and dreams are centered around this man – he is her family. Having him not acknowledge her rips me apart. I understand somewhat where he is coming from as he is suffering from depression from the feelings of being abandoned by Jo but I wish that he would just talk to her so that they could move forward together. Damon and Jo struggled with their relationship in this book and it was very hard for me to see Damon so cold and unfeeling towards Jo when I experienced the love of this man in book 1.
I still felt the love between this couple even though they experienced the lowest of lows in their relationship. It was hard for me to see Damon so broken but I loved that Jo was able to step up the game in this book and to be the support that Damon needed to try to recover. She was still her tough, determined and funny self and it was a welcome relief to the darkness that was Damon. A lot of what Damon was showing Jo was his hurt of being abandoned by her but he still loved her, he still wanted to protect her but maybe in the way he was demonstrating it this time around he wasn't as giving of his love and he was protecting himself and his heart in the process.
Will Jo abandon him again in his time of need? Will Damon let down these walls that he built and allow her back into his heart and life?
So yes this book is another cliffhanger and OMG I need to have book 3 now! We learn a lot of secrets at the end of this book that leave you feeling WTF just happened?! But JL Mac has stayed true to herself and to these characters and I was satisfied with this book though it was a little short for me.
I am a HUGE JL Mac fan and can't wait to read Accept Me….I hope that a lot of the open ended questions are answered and to see the HEA for these two characters who so deserve it.
On a final note the sex was as HOT as ever and all I have to say is strawberries….sighhhhh……
Here is an EXCLUSIVE Teaser for Book 3, Accept Me
Months ago I was staring at my reflection in my tiny bathroom mirror thinking about how shitty that day was going to be. The anniversary of my parents death is like dooms day every year. If I had known that was the day I would meet the love of my life… again, I would have gone to work early and maybe taken more time doing my hair and makeup.
He poured into my life like the sunshine that followed him into the store that morning and I've been his ever since. I've been his the entire time almost as if it was by design. Like I was never even my own to give.
There was no falling in love with Damon. I was not swept off my feet and convinced to be his love. He came into my life, took my hand, and I breathed him. Loving him so completely is just a side effect of being so fiercely connected. It's involuntary. I didn't have to try to love him or imagine myself with him for the rest of my life. The moment he took my hand he made it clear with just one look in those amber eyes that I was where I was meant to be. I was his and coming to grips with that would be the very moment that my entire life would change. Being Damon's didn't feel like a new adventure or some task. It was like coming home to a place I never knew was waiting for me.
I'm not the type to believe in bullshit fairytales but I do believe in what's tangible. I believe in what I can see and touch, and what I have with my Big Man is real. It's raw and so damn powerful that it took my miserable ass and shook me down to the frame leaving me bare and ready to rebuild.
I've never wanted to be better so bad. I've never wanted to fight my past more than I do now. I'll fight mine and his too if that's what I have to do. My motivation is tall, handsome, wounded and has occupied the territory of my heart.
About the Author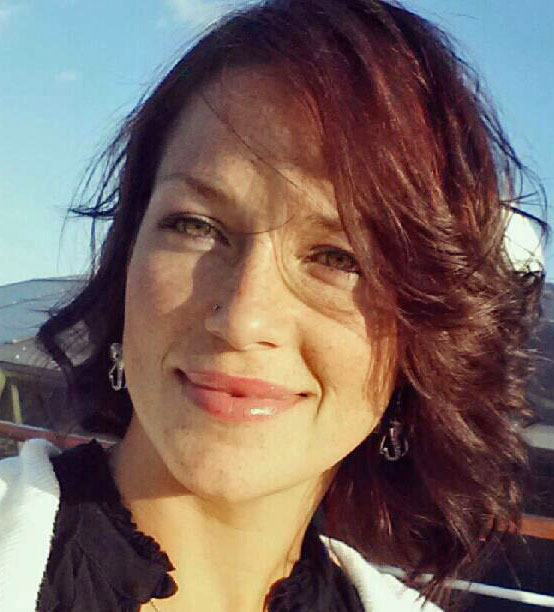 USA Today Best Selling Author,J.L. Mac is twenty-six years old and currently resides in El Paso, Texas, where she enjoys living near her family. She was born and raised in Galveston, Texas, until she married her husband in July of 2005. She has two young children and is married to a soldier in the United States Army. J.L. and her family have lived all over the United States and have enjoyed each new experience in each new place. J.L. admittedly has had a long and sordid love affair with the written word and has loved every minute of it. She drinks too many glasses of wine on occasion,and says way too many swear words to be considered "lady-like." J.L. spends her free time reading, writing, and playing with her children.
Book 1 – Wreck Me