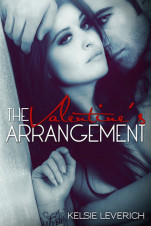 Today, we are pleased to welcome Kelsie Leverich as she promotes her debut novel The Valentine's Arrangement, released on 1/1/13. 
Enter below to get a chance to win an ebook or paperback copy of Ms. Leverich's  hot new release!
3.5 STARS!!!
Summary
"I didn't want the line to get blurry, and I sure as hell didn't want you to cross it."
Ronnie Clark, an edgy tattoo artist with hopes of high tailing it out of the forsaken Military town she followed her now ex-fiancé to, is counting down the days until Valentine's Day is over. Ronnie doesn't do romance. She doesn't do flowers or dates, and she sure as hell doesn't do love—not anymore. After her fiancé slept with a female solider while deployed, she has vowed never to fall in love again, especially with a soldier.
Sergeant First Class Kale Emerson is home on his mid-tour leave from Iraq, but he only has one thing on his mind—returning to his deployment to finish leading his soldiers on their mission. The last thing he wants is a relationship, but casual sex, that's a different story. And when he meets the renowned tattoo artist Ronnie Clark, a snarky, blunt, takes no prisoners kind of woman, that seems to be all he can think about.
But when Kale realizes he has met his match with a bombshell woman who is hell bent against love, will just sex be enough? And if it's not, will he be able to convince Ronnie that the proverbial hearts and flowers aren't so bad after all, even if he is a soldier?
"You changed something inside me, something I didn't ever think I would want, or feel—but you did, and now I can't go back"
This book contains explicit sex scenes and is recommended for readers 18+
Denise's Review
The Valentine's Arrangement was well written for a debut novel from new indie author Kelsie Leverich. 
I adored Sergeant First Class Kale Emerson, or Captain American has Ronnie comes to call him.  Kale is charming, handsome and open about not wanting a committed relationship. He does this while still being a gentleman in a woman's presence.  I won't give anything away about the ending.  Ms. Leverich did a wonderful job using this toward the end of the book.
Ronnie Clark, his love interest, is a tattoo artist who works near a military base.  She is there because of her ex-fiancé; a man who deployed and cheated on her.  I thought the author did a good job showing how Ronnie processed her prior relationship.   Meeting Kale forces her to really look at herself and she realizes how deeply she feels for Kale. 
The chemistry between these two is tangible – you can really feel them drawn to each other.  The ending to this book was very well done.  I enjoyed the twists and use of events and secondary characters.
I look forward to reading more from this author.
I was provided an ARC copy in exchange for an honest review.
We asked Kelsie for her favorite excerpt from her book and this is what she gave us – enjoy this little sneak peak!!
Kale slowly and deliberately stepped closer to her. She could almost feel him against her side. "Dance with me."
"I'm not dancing with you."
"Dance with me," he said again, offering his hand to her.
"Look Soldier, I don't know who the hell you think you are but you can't just order me around."
He leaned down and ran his nose up the side of her neck and she stilled. "Well as of right now, I'm finding it extremely difficult not to push you up against this bar and put my mouth on your body; you're tempting me and I just might do it. So, you can either dance with me and let me attempt to get the image of you squirming beneath me out of my head, or you can leave with me now and we can replay that image in real time."
Ronnie's formerly clear mind started swimming with the memory of his body crushing her against the door eagerly kissing her, and the feel of his body pressing her into the couch, and then the feel of his mouth, oh his fucking mouth on her…damn it.
"And you think I'll just leave with you, why?" she asked, pulling her mind back to the present where Kale was leaning dangerously close to her. She could smell the faint scent of soap on his skin.
"Because I know you enjoyed the little taste of me that you had back at the shop, and God knows I enjoyed tasting you," he smirked. "And because I can see it in your eyes now. Dance with me."
The bartender slid the shots in front of them, thankfully without attempting to flirt, and Ronnie once again tilted the shot back, letting the clear smooth liquid run down her throat.
She stood up and grabbed his hand causing that fucking dimple to drill deep into his cheek. "You better not make me regret this," she said, leading the way to the dance floor.
About the Author
I am a wife and a mommy to two adorable knuckleheads, hair stylist by day, writer by night. My crazy life revolves around my family (to include two dogs and a cat) and most of the time, actually all of the time, it's a crazy mess – but I love it! Drinking wine and reading books helps 🙂
I'm a sucker for Romance, add some toe curling smut and I'm done for!
My passion is writing. It's the thing I think about when I wake up in the morning, the thing I think about in between packing lunches and giving baths, and the thing I think about when I close my eyes at night. A book can teleport you to another life, to another world. It can sweep you off your feet, make you fall in love, break your heart and heal your soul. I love reading for those reasons, and I love writing for those reasons.
Twitter KelsieLev
Website http://www.KLeverich.blogspot.com
Facebook www.facebook.com/authorkelsieleverich
Goodreads http://www.goodreads.com/author/show/6590457.Kelsie_Leverich
Here's your chance to win a copy of this great book… Kelsie is providing us an ebook AND a paperback copy to 2 lucky winners!  Easy entry for all Shh Moms Reading followers – enter using rafflecopter below.  Lucky winners will be drawn on Monday January 7th at 9:00pm.