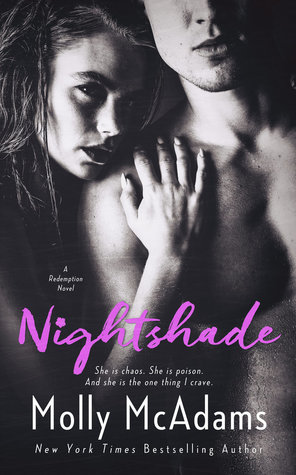 Nightshade

by Molly McAdams
on November 14, 2017
Buy on Amazon, Buy on B&N, Buy on iTunes, Buy on Kobo
Goodreads


The heart-stopping final installment in New York Times bestselling author Molly McAdams's Redemption series.
My life has never been my own. From the time I could walk, I was trained to be the mob's hardened assassin. To be a monster. I've been told what to do, when to kill, and who to love. The minute I strayed, I lost everything.
Then I met Jessica.
She swept into my life like a storm of heartache, seduction, and intrigue. She's everything I hate, but with one look, I can't stay away. With one touch, she ignites a craving unlike anything I've ever known.
But her secrets threaten to destroy everything closest to me. Including her…
Together we're poison. A destructive combination of darkness and chaos. And I want to savor every drop in my veins.
***The Redemption series is a series of interconnected romantic suspense standalones***
Kieran has captivated me from the very beginning—this man so dark and questionable, that I didn't know whether I could ever trust him with my heart let alone him finding his own happiness after losing his beloved Lily.
But after meeting Jessica—the reader will come to see and understand that he has finally met his match. You see Jessica has darkness within herself too and together they calm each other, they bring out different sides of the other. Where there is darkness… there is chaos.
I loved their interactions—so magnetic, so dark yet so sexy. There needed to be someone to tame Kieran's inner monster and Jessica with her wily ways was just the person he needed in his life.
"What if I was made for you and you were made for me?"
The Redemption Series is one of my favorites—with nonstop action and suspense, twists and turns to keep you excited and at the edge of your seat and emotional moments like those found in Nightshade that brings tears to your eyes hoping that these two broken souls could find some inner peace and happiness together—this series truly had it all.
This is the first series I have read by Molly McAdams and I am a forever fan. Her storytelling and characters are completely unforgettable and the drama and action made my heart race and soar and when I closed my kindle I felt complete bliss in reading another amazing book by this very talented author. SO.WELL.DONE!
The muscles in Kieran's jaw ticked, and the anger rolling off his body suddenly felt like a living thing. But his stare never wavered from mine as I soundlessly opened the knife at my side.
"Or did I hit a little too close for comfort last night?" I asked, my voice both seductive and mocking as I took another step closer to him and then another. "Could you just not satisfy her?"
"Enough."
My brows rose at the growl behind his demand. "Is that right?"
His eyes held so much warning as I took the last step to press my body against his.
My body trembled and begged to get closer still, but I forced myself not to move.
I hated him for the way he felt.
I hated him for the way my body craved more and betrayed me.
I hated him for everything he was and for making me want him in a way I'd never wanted a man.
I hated him.
"Who knew the mob's feared assassin was lacking."
One second I was in front of him, staring into those wild eyes, the next I was pressed face-first to the wall with Kieran's hard body caging me against it. His strong hands were pinning mine to the wall. My knife was gone.
His chest moved roughly against my back, his breath made my hair dance along my cheek and lips, and I ached to push against where I could feel his hardened length in his jeans.
Oh God.
What is wrong with me?
I tried to force a wild laugh from my lungs.
I tried to taunt him.
But there was nothing.
"How long?" he demanded, his voice hoarse.
I curled my hands against the wall and shivered beneath him when his body moved closer and he pressed our hands harder to the wall.
"What?" I asked breathlessly.
"How long have you been watching us?"
"Wouldn't you like to know?"
A huff tumbled from my lips when his mouth met my ear. The sound ended on a whimper when the movement forced my butt against his erection.
I needed the heavy, sickening feeling weighing my body down. I needed the disgust and hatred at having a man so close. I needed the reminder of who I was and why I did what I did.
But all I could smell was the subtle hint of his soap.
All I could see was his tattooed arms twisting over mine.
All I could feel was his lean muscles crowding around me in a way that felt so foreign and good.
And I wanted more . . .
Weak. So weak.
"How long?"
My body tensed.
If he had yelled the question, it might have been easier. But there was something truly terrifying in the soft tenor of his voice. And for the first time, I was afraid to be in the same room as him.
But I wasn't scared for my life.
I was scared for my soul.
I slowly looked over my shoulder and forced myself to hold his disturbing stare. "Nearly half my life."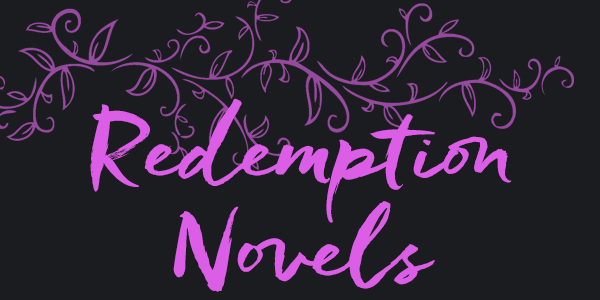 Read the Redemption Series
Start the Redemption Series with BLACKBIRD — on SALE now for 99¢
The Redemption series is a series of interconnected romantic suspense standalones
Book 1 – Blackbird
Book 2 – Firefly
Book 3 – Nightshade