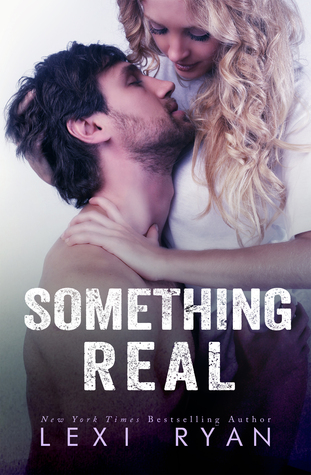 Something Real

by Lexi Ryan
on March 3, 2015
Pages: 222
Buy on Amazon
Goodreads


After everything blew up on Christmas, Liz walked away from me, and I let her. She said she needed space and a chance to pursue her dreams. But we both knew she was running from the mess she made. Now the political campaign she used as an excuse to leave is bringing us back together and I'm proving to her what she really needs—not just the hot nights, greedy hands, and undeniable physical chemistry. What she really needs is something real. What she really needs…is me.
Going into this book all I am thinking is DAMN – how will all of this go down! I am so scared! lol
Something Real continues where we left off with Something Reckless. It is 5 months later and Sam still hasn't given Liz a chance to explain her side. But in another blow to any kind of reconciliation between Sam and Liz, a sex tape is leaked between Sam and another woman that could harm people's careers. While I don't agree with the actions taken to rectify this situation, I do understand how living in the limelight can put stresses onto your personal life causing you to do things you don't normally want to do.
Yes, I am being vague…lol…it's all purposeful so you can read the book! 🙂
With that being said, I am SO SO unbelievably sad for Sam and Liz because their connection to each other and their feelings are so real and their situation is torturous – not only for them but for me as a reader because all I wanted was for them to finally get their happy.
As we know in real life, life in politics is so full of lies that can destroy. And Sam and Liz and their feelings and relationship are right smack in the middle of it all?
I love mystery and suspense and while this book is the conclusion of Sam and Liz's story – I did enjoy this aspect of it because it added another interesting twist to this already captivating story.
I did feel that this book was slightly rushed in the end and would have liked to see more of this couple actually together but I love a good HEA and this couple SO deserves it and more!
I completely enjoy Lexi Ryan stories. She is a must click author for me that I will always read. I love all of the characters in this series and spin off series..its like visiting old friends and I look forward to MORE MORE MORE!
♥BUY THE BOOKS♥
Book .5 – Something Wild
Amazon | iBooks | Kobo | B&N | Smashwords| Google Play
Book 1 – Something Reckless
Book 2 – Something Real
Amazon | B&N | iBooks | Kobo | Google Play