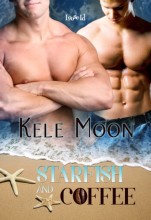 We are pleased to welcome Kele Moon to our blog today as she promotes her book Starfish and Coffee.
Kele will be awarding a $25.00 Amazon Gift Certificate to a randomly drawn commenter during the tour.  Please leave a comment following our review!
 

---
5 STARS!!!
Summary
On the island where they first met two lovers from opposite sides of the tracks are reunited. Now jaded and broken, Alex and Matt still can't deny their sizzling connection or the memories of one perfect, uninhibited year together.
At twenty-two, Matt Tarrington is rich, good-looking and destined to be powerful, but behind that confident exterior lurks a man who resents the life his family thrust upon him. Desperate for an escape, Matt heads to Mirabella Island off the coast of Florida for a year of relaxation and some wild nights with vacationing party-girls.
Matt never expected to find real passion in the arms of Alex Hunter, a handsome, laid-back local.
Alex is gay, but closeted. Matt should be completely off limits, but Alex finds the deeply in denial rich boy too tempting to ignore. Especially when a bet has them working together, fighting the heat in the rundown, beachside cafe where Alex sweats for every dollar.
Their love felt inevitable until youth left them vulnerable to hatred and greed. Now after six years of hating the lies they live, Alex and Matt will have to risk it all for the second chance they both desperately need.
Excerpt
"So if we hook up"—Alex walked up to the king-size bed in the master bedroom—"do I get mistress benefits?"

"What are mistress benefits?"

"A car, a bank account, shopping sprees, and trips to the French Rivera." Alex fell back against the neatly made bed, leaning on his elbows as he put himself on display. "It's a small price to pay for all the forbidden things I can give you that a wife can't."

Matt stood there staring at Alex, spread out on the bed, that black shirt showing off his beautiful body, those tight jeans clinging to all the right places. More frustrated as the seconds ticked by, Matt was almost inclined to agree.

Instead he smiled back. "You think I can't find some other guy free of charge to give me what you're offering?"


"That's the truth." Alex got up and looked Matt over for one hot moment. "Baby, they'd be paying you."

The compliment caught him off guard, as did the endearment. Matt's cheeks heated to the point he turned away to save his dignity. He wasn't sure why Alex could do that to him when he'd never been shy or reserved when it came to sex.

This whole situation was throwing him off, and half of him couldn't understand why he'd invited Alex over to begin with when he'd been resolved to his straight, conservative upper-crust lifestyle that would probably end with him marrying a woman like his mother and hating life like any good Tarrington man should. The other half of him—the bottom half—had been hard since Alex arrived.

"You blush too easily, Matty." Alex went back to exploring the house. "You gotta stop that."

Matt winced, hating that he was being so obvious with his nervousness, still he asked, "Why?"

"Cause it gets my dick hard," Alex said from the master bathroom and then added, "Very nice. Italian marble. Dual showerheads. This shower has hot sex written all over it."

Matt needed more to drink—lots more.
Denise's Review
Kele Moon opens the book with a glimpse into Alex Hunter's heartbreak from years ago. I truly enjoyed how this story played out, as you start off by seeing the heartache and then Ms. Moon takes you back 6 years and allows you to experience these two men falling in love.
On a vacation island, these two men are from opposite side of the tracks. Alex Hunter is a local while Matt Harrington is from one of the richest families to vacation on the island. Both men are smokin' hot and Ms. Moon paints a very clear picture of that.
Alex knows he is gay though he is not open about his sexuality due to the fear of living in the small town of Mirabella Island where he was a high school baseball hero. To outsiders, Matt Tarrington appears powerful and destined for a life most men only dream of with mansions, yachts and servants and access to any woman he wants. Problem is none of that makes him happy.
These two men are thrown together when Matt chooses to take a year off and escape to Mirabella Island where he ends up working with Alex as a line cook. Alex needs to train Matt to be a cook since Matt has never really had to do anything for himself.
Ms. Moon does a wonderful job painting instant chemistry between these two men. Matt starts to see that his attraction to Alex is part of what has been lacking in his life, and though Alex jokes that he is an experimental phase to Matt, Matt is not so sure.
It is a wonderful journey to watch these two men discover each other and to watch their relationship develop. Matt who has never allowed himself to be with a man and Alex who, yes recognizes he is gay, was never drawn enough to someone to want a real relationship, being always too fearful of what being openly gay would mean for his safety or his life on this small island.
The back and forth in this relationship was wonderfully done. The more Alex jokes about Matt being straight or bisexual, the more it becomes clear just how much Matt wants to be with Alex forever. These men enjoy each other's company and develop nicknames for each other that will melt your heart. Matt and Alex truly complement each other and you feel their love for each other. Since the book opens with a broken heart, it is not spoiler to tell you these two are eventually torn apart.
And I have to say it was refreshing to read this story in this order – a change from many books that start with relationship building. I do have to warn you that even though you know the breakup is coming, it does not make it any less gut wrenching. Kele Moon made these characters come to life and my heart broke with theirs when the relationship ended.
Ms. Moon also did a nice job with the secondary characters in this book—Alex's best friend Holly and his brother Will make a nice addition to the story and I hope Ms. Moon tells their story as well.
After six years of longing and just making it through the day, will Alex and Matt find the second chance they both desperately need? Well, you will have to read STARFISH AND COFFEE to find that out.
But I will say that Ms. Moon tells a complete story, one with an epilogue, and it was the epilogue that for me made this book more than 4 stars. It was well done, realistic and heartwarming.
About the Author
A freckle faced, redhead born and raised in Hawaii, Kele Moon has always been a bit of a sore thumb and has come to enjoy the novelty of it. She thrives off pushing the envelope and finding ways to make the impossible work in her story telling. With a mad passion for romance, she adores the art of falling in love. The only rules she believes in is that, in love there are no rules and true love knows no bounds.
So obsessed is she with the beauty of romance and the novelty of creating it she's lost in her own wonder world most of the time. Thankfully she married her own dark, handsome, brooding hero who had infinite patience for her airy ways and attempts to keep her grounded. When she leaves her keys in the refrigerator or her cell phone in the oven he's usually there to save her from herself. The two of them now reside in Florida with their three beautiful children who make their lives both fun and challenging in equal parts–They wouldn't have it any other way.
Twitter https://twitter.com/Kele_Moon
Website http://www.kelemoon.com
Facebook http://www.facebook.com/kelemoon
Goodreads http://www.goodreads.com/author/show/4340854.Kele_Moon
---
Tour Schedule
January 28:  Shh Moms Reading
January 29:  Love To Read For Fun
January 30:  A Little Bit of Naughty
January 30:  STOP 2  Sharing Links and Wisdom
January 31:  BadBarbsPlace
February 1:  Viviana, Enchantress of Books
February 4:  PROMO  Three chicks and their books
February 5:  Long and Short Reviews
February 6:  Words of Wisdom from The Scarf Princess
February 6:  PROMO  Sinfully Sexy Book Reviews
February 7:  Where's My Muse?
February 8:  EvolvedWorld