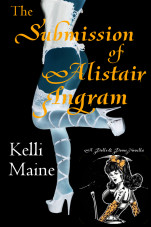 Today, we welcome Kelli Maine to our blog as she celebrates her new book The Submission of Alistair Ingram, which released on February 12th!
4 STARS!!!
Summary
Movie star Alistair Ingram strolled into Dolls & Doms private men's club in Las Vegas for his bachelor party and limped out with a torn shirt, red welts covering his chest and a broken engagement splashed all over the pages of every celebrity magazine in the country.
A session with club Dominatrix, Black Betty, will do that to a man.
With Alistair's manager breathing down his neck and Black Betty's abusive ex-husband alerted to where she's been hiding for the past ten years, there's only one thing to do:
Lie.
And get the hell out of Las Vegas.
But the real ruse is on Alistair and Black Betty, because despite both of their best efforts, they've gotten under each other's skin. Can their explicit dance of domination and submission end in anything other than disaster?
THE SUBMISSION OF ALISTAIR INGRAM is the first in a novella series from www.DollsandDoms.blogspot.com, where erotic tales from the Dolls & Doms private men's club are told in weekly episodes.
Denise's Review
Dominatrix Black Betty is the main attraction at Movie Star Alistar Ingram's bachelor party at the exclusive Dolls & Doms private men's club.  An unexpected attraction turns both their worlds upside down.
Alistar is unfamiliar the rules of the club or BSDM and when he meets Betty, the glimpse he gets into the scared woman inside, captures his soul.   Ms. Maine makes it clear during this encounter that Alistar is intrigued with Betty and you see that deep down, he is a good man.
Betty is a woman in hiding; hiding from an abusive ex-husband and more importantly from herself. As Alistar works to break down the wall of Black Betty, the reader is allowed to see how broken this woman is and how the dominatrix she became was a facade designed to keep her emotions safe.
This chance encounter breaks an engagement and puts both of these in the cross hairs of the media and Betty's ex-husband.  
Alistar works so hard to open Betty's emotions up; he allows himself to submit; he works to make her feel safe; he offers her comfort and a place to find herself. This was very touching; it was comforting to read about a man who so desired to make a woman feel safe. 
The connection these two uncover forces them to look at what they have allowed their lives to become.
Will they move past what their lives is and be strong enough to construct the life they want?  Well, you will have to read to find out!!
THE SUBMISSION OF ALISTAIR INGRAM is the first in a novella series from Kelli Maine. 
Part of this story was first posted in her site www.DollsandDoms.blogspot.com in weekly episodes.
We are looking forward to more from Kelli as this series continues to develop!
About the Author
Erotic romance author of the Give and Take series. TAKEN and NO TAKE BACKS: A Novella, now available! GIVEN 2013.
Twitter kellimaine
Website http://www.kellimaine.blogspot.com
Facebook http://www.facebook.com/kellimainebooks?fref=ts
Goodreads  http://www.goodreads.com/author/show/6442717.Kelli_Maine