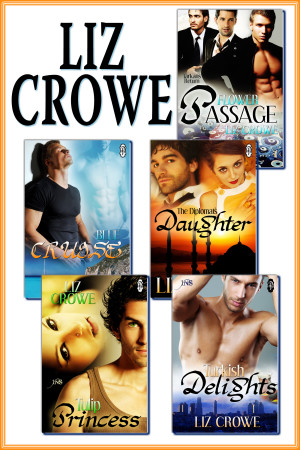 Today we welcome Liz Crowe to our blog as she promotes her Turkish Delights Series.  At the final stop of the tour, Decadent Publishing will have a contest to win a signed copy of Turkish Delights and a $50 Amazon gift card plus a Beer Wench Tee!
---
The Family Dynamic
The Deniz family at the heart of the Turkish Delights series is an internationally blended one. Vivian Kinkaid is the daughter of the one-time Consul General to Istanbul and lived in the diplomatic residence for many years. Until her parents divorced and she had to move back to the states with her mother. After her mother's death her father demands she return to Turkey to live with him, his new wife and kid. She is not happy about it. Especially since, when she lived there as a young girl her one good friend—Levent Deniz, son of the house staff—was forced to move away lest their friendship be deemed improper.
So she sits, pissed off, contemplating her latest rebellion under her father's nose when she comes face to face with none other than Levent himself—all grown up…and looking awfully good.
Problem is, he won't acknowledge her, at least at first. But eventually their seeming destiny overcomes all barriers including her father's very tall one.
The Diplomat's Daughter novella begins the saga. Levent and Vivian have 3 children, Tarkan and Emre the twins and a daughter, Lale (pronounced "Lah-Ley" which means "beautiful tulip"). Their respective stories are told via the Decadent Publishing's "1Night Stand" trilogy of books:
Turkish Delights
Blue Cruise
Tulip Princess
And finally I wrap up a very long and tragic dangling plot string in the final novella, Flower Passage. I'm so thrilled to have all these books available as "one" either via an e-book bundle on Amazon or in print under one gorgeous cover.
These are not hugely long stories to begin with (from 9,000-33,000 words) and when stitched together this way, make for a fabulous, sweeping epic family saga that transcends generations, nationality, age, and gender. I love to tell stories about families as the dynamics involved are usually just too complex and interesting to pass up. And when you toss in a dash of international intrigue to the mix, combined with a tragedy that nearly rips them apart before bringing them back together again, it makes for a pretty irresistible story.
"Family" means different things to different cultures. I lived in Japan as well as Turkey and England and was able to observe the ways that particular bond held people together, or drove them apart. Turkish families are usually close, and stay that way, living in close proximity to each other. As a matter of fact, my own family lived in a compound in Istanbul that was built by a couple of brothers to house their entire extended one, made up of 6 flats in 2 buildings, connected underneath by an indoor pool, hot tub and Hammam and above that by a beautiful grassy area, with gardens and a waterfall all overlooking the Bosporus. The only reason they rented our flat out is because their beloved "Buyuk Anne" ("boo-yook Ah-nay") or Grandma, couldn't live on her own even just across the yard so she ended up living with one of her son's families and we got her flat. They were the nicest, most helpful, friendly groups of people ever and I will never forget how 3 generations of them would have meals, picnics and just enjoy each other's company—when they weren't hollering, fighting and throwing things at each other. It was a blast.
I hope you all get a chance to pick up either the e-book bundle or the print copy of Turkish Delights. It will not disappoint.
---
Denise's Review
The Turks Anthology is a wonderful family saga that provides the reader with heart tugging emotions, you will feel the heat as each family member finds their soul mate, your heart will ache as life brings tragedy and you will be left with your heart full of love as Flower Passage the final book provides a masterful end to for each family member.
In the end the love this family shares through the many up's and down's life throws at them is the most amazing part of the series.
Here is a short review of each:
Diplomat's Daughter– (prequel) that provides great backstory into the Denz parents, Vivian & Levent story sets the stage for their children and their live the build together.
Turkish Delights – Elle find a younger and yes HOT man, it will leave you wanting more which you get.  Ella is a strong professional woman, working for a pharmaceutical company brings her to Istanbul where she immerses herself into her job.Ella has come to love the cuty during her time in Istanbul. She meets Emre while exploring the city. Ella finds herself with a magnetic attraction to a Emre, a striking you man almost 15 years her junior. Emre is determined to prove to Elle that he is more than his age and Elle is convinced that age is all that matters.  When her friends suggest Madame Evangeline's 1Night Stand dating service – she is resistant, but ultimately gives in. This is a fun tie in with a very hot scene! When Ella finally lets go and allows herself to see the Emre for him and what he has to offer her. You quickly find yourself rooting for them to be together.I love that she has the strength to admit when she's wrong; she allows herself to "jump" and take what she wants.There is great secondary character development, including Ella's assistant, Caleb. This glimpse into Caleb makes Blue Cruise is a must read after Turkish Delights
Blue Cruise – Blue Cruise will break your heart and then melt it again… shortly into the book Caleb and the Deniz family was devastated…their grief is palpable, reading about each of them grieving somehow pulls you further in…Elle's love for her friend Caleb and desire for his happiness pulls him from his grief and allows him to move forward. Adem's entrance into the storyline is believable and breathtaking, though M/M might turn some reads off at first don't let it; the passion, compassion and love these two men feel is compelling and engrossing. This story leaves you wanting to know more about the Deniz family and wishing for their happiness
Tulip Princess – Watching Lale deal with her the issue from the prior book (yes held back so you can experience it first hand) is heart breaking….. When Lale is called upon to help with new niece due to a family emergency Lale focused on someone, something else and starts to break out of the blur. Lale begins to see herself in a different light. I loved Elle's (Lale's sister-in-laws) ability to stand up to her husband's conservation value for both Lale's and for years down the line their daughter.  Elle sets Lale up on with a dating services…. the night prior she meets Andreas. To her surprise he ends up the next night as her date and over dinner explains he is a Dom, a dom damaged by a divorce and cheating wife.  Andreas this DOM is an ex-NHL football player WOW.Lale is astonished but can't stop thinking about this Greek god…. will she ask to submit or run for the hills…… You will have to read the book 🙂 This is a SEXY, with smoking hot scenes with romance and love overlaid…
Flower Passage – this book is amazing with a true Liz Crowe spin on everyone's story! It is wonderful completion to the family's story. The Flower Passage was an emotional and engaging read. I was unsure what to think when I read a loved one was "returning" from the dead. Liz did a wonderful job making the story real and captivating. This book resolved many of the issues from the first books. It is so enjoyable to watch the family dynamic develop as each struggles to deal with Tarkan's return along with other dilemmas. Dealing with the patriarch, the new loves, the children; the interactions are real and heartfelt. This book allows you to explore each couple's story. In the end the love this family shares through the many up's and down's life throws at them is the most amazing part of the series.  I really don't want to give anything away… I don't want to "spoil" the read for readers, enjoy another wonderful Liz read!  This book was my favorite of the series.
About the Author
Microbrewery owner, best-selling author, beer blogger and journalist, mom of three teenagers, and soccer fan, Liz lives in the great Midwest, in a major college town.  Years of experience in sales and fund raising, plus an eight-year stint as an ex-pat trailing spouse, plus making her way in a world of men (i.e. the beer industry), has prepped her for life as erotic romance author.
When she isn't sweating inventory and sales figures for the brewery, she can be found writing, editing or sweating promotional efforts for her latest publications.
Her groundbreaking romance subgenre, "Romance for Real Life," has gained thousands of fans and followers who are interested less in the "HEA" and more in the "WHA" ("What Happens After?")
Her beer blog a2beerwench.com is nationally recognized for its insider yet outsider views on the craft beer industry. Her books are set in the not-so-common worlds of breweries, on the soccer pitch and in high-powered real estate offices.  Don't ask her for anything "like" a Budweiser or risk painful injury.
Twitter  beerwencha2
Website http://www.lizcrowe.com
Facebook http://www.facebook.com/home.php#!/lizcroweauthor?fref=ts
Goodreads  http://www.goodreads.com/LizCrowe
Tour Schedule
2/25   www.backwardsmomentum.blogspot.com
2/26    www.harliesbooks.com
2/26    www.twinsietalk.blogspot.com
2/27 www.stickgirlbookreviews.blogspot.com
2/27 www.happilyeverafter-cgtetreault.blogspot.com
2/28   www.msspencertalespinner.blogspot.com
2/28  www.literatiliteraturelovers.com
3/1  www.sevensexyscribes.blogspot.com
3/4 www.kimcharmichaelnovels.com