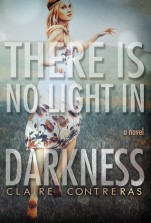 Today, we are so excited to welcome new indie author Claire Contreras to our blog as she debuts her new novel released on 2/9/13, There Is No Light In Darkness.
Please enter below to win a GRAND PRIZE of a $25 gift card to the winner's choice of online book retailer.
Claire Contreras will be giving away an ecopy of There Is No Light In Darkness at each blog stop.  Please enter below using rafflecopter to win an ebook copy of this FABULOUS new book!
---
 5 STARS!!!
Summary
A past hidden in darkness. Her present cloaked in secrets. The future holds the only truth that cannot be escaped.

After the mysterious and violent death of her parents, Blake Brennan finds comfort with an unconventional family. As the dramatic loss of her parents continues to haunt her—and hinders her from reciprocating love that others give freely—Blake embarks on a harrowing journey in search for the truth.
Living in a constant state of fear and need for control, vivid nightmares reveal details that lead to perilous situations. The past begins to collide with the present, and Blake must decide if the truth is worth losing the ones she loves.
Can love conquer all as her past comes to light? Or will Blake realize that there is no light in darkness?
Book contains: Explicit language & sexual content
Excerpt
           "When are you going to forget about that? I made a mistake. I was hurt. Can you stop rehashing that? I'm sorry. I'll be sorry for the rest of my life."
            I turned on my heels and went back to my bed. Before I sat down, I heard a thump behind me. My heart started beating rapidly, and I looked back startled, not knowing what to expect. Cole was on his knees. When I turned my body, he hugged my lower half and crushed his head against my abdomen.
            "What the hell are you doing?" I asked while I tried to pry his arms off of me.
            "Please forgive me, Blake. Please. I swear it only happened that one time. Then at the mall she kind of—"
            "Kind of what?" I interrupted. "Kind of plunged her tongue into your mouth without you noticing?"
            He groaned and held on tighter. "Blake, please. I was desperate for you. That was the first time I was going to see you after a while, and the last time I'd seen you, you killed me for the second time. I'm sorry if I made bad calls, but I was so fucking lonely and depressed and sick without you," he pleaded.
            I sighed. "It's fine, Cole. I forgive you. Please get off of me. You're still sleeping on the floor though."
            "Blake?" he whispered later when I thought he was asleep.
            "What?"
            "I love you more than you'll ever know," he said hoarsely.
            I felt tears sting my eyes. "Go to sleep, Cole."
Christine's Review
Wow!  That's how I feel after reading this AMAZING debut novel by indie author Claire Contreras.  This book was read in one sitting and into the early early hours of the next morning.  And I read it a 2nd time because I couldn't help myself – that's how good it is!  The captivating prologue grabs your attention right from the start and you are taken on a crazy ride of mystery, suspense, deep sadness and intense love for the entire length of this book.  I really have no words to even express my emotions right now but I will do my best to get it out there for you so you can go and buy this book and consume it like I did….
Blake is a third year law student who has lived with foster guardians since she was a young child.  She only remembers bits and pieces of her childhood, most memories coming from nightmares she experiences now as an adult.  She is fearful of many things thus only having a small group of trusted friends/family she surrounds herself with but she also has compulsive fears  (example: locking and double bolting her door at night or having people knock on her door three times as a code before entering).  Blake is on a mission to discover who her true self is and where she comes from while protecting the ones that she cares most deeply for.
Cole….ahhh…what can I really say about Cole other than that I LOVE him! 🙂 Cole is a sports analyst working in NYC – he does work with the Giants and ESPN and is well known among the media.  Cole has known Blake since they were living with the same foster guardian as children.  He also has a past that he doesn't remember moving into foster care as a 4 year old.  Growing up with Blake, there has always been a link between them – almost magnetic – Cole just consumed her.  He has always been protective of her and for a time they even dated.  Cole always made her feel safe and they have always put each other first, no matter who was in their lives at that moment.  In my mind, they have always had a thing for each other but it was always the wrong place, the wrong time.  And as this story unfolds, it's obvious to the reader that their right time is now…and that they can't watch each other be with other people anymore (thank god because I felt the exact same way!)
Their love is beautiful and passionate and I am just so happy to be experiencing it with them!
As Blake and Cole's past reveals and they start remembering what happened and CRAZY circumstances surround them, my heart and mind race.  It literally makes me afraid as I turn each page that something bad will happen to someone!  I have never experienced so much shock and awe while reading a book – it was so suspenseful and SO damn good! 
I loved how the author wrote in both past and present tenses.  I came to understand the characters more in this story as their lives unfolded and it allowed me to become fully vested in them, wanting to know more and more about them and just truly becoming immersed in their story as if I were a character too.
As a first novel, I think Claire did a remarkable job – it was so well written and so entertaining that it was utter perfection.   Congratulations Claire on a JOB WELL DONE!  I absolutely cannot wait until the sequel so I can find out what happens next!  Thank you for providing me with an ARC copy for an honest review 🙂
On a last note, I loved the nickname "Cowboy" and I fell in love with all of the secondary characters – each bringing something unique to the story.  There was an intense love and bond between all of them and it made me feel warmth in my heart for the family that they built among themselves through everything they experienced together.
Some of my favorite quotes:
"I don't give a fuck what other girls say. You're the only one that matters."
In this moment, I only want Cole. My Cole. I grab him by the back of the neck, pull his face to mine, and kiss him deeply. I kiss him to make up for all the years that I've missed out on not kissing him. I kiss him like it's the last time I will ever have his mouth on mine – because maybe it is – and I force the thought out of my head quickly.
"I'm not letting you walk out of my life again – ever."
About the Author
Claire Contreras graduated with her BA in Psychology from Florida International University. She lives in Miami, Florida with her husband, two little boys, and three dogs.
Her favorite past times are: daydreaming, writing, and reading.
She has been described as a random, sarcastic, crazy girl with no filter.
Life is short, and it's more bitter than sweet, so she tries to smile as often as her face allows. She enjoys stories with happy endings, because life is full of way too many unhappy ones.
She is currently working on the second novel in her series.
Facebook http://www.facebook.com/CContrerasBooks
Goodreads http://www.goodreads.com/author/show/6655354.Claire_Contreras
---
Enter using rafflecopter to win an ebook copy of this FABULOUS book!
a Rafflecopter giveaway
     
---
  Enter below to win a $25 gift card to the winner's choice of online book retailer.