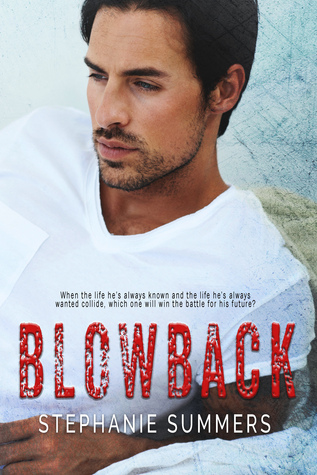 Blowback

by Stephanie Summers
on June 16, 2016
Goodreads

"People say to appreciate the life you have because things can always be worse, but how can you do that when your life is the kind everyone else compares theirs to in order to make themselves feel better? I hoped and prayed so many times for as long as I can remember for things to be different, for my life to be different, but when it finally happened, and my life changed, I didn't know if it was a blessing or a curse."

Jet Flanagan grew up under the shadow of his father, a kingpin determined to bend Jet to his will by any means necessary. He's been forced to distance himself from anyone he might care about to keep them safe and that includes high school sweetheart, Evie Adams. He did what he thought was right to protect her, but when she comes back into his life by chance almost a decade later and sets off a life-changing series of events, he'll be forced to deal with the collision of the life he knows and the life he should've had.
Enjoy a sneak peek into Blowback by Stephanie Summers releasing on June 16th. Enter the giveaway below for a chance to win a gift card and e-book of choice – good luck! 

Riding down the highway, I couldn't help but think of the life I lived every day. I passed cars with people in them going about their lives. Normal shit people did. Work. School. Grocery shopping. Doctor's appointments. Family vacations. And there I was, on my way to commit a felony. Every day of my life had a better than average chance of being my last, yet I still kept on like it was a completely normal way of life, like abducting a person so they'd be forced to face me in one-on-one combat was just another day at the office.
Little did I know, the norm for me was about to change, was about to be shaken to the very core over the next few days, and all because I was in the right place at the right time… or the wrong place at the wrong time, depending on how you looked at it.
Join the Blowback FB Page: https://www.facebook.com/BlowbackJetFlanagan/?fref=ts
★¸¸.•*¨*•★ PREORDER ★¸¸.•*¨*•★
AmazonUS: http://amzn.to/1U8fi4s
AmazonUK: http://amzn.to/1WKHH0U
AmazonCA: http://amzn.to/1tqAM10
AmazonAU: http://bit.ly/1T9vOLT

*Giveaway now over – congrats to Bube*
Enter to win a $25 Amazon Gift Card + An e-book of choice of the Authors work
All you have to do is share this exclusive excerpt on your social media account(s) (Facebook, Twitter, Instagram, etc). Sample message below:
 Blowback is Coming June 16th #JetAndEvie #chance #fate @AuthorSASummers @shhmomsreading
Please make sure to post a link to your shares below. One winner will be chosen Wednesday June 15th. Thank you for sharing!