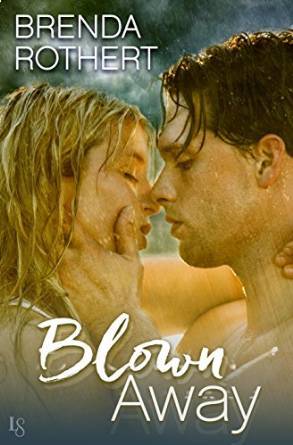 Blown Away

by Brenda Rothert
on May 3, 2016
Pages: 205
Buy on Amazon
Goodreads


In an emotionally charged, wickedly hot novel of love and loss, a passionate affair gives two daring storm chasers the strength to overcome shattered dreams and the courage to build a future together.

One year after her fiancé died in a heartbreaking accident, Drew McGovern decides to honor his memory by joining his old storm-chasing buddies on their latest excursion. What she's not so sure about, however, is whether she's ready to move on. Drew wasn't expecting to feel the powerful pull of desire toward Colby's best friend. But there's no denying the intensity of their connection . . . or the heat he inspires in the parts of her that are still very much alive.

Aiden O'Neal doesn't trust himself around Drew. He's wanted this girl for a long time—long enough to remember the stab of jealousy he felt the first time he saw her in Colby's arms. Now he's trying his best to behave himself. But when the wind starts blowing and the adrenaline starts pumping, Aiden can't resist the urge to claim Drew as his own. Because when it comes to desire, he's hoping to make lightning strike twice.
Blown Away by Brenda Rothert opens with the unfolding of a powerful set of scenes; the tragedy that plays out sets the tone for Drew McGovern, the heroine's journey.
Drew finds herself drawn to her deceased fiancé  Colby's storm chasing buddies. She decides to join them on their latest excursion and that is when the attraction to Aiden O'Neal  starts to burn up the pages of this book.
Aiden has his reasons for wanting to keep Drew at a distance; ones that certainly make sense but despite that, you will soon find yourself rooting for this couple to push the outside factors aside and embrace this connection.
"Love was scary as hell. Full of risks. But now that I knew what such a soul-deep burning for another person felt like, I couldn't walk in the other direction."
Drew's deceased fiancé  does play into some of the events in this book, there is one element that I truly loved, it was masterfully crafted, causing Drew to question everything she thought and in the end offers the reader another reason to love Aiden as he chases the truth for Drew (nope not telling read the book).
Aiden O'Neal's tragic past was so perfect for this story; it explains so much of who he is and the path he has chosen in the life.  Drew learning about the tragedy that occurred in Aiden's life as a teenager was an exceptionally written scene, one that pulls at the reader's heart strings while bonding with the characters.
Blown Away had another element that I loved; the epilogue set a number of years in the future is such a beautiful picture of moving forward despite having faced a life woven with tragedy.
"…life can change in the blink of an eye."
* please note despite the sad element mentioned in the blurb and the tragedy both characters face, they do overcome them. This is an uplifting story one with the theme of it's not what life gives you but what you do with it .