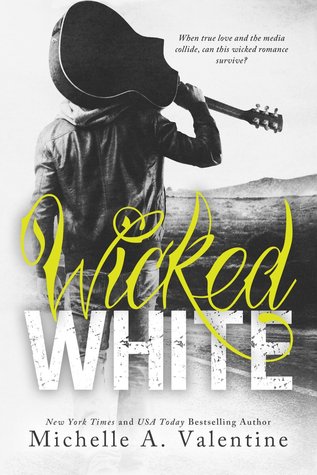 Wicked White

by Michelle A. Valentine
on June 23, 2015
Pages: 266
Buy on Amazon
Goodreads

After his mother dies, rock star Ace White—lead singer of the red-hot band Wicked White—is done with the celebrity game. The phony people, the meaningless one-night stands: he doesn't want any of it anymore. Quitting in the middle of a sold-out tour, Ace sets out to find some place—any place—where he can be alone.

Aspiring singer Iris Easton's life has never been easy. First, her mother walked out on her when she was a kid. Now she's buried in debt, weeks after losing her beloved grandmother. When a mysterious and sexy new guy moves in next door, Iris can't help but be drawn to his soulful gaze. She can tell there's something from his past haunting him—something he's not telling her.

Just as Ace starts falling for Iris, the media go on a worldwide hunt to find the missing rocker. Will true love conquer all, or will the truth be the very thing that tears the couple apart?
Meet rock star Ace White in Wicked White and see why all the ladies are falling in love with another Michelle A. Valentine book boyfriend!! Make sure to enter the giveaway below – good luck!

I've been saying a little prayer every night that he's never found and can stay here with me just like this forever, but deep down I know that's not reality, and it scares the shit out of me.
I don't want him to leave, and the thought of me leaving with him—it excites and terrifies me at the same time. I'm not sure if I'm cut out for a life on the run, and more importantly, I'm not ready to give up on my dreams that have already been put on hold. I'll have to return to New York at some point—with or without Ace.
I refuse to be that girl who gets so swept up in a man that she tosses everything aside for him, losing her dreams and identity. That's not me.
Ace stirs below me, and I know he's in the process of waking.
I press a soft kiss to his lips as our naked bodies remain pressed together. "Good morning. Hungry?"
"Starving," he whispers and pulls my face back up to his, letting me know that he's not just talking about food here.
He shifts and pulls me on top of him, where he cups my ass as he deepens our kiss.
This man is insatiable.