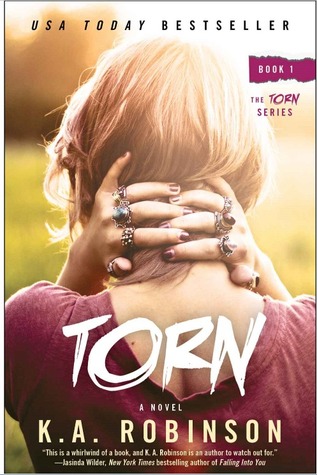 In celebration of Torn's ONE YEAR ANNIVERSARY, Kim sits down with Drake to ask some fun questions!  Enjoy!
For those who have not started this series yet, what are you waiting for?!  Add it to your TBR list below!
Enter for a chance to win a paperback of Torn below!  Good luck!
---
5 STARS!!!
Synopsis
Chloe hasn't had the best life. With a mother who is gone more often than not, she has had to raise herself. After graduating high school, she leaves to start a new life away at West Virginia University with her best friends Amber and Logan, determined to leave her demons in the past.
On her first day, she meets a stranger who takes her breath away at first sight. Until she met Drake, no one had ever sparked her interest. Now this tattooed and pierced bad boy is all she can think about, no matter how hard she fights it.
Falling for Drake was never part of her plans, but when it happens, things seem to do anything but fall into place.
Dealing with a tragic past, Drake has never cared about anyone else but himself and his band. But when Chloe takes the empty seat next to him in class, things start to change. Instantly drawn to her, he begins to wonder if one girl can take a cold hearted womanizer and change every part of him?
Long hidden feelings are revealed and friendships tested to the brink.
Kim's Review
I still remember the day I came across the synopsis of Torn and I was
totally……
yes Torn had all the ingredients of a great book! Chloe is college bound to WVU with her BFF's Amber & Logan ~ Chloe's mother is a complete…
I wanted to…
her! Chloe essentially lived with Amber and her parents! Logan awww the good boy the quintessential good looking boy next door~ Yes girls definitely ….
with this good looking hunk! But Chloe considers him her BFF and is that a line she really wants to cross? What do you do when your "so-called" BFF want's more? Well in this case I was totally…
but you have to read it yourself to find out what Chloe did. First day of school and Chloe's eyes land on Drake ~ I'm talking the tattooed, pierced, bad boy in a bad that doesn't believe in anything but a hook-up yes he had me ….
a time or two or if you Chloe you ….
Yes there's some well written….
that had me hotter than a firecracker on the 4th of July! Drake has his demons too! Demons that had me….
in fact there were quite a few times where I was crying in this one. Oh I ran the gamut of emotions while reading Torn there were times where I was down right…
at situations, at people, at well everything at times. I had to remind myself I was not part of this book! But there were times where I was totally….
about things that went down and when they went my way I was so happy! I'm not going to reveal what my way was. The further along I got the more ….
I became cause I knew someone was going to be hurt and I hated to see that! Really though, is there a love triangle out there where someone doesn't get hurt but is there truly a love triangle in Torn? Yes, again I'm telling you to read it to find out. I certainly had a …
and definitely…
and then I totally had to …..
like the fool I am performing for my dogs while the rest of the family is at work and school! I talked to my freaking dogs about Torn that's how AWESOME the book is!
A 5++++++++++++++++ read that left me breathless at times, that had me wanting to hunt down K.A. and reveal what was up next in Twisted! Emotions….
so freaking many of those! A totally hot as hell book that I will continue to recommend to anyone who hasn't read this one. Read it and you will find out immediately why K.A. hit the best selling list so fast. Torn is FANTABOLOUS, AMAZING, KILLER just down right freaking awesome. SO prepare for some smiles, a few laughs, a lot of tears, and some heart break and grab the Kleenex cause you will need it!!!
---
KIM'S INTERVIEW WITH DRAKE

K:  How would you describe "ideal" woman?

D:  Big boobs and a smokin' body. Preferably wearing small amounts of clothing.

K:  What were your thoughts when you first laid eyes on Chloe? (outside of her "shoes")

D:  Big boobs. No lie. That was my first thought. I'm a dick, aren't I?

K:  How many tattoos do you have? How many are "hidden" ;)?

D:  I only have three. The one across my back and the two that I got in Torn.

K:  Favorite Band? Favorite Song?

D:  Three Days Grace.  There are WAY too many to choose from.

K:  Any particular song, your's or another band, remind you of Chloe?

D:  She Likes The Ladies by Longreef. Okay, maybe not, but I can dream.

K:  Where do you see yourself in 5 years? Professionally & Personally?

D:  Personally? With Chloe, whether she likes it or not. She's stuck with my awesome self.

Professionally? I'd like to see myself playing in front of thousands of people.

K:  Would you consider Logan "competition"?

D:  That little jackass? Never. He never stood a chance against me. I'm just that awesome.

K:  What one thing would you be willing to give up if Chloe committed solely to you?

D:  Music, which should tell you just how much she means to me. I love her more than anything.

K:  Now every band has groupies ~ I've heard a lot of musicians say that they could never consider a meaningful relationship with a groupie because they fear the groupie would never actually see them as a "real" person?  Would you agree with this?

D:  I do. For groupies a musician is a way into the lifestyle. What happens when real life takes over and the dream disappears? You're just a normal person. They'd never be able to accept that.

K:  If you could open or co headline with any band, still rocking or not, who would it be and why?

D:  Avenged Sevenfold. I fuckin' love those guys.

K:  Exclusivity ~ yes or no?

D:  Definitely! I am not someone who is willing to share. What's mine is mine. Period.

Thanks for sitting with me today Drake!  I enjoyed meeting you and look forward to hearing more about you from Kelly!! <3
You can find more information about the author here
---
GIVEAWAY
Leave a comment following this post on why you want to win this book! Winner will be picked at random tonight! Good luck!