K.A Robinson stops by our blog today to share some never before seen information about Chloe and Drake from Torn and Twisted. Today is the eve of Twisted being published in print on Tuesday November 5th. Buy links for both books can be found below!
Enjoy "10 Things You Didn't Know About Chloe & Drake" and a music playlist for Twisted below!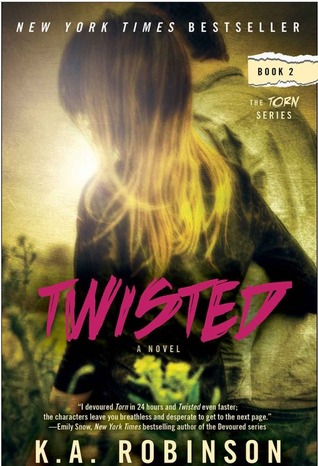 Synopsis
Chloe and Drake have found their happily ever after… Almost.
When Chloe's mother comes back into her life with a bang, it sets off a chain of events no one could have ever expected.
Everyone has their demons, and Chloe and Drake's hit them with a vengence.
Sex, drugs, money, a crazy ex, and Rock n Roll…. Can they survive it all?
Things are beginning to feel a bit… Twisted.
Read our 5 STAR review of Torn (book 1) here.
Read our 5 STAR review of Twisted here.
---
10 Things You Didn't Know About Chloe & Drake
1.  Chloe's birthday is on August 26th.
2.  Drake's birthday is June 26th.
3.  Chloe's favorite band – Slipknot
4.  Drake's favorite band – Three Days Grace
5.  Chloe broke her arm when she was 12 when she fell out of a tree. Her mom wasn't home, so Amber's mom took her to the hospital.
6.  Drake is originally from Missouri.
7.  Drake spent his 18th birthday in the tattoo shop getting the tattoo across his back. (In memory of his mother and father.)
8.  Drake met the band when he snuck into Gold's one night. He saw them playing and found out they were auditioning for a new lead singer. Two weeks later, he was in the band.
9.  Chloe had a kitten when she was growing up. She named it Chase. She hid it from her mom when she came home.
10. Drake almost joined the military, but decided not to once he joined the band.
Music Playlist

Fine Again – Seether
World Falls Away – Seether
This Means War – Avenged Sevenfold
Rock Me – One Direction
Plastic Man – Seether
Crazy B*tch – Buckcherry
I Miss You – Blink 182
In The End – Black Veil Brides
Torn – Disturbed
Circus for a Psycho – Skillet
Scared – Three Days Grace
Psychopath – Soil
Love Bites (So do I) – Halestorm
Drown – Three Days Grace
Bliss (I Don't Wanna Know) – Hinder
Beautiful with You – Halestorm
I Don't Like The Drugs (But The Drugs Like Me) – Marilyn Manson
Grim Goodbye – Red Jumpsuit Apparatus
Nothin' Good About Goodbye – Hinder
Asking Too Much – All That Remains
Good Man – Devour The Day
Kiss Me -Ed Sheeran
You can find more information about the author here
---
GIVEAWAY
Book 1 – Torn
Paperback

Book 2 – Twisted
Paperback

Book 1 – Torn (E-book)

Book 2 – Twisted (E-book)