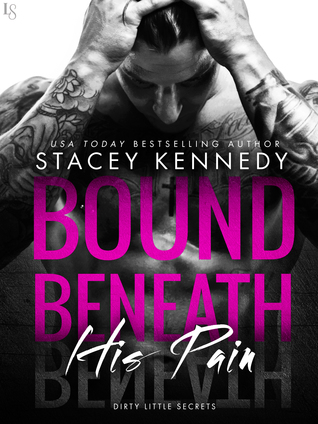 Bound Beneath His Pain

by Stacey Kennedy
on July 5, 2016
Pages: 244
Buy on Amazon, Buy on B&N, Buy on iTunes, Buy on Kobo
Goodreads


The USA Today bestselling author of the Club Sin novels kicks off a deeply sensual new series by introducing readers to Micah, a man who takes what he wants—until he meets the one woman he needs.

Real estate mogul Micah Holt exerts absolute control over all aspects of his life. He keeps his dark side hidden away from the press, who will chase down any hint of scandal. He's always in command of his world, careful to expose his closely guarded secrets only to those he knows he can trust. Then Allie Bennett shakes his legendary discipline. She's beautiful, pure, untainted. But is Micah willing to sacrifice her innocence for his own selfish obsessions?

When that sexy smile makes her body burn, Allie tries with all her might to ignore it. For one thing, Micah's her new boss. For another, he's as complicated as he is devastatingly handsome. Still, Allie can only fight so much before she gives in to his dangerous games. She knows he's got dark secrets. But when she discovers the true depth of his pain, Allie must decide how far she's willing to go to light the way for love.

Bound Beneath His Pain is intended for mature audiences.
I was pulled into Bound Beneath His Pain from almost the moment I opened this book which is something I love!
I also adore books about professional grown-up woman and this book delivered that in spades.
Allie is strong, confident and crafted her own way in the world.
How Micah comes into her life was so well done and from almost the moment they interact, it is clear there is a pull.
"That pull that I feel toward you is rare. You make me do things I would never do; break rules I would never break."
The reader (and Allie) slowly learn why Micah has so many walls and WOW, your heart will break for him and you will truly understand why he keeps secrets from Allie and so many around him.
Though easily predicable, I loved how Darius played into the story and how this part of the plot unfolded.  Nope not telling read the book! Oh and no worries it is not a love triangle, not even close, read the book!
The author did a wonderful job with all the backstory here up and to the point where it makes you know 100% for sure that Allie loves Micah for him and has no desire for his money!
Often in life, your family becomes those you choose to share your life with, and in this book that is true on so many levels.
I am sooooooo looking forward to Tied to his Betrayal, the next book in the series releasing November 15th….you can preorder it here http://amzn.to/29iRTam.
I am so excited for Darius and Taylor because I love second chance romance stories and this one not only had great build up but it also has just enough hints of a backstory to make me want their story NOW.
I love finding new authors and discovering a new interconnected series to read! I get to read new stories while visiting with "friends."

You can read Chapter 1 HERE on Stacey's website.