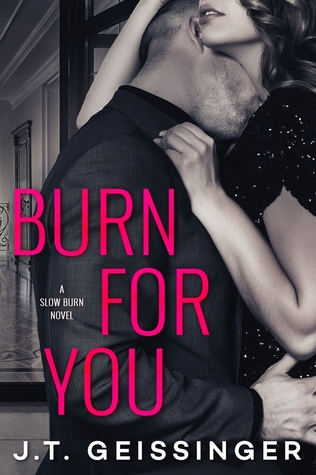 Burn for You

by J.T. Geissinger
on October 17, 2017
Pages: 348
Buy on Amazon
Goodreads


The marriage is fake. But for a sassy chef and an arrogant billionaire, the sparks are real… Jackson "The Beast" Boudreaux is rich, gorgeous, and unbelievably rude to the staff at Chef Bianca Hardwick's New Orleans restaurant. Bianca would sooner douse herself in hot sauce than cook for Jackson again, but when he asks her to cater his fund-raiser, Bianca can't refuse, knowing the cash will help pay her mother's medical bills. Then Jackson makes another outrageous request: Marry me. The unconventional offer includes an enormous sum—money Bianca desperately needs, even if it does come with a contract—and a stunning ring.

The heir to a family bourbon dynasty, Jackson knows the rumors swirling around him. The truth is even darker. Still, he needs a wife to secure his inheritance, and free-spirited, sassy Bianca would play the part beautifully. Soon, though, their simple business deal evolves into an emotional intimacy he's built walls to avoid.

As the passion heats up between them, Bianca and Jackson struggle to define which feelings are real and which are for show. Is falling for your fake fiancé the best happy ending…or a recipe for disaster?
BURN FOR YOU by @JTGeissinger is available now! Are you ready to meet the Beast?
Check out an excerpt below!
Buy Burn for You
Amazon US | Amazon UK | Amazon CA | Amazon AU

I threw my head back and chugged the bourbon in my glass. "Whew!" I exclaimed when I was finished. "That possum's on the stump!"
Jackson slowly raised his brows.
"It means it doesn't get any better than that," I said hastily, feeling like a class A idiot. Jackson said, "I know what it means. I'm just wondering what's got you so riled up." Then he stared at me, his eyes burning like blue blazes.
I stammered, "I— I'm uh . . . tired. I get kinda loopy when I'm tired."
Dear God, if you will please help me out and grant me the power of invisibility or cause my sudden death from something quick and painless, I'd be much obliged.
But God was probably having much too good a time watching me squirm to grant my wish. I stood there looking at Jackson while he looked back at me, neither of us saying anything.
He tipped his head back, exposing the strong column of his throat, and drank his bourbon. I watched his Adam's apple bob up and down as he swallowed, and imagined God was a teenage girl giggling madly as I felt the heat in my face and neck spread all the way down to my chest.
I reached for the bottle and poured myself another glass. I downed that one, too, coughing at the end because, although the bourbon was hands down the best I'd ever had, it was meant to be sipped slowly, not inhaled. Fumes seared my throat.
"Smooth," I said, eyes watering, and laughed.
Jackson cocked his head and stared at me. He asked, "Do I make you uncomfortable?"
Maybe I should just fill the sink with water and stick my head in it, I thought, desperate for some way to escape. At the moment, suicide wasn't out of the question.
I looked over Jackson's shoulder. "Have you seen Rayford anywhere? He said he'd drive me home."
"No. And that was the worst segue I've ever heard. So I have to assume the answer to the question you avoided is yes. My next question is, why?"
Lord, he was direct!
I blurted, "You've made me uncomfortable since the first moment I met you," and instantly wanted to punch myself in the face.
When his face darkened, I added, "But tonight's the first time that it's not a bad kind of uncomfortable."
Unblinking, he stared at me. Thump, thump, thump went my heart.
His voice thick, he asked, "What kind of uncomfortable is it, Bianca?"
Oh dear.
Have you ever stood at the edge of a high cliff and looked over?
When I was little, my father took us to see the Grand Canyon. Being the curious child I was, I wanted to get as close to the precipice as I could. So when my mother turned her attention away for a split second, I scurried under the wood barricades, ran right up to the rocky lip of the canyon, and stared down.
With wind whipping my hair away from my face and dirt shifting uneasily under my feet, I was terrified. And exhilarated. And strangely certain that if I leapt off and spread my arms, I'd be able to fly. There was something magical about my terror, something that made my heart soar even as it stole my breath and froze my blood to ice.
That's the exact sensation I had gazing into Jackson's blue eyes as he waited for me to answer his question.
He must have seen it in my expression, because he carefully set his glass down and stepped toward me.

I LOVE J.T. Geissinger's writing—most especially her Wicked Games series so I was excited to start a new series by her. She combines great storylines with sexiness in her novels that leave you seriously melting from the heat! And while Burn for You was a slow burn romance and definitely had some of the heat factor, unfortunately this was not my favorite by her.
This is a remake of the classic Beauty and the Beast. Jackson Boudreaux has dinner at Chef Bianca Hardwick's New Orleans restaurant and sparks fly… And I am not talking romantic sparks but angry, frustrating sparks because Jackson has his head up his butt with his richer than though angry presence and Bianca is the spitfire to put him in his place. Oh their banter had me laughing out loud… I love feisty heroines!
Bianca helps Jackson out with a charity dinner because she needs the money to pay for her sick mother's hospital bills when Jackson proposes something Bianca can't refuse—Marry Me so I can get my inheritance and I will do anything to help you with your mother's healthcare. And what starts off as a business proposal becomes so much more <3
While I loved learning the backstory of Jackson and why he is the way he is, I wanted to see more from him. The reader becomes heavily invested in Bianca's story because the book was mainly in her POV and I felt that more character development could have been done for Jackson. I felt some of his emotions—his anger and sadness but wish it was spread out throughout the book rather than at the end. I wanted to be more invested in his character. There is also a secondary character by the name of Cody that I wanted to see more of and toward the end, he was just missing from the story all together.
And when things finally come full circle and all is right in the world, it just felt so rushed. I wanted more of that burn if that makes sense—more time together, more heat and passion because for me, it felt just a bit flat.
I love this author and I will definitely read more from her… this was just not my favorite and could be the case of its me and not the book as I have seen many great review for it. I LOVE the diversity aspect because I feel like more books need that and I would definitely read more in this series to see where it will go next.

See the BURN FOR YOU trailer: https://youtu.be/hpKswDZve24