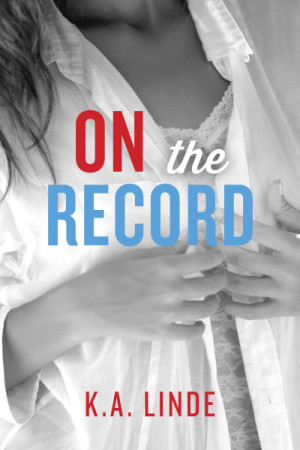 On the Record

by K.A. Linde
on August 26, 2014
Pages: 382
Buy on Amazon
Goodreads


For political reporter Liz Dougherty, election day—a day of looking toward the future and saying goodbye to the past—seems like a fitting time to start a new relationship. But feelings for her former flame still linger...

The sexy second book in bestselling author K.A. Linde's Record series decides whether it's better to pick up the pieces and move on...or to pick up right where you left off.
We can't wait for you to get more of this AMAZING series by K.A. Linde.  Join us as we reveal Chapter 1 of On the Record. On the Record releases next TOMORROW 8/26 but get a sneak peek into the book ahead of time!
Make sure to enter the giveaway below for a chance to win a signed paperback of this book and some swag too. Good luck!
You can read the ENTIRE Chapter using the following schedule:
8/21 – Flirty and Dirty Book Blog
8/22 – Group Therapy Book Blog
8/23 – Angie and Jessica's Dreamy Reads
8/24 – Schmexy Girl Book Blog
8/25 – Shh Moms Reading
Please also join us for Kyla's RELEASE DAY PARTY for On the Record on Tuesday 8/26 from 3-9pm EST. Authors and bloggers will be stopping by to join in on the fun and we hope you will too!!
Participating Authors:
3pm – Jillian Dodd
3:30pm – Claire Contreras 
4pm – Kathryn Perez
4:30pm – Mia Asher-Author
5pm – S.C. Stephens
5:30pm – Rebecca Shea
6pm – Viv Daniels
6:30pm – S.L. Jennings
7pm – Corinne Michaels
7:30pm – Laurelin Paige
8pm – Kyla Linde
We have added a whole EXTRA hour so that Kyla can do a Q&A at 8pm. And if thats not all – Jenn Sterling will be stopping by too!

Hayden. Brady had been her world, but then her world came crashing down. Now she had to keep moving, keep living despite the destruction. It was self-inflicted . . . after all, she and Brady couldn't
be together. She had written negative articles about him before she had gotten to know him, and anything that could hurt Brady's chance of winning was a danger to the campaign. Brady hadn't left
her mind a single day since she had walked away.
As she tipped the shot back into her mouth, the burn down her throat reminded her of exactly how she had felt every day since she had left him. It might have been the right decision, but it wasn't easy, and it constantly left her with a bad taste in her mouth and feeling a little sick.
But Hayden was always there too. Slowly but surely trying to pick the pieces back up . . . pieces he didn't know existed. Liz had just refused to let it go further than that. The last thing she wanted was to start something with Hayden and look back and see that it had been a rebound.
"Looks like the results are in on that Cunningham-Maxwell race down in North Carolina," the anchor said, slashing through all Liz's coherent thought.
She froze with her eyes glued to the television. It was finally time. The next moment felt like an eternity, as if Liz were watching the whole thing in slow motion. The crowd quieted all around her as heads turned to the screen to hear what had happened. Victoria collected shot glasses from Liz and Hayden and slammed them down on the counter, then turned to listen to the reporter. Even she was interested . . .
Hayden's hand landed on the small of Liz's back and he drew closer to her. She felt his breath hot on her ear as he whispered softly, "Go out with me."
It wasn't a request, but not quite a command. And he said it so faintly, so decidedly, and at just the right time that she didn't even have time to process what was going on. In a split second she was going to find out if Brady had won. But now her mind was lost in Hayden's comment.
"And it looks like State Senator Brady Maxwell has pulled it off by an even slimmer margin than his primary race, with just over seven hundred and fifty votes over that threshold. Truly amazing. Congratulations, Senator Maxwell. We'll be analyzing this victory more thoroughly later on tonight . . ."
Liz couldn't hear anything else as the bar erupted. People all around her were screaming and cheering for their hometown hero.
And she just stood there gaping.
He had done it! He had pulled it off. Seven hundred and fifty votes had pushed him to victory. That was such a small margin. Any precinct could have tipped the balance.
Then Hayden had his arms around her middle and was spinning her in circles. Liz giggled, threw her arms around his neck, and pressed her thin frame against his chest. He slowed to a stop and then lowered his mouth down to her lips. Without even a second thought, Liz let herself get caught up in the moment—get
caught up in Hayden.
Her eyes closed and electricity shot between them as they melded together. The more she had pushed him away, the more the heat built between them. And now it had all released into one celebratory kiss. She hadn't even known that she wanted this until it happened, and her heart fluttered.
Hayden pulled away first, and she knew her breathing was uneven as his hazel eyes looked deep into hers. "Go out with me,"
Hayden repeated with that same smile that had won her over from day one.
Liz bit her lip. Brady was going to D.C. to be a congressman in the House of Representatives. He had just won everything he wanted and was likely celebrating that victory. He wasn't celebrating with her, and he wouldn't be. November didn't mean anything to her anymore, and she had to move on. She had to forget Brady Maxwell. She would never regret what had happened between them, but she couldn't keep obsessing. Maybe if she just let herself like Hayden again instead of putting all of her energy into pushing him away, that would make it all that much easier. She wanted this. She was ready to start over, and Hayden was giving her that opportunity. A smile broke out onto her face to match Hayden's. This was good. This was the right direction.
"I'd love to," she murmured before finding his lips again.

♥READ THE SERIES♥
Pre-Order For the Record