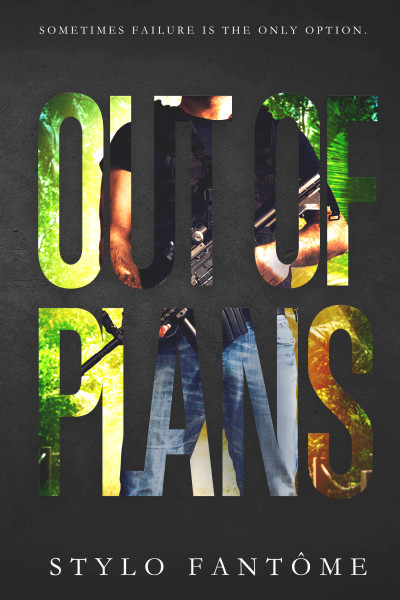 Out of Plans

by Stylo Fantome
on December 15, 2015
Goodreads


THE new PLAN:
* Find Marc
* Don't find Marc
* Take down a Russian Bratva boss
* Don't have sex with Kingsley
* Find Marc
* Take down a Colombian drug lord
* Don't fall for Marc again
* DON'T FIND MARC
* Kill every –
*
*
* SCREW THE PLAN AND JUST WING IT
This is the story of what happens when best laid plans fail, and a vengeful woman is forced to find her own way once again. A bond broken, trust shattered, and too many lies to keep track of find Marc and Lily all out of plans and running out of time. Can they find their way back to each other before trouble finds them first, or is it really the end of their journey?
If this NOVEL were a MOVIE, it would have an R rating from the MPAA. Contains: Violence, Grisly Images, Strong Language, Nudity, and Graphic Sexual Content.
One of our most anticipated of this year! Enjoy the next part of the Chapter Reveal for Out of Plans by Stylo Fantome below. Stop by the other stops to read the chapter in its entirety and make sure to enter the giveaway below!
Schedule
12/7 The Rock Stars of Romance
12/8 Angie and Jessica's Dreamy Reads
12/9 Shh Moms Reading
12/10 Schmexy Girl Book Blog
12/11 Natasha is a Book Junkie

Roksana let out a shout and jerked her arm forward. The whip lashed out and licked at the top of his chest, just under his clavicle. It was a sickening feeling, his skin splitting open under the leather. He clenched his lips together, refusing to look down even as he felt fresh blood begin to run down his front.
"This charade does grow tiring. I have to leave the country tomorrow. If I can't get anything useful out of you, then we're done. I'll have them cut you into five pieces and we'll bury you around the border," she told him with a sigh.
Marc went still. Not at the threat, but at her slip. She was leaving the country – why? As far as he knew, she was running the whole operation there in the Kiev. They couldn't possibly be done working, done moving all the stolen women. If she was pulling out, it could only be because Stankovski himself had called for her.
"Bummer. I was really beginning to enjoy our time together," he sighed. She cocked up an eyebrow, then began to slowly approach him.
"Really? For some reason, I find that very hard to believe. I have been having fun, but you? You will bear some of these marks forever," she dropped her whip while she talked, and once she reached him, she pulled a small knife from behind her back. The small blade shined in the lamp light, menacing even for its tiny size. He knew what that blade could do.
"Sweetheart, you haven't even begun to have a fun time. What could be better than playing with me?" he asked, smiling wide. For a big, scary guy, Marc knew he could pull of charming. She wasn't immune to him – Roksana's esteem was shaky at best, she fed off attention.
"Very little," she sighed, tracing a finger through the blood that was smeared across his chest and abs.
"If you're not going far, then maybe you could come back, we could pick up where we left off," he suggested. She laughed loudly.

Enter to win an ARC copy of this book and a $10 Amazon Gift Card!!!
All you have to do is share this exclusive promo post on your social media account(s) (Facebook, Twitter, Instagram, etc). Sample message below:
#OutOfPlans releases Dec15 #ARCGiveaway #GiftCard #FindHerWay #RunningOutOfTime @StyloFantome @ShhMomsReading
Please make sure to post a link to your shares below. ONE winner will be chosen on Saturday December 13th at 10am EST! Good luck! And thank you for sharing!
♥ Book 1 – Best Laid Plans ♥