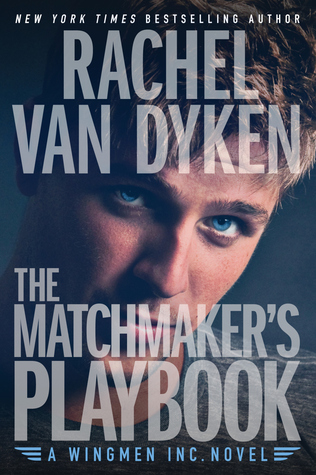 The Matchmaker's Playbook

by Rachel Van Dyken
on April 5, 2016
Pages: 290
Buy on Amazon
Goodreads


Wingman rule number one: don't fall for a client.

After a career-ending accident, former NFL recruit Ian Hunter is back on campus—and he's ready to get his new game on. As one of the masterminds behind Wingmen, Inc., a successful and secretive word-of-mouth dating service, he's putting his extensive skills with women to work for the lovelorn. But when Blake Olson requests the services of Wingmen, Inc., Ian may have landed his most hopeless client yet.

From her frumpy athletic gear to her unfortunate choice of footwear, Blake is going to need a miracle if she wants to land her crush. At least with a professional matchmaker by her side she has a fighting chance. Ian knows that his advice and a makeover can turn Blake into another successful match. But as Blake begins the transformation from hot mess to smokin' hot, Ian realizes he's in danger of breaking his cardinal rule.…
This book was SO much fun – I don't think I have ever laughed this hard reading a RVD book before. This book solidified in my mind that she can seriously do it ALL when it comes to writing books!
From the very first chapter, I was hooked. Who doesn't love a book about a good looking guy whose job is helping women find their match, and not only that, but to fall for one of his clients when he's not supposed to?! I was SOLD!
I loved Ian from the get go – yes he is arrogant and conceited and a manwhore but for me, I also saw the side of him doing good for women. Yes, doing good because he was helping these women find their confidence, pushing them in the right direction to talk to that guy that they never thought was obtainable. Besides this, when the reader finds out how he got the injury that changed the course of his career and future path forever…just WOW! *heart melts more* Ian is so funny and he had me laughing out loud in so many scenes.
In my opinion, Blake was his perfect match…the girl who doesn't know how to be a girl yet when she is transformed and doesn't even realize her beauty – I adored her completely! I loved even more that she could put him in his place.
So yes, this is a matchmaker book; a book about a guy pretending to be boyfriend so that the girl can ultimately get the guy she wants. Now I know you are thinking that this has been done before and while I agree because I have read a few of these books, The Matchmaker's Playbook was so much more. Rachel took this idea and added comedy, fun, characters that really developed and grew from the first page and pure entertainment. And not only that..she gave us secondary characters that readers would become invested in and want more of and I CAN'T FREAKIN WAIT!
The Matchmaker's Playbook is Rachel Van Dyken at her finest…heat, heart, and pure fun – readers are going to fall in love with this well written, addicting read. This is definitely a top favorite of 2016!