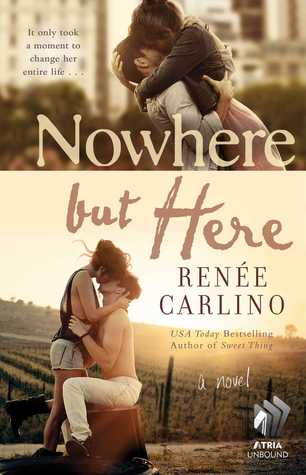 Nowhere but Here

by Renée Carlino
on May 5, 2014
Pages: 320
Buy on Amazon
Goodreads


A Chicago reporter in her mid-twenties unexpectedly finds love in Napa Valley when she's assigned to spend a week with a famously reclusive genius.

Kate Corbin has lost her spark. From the outside, her life seems charmed. She has a handsome, long-term boyfriend and a budding journalism career at a popular Chicago newspaper. But in reality, her relationship is going nowhere, and she's quickly losing motivation for what she once believed was her dream job. When her boyfriend dumps her unceremoniously, Kate loses all hope of finding love.

With no living family and few friends, Kate confides in her boss. Trusting that the hungry, ace reporter is buried somewhere deep inside, he gives Kate the opportunity to jumpstart her career. The assignment: to interview the famously reclusive R.J. Lawson, a wealthy tech genius who disappeared years ago but recently reemerged as a Napa Valley vintner. The week takes an unexpected turn, however, when Lawson refuses to divulge any information. Desperate for a lead, Kate turns to Jamie, a vineyard hand who shows her the romance of wine country—and stirs her aching heart. But his connection to Lawson is ambiguous, and when Jamie disappears before the end of the week, Kate is left to investigate another story: the truth behind the man who stole her heart.

USA TODAY bestselling author Renée Carlino explored love and heartbreak in her beautifully written debut Sweet Thing, and her newest novel does not disappoint. For fans of Colleen Hoover, K.A. Tucker, and Katja Millay, Nowhere But Here is a stirring and satisfying romance that you won't want to put down.
So I have to say while I adore Renée Carlino's prior books, I simply LOVED Nowhere But Here!
As the blurb states, Kate is a journalist writing for a big Chicago newspaper who has lost her edge and her boss sends her to Napa Valley to interview the billionaire reclusive winery owner R.J. Lawson to hopefully get her career back on track.  I honestly didn't care for Kate's boyfriend and am so glad that she is being sent on this assignment because I truly feel hearing some of her inner thoughts that she needs to find herself, find her confidence and live for herself rather than for a guy who doesn't seem to put so much effort into their relationship.
I have to say that Ms. Carlino did an amazing job painting a beautiful picture of Napa Valley; creating such imagery combined with such a great story that as I was reading the book, I could see every scene in my mind as the book progressed.  This was really so well done and just added another layer to this book that I loved!
Kate's first visit to the winery has her literally crashing into Jamie, an employee of the vineyard.  I LOVED the interactions between Jamie and Kate, each one had me smiling at the sweet bantering between them.
Unfortunately Kate's interview with R.J Lawson doesn't go as planned and she must rely on Jamie and the other vineyard employees to fill in the missing information for the story that she has to write.  Which wasn't necessarily a bad thing since I fell for Jamie at hello 🙂
This book for me was PURE blissful romance.  So eloquently written, poignant and simply beautiful.  This story was so refreshingly different from what's out there now, the setting so new and the characters so well developed that I enjoyed every moment I spent with them.
Jamie has a secret side that I kinda had a suspicion about as I read the book but even when the secrets were revealed, I was still completely captivated and immersed into the story. Though the characters only knew each other for a short time, I do believe in love at first sight or at least a connection that is there that makes you feel tied to a person.  Call it fate or destiny but all of this worked for me.
Once these secrets are revealed to Kate, will she be able to trust Jamie again with her love and heart?  Will Jamie be able to win the love of his life back?
You will have to read this book to find out! 🙂
This was a beautiful and heartwarming journey of finding true love.  There wasn't any unnecessary drama or angst – just complete romance.  The kind of romance that gives you butterflies in your stomach, that tingly feeling all over and a huge smile on your face.  Nowhere But Here is about loving deeply and "that there is no where else in the world than being by your loved ones side.  Nowhere but here where you can be more whole and genuinely yourself than being with the one you love."
If you are looking for something emotional, where you can truly experience what the characters are feeling through the beautifully written words of an amazing author, complete with a wonderful epilogue that will give you a sense of completeness, then look no further.  You won't regret it!