by C.D. Reiss, Tahereh Mafi


I took a break from my scheduled To Be Read List this week to enjoy my time with my children and to read just for fun. It's been a long time since I have been able to take a break to just read something I bought that has sat on my Kindle (for a LONG TIME) and I was excited to deviate from my schedule for a bit. My summer reading snippets aren't full reviews but just a short comment or two about my thoughts….I read two VERY different series this week….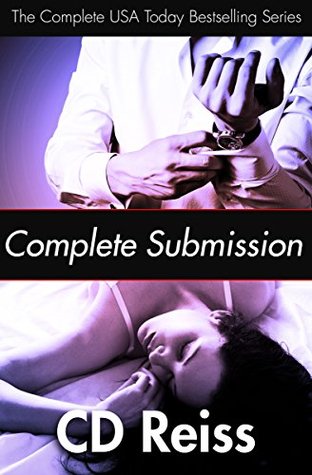 All eight books of The Submission Series in one bundle. A $24 value that will disappear very soon. Get it while it lasts!
Jonathan Drazen.
Gorgeous. Check.
Charming. Check.
Smart. Check.
Rich. Hey… I'm not gonna complain.
All the ingredients for a few nights of mind-blowing pleasure are right there. He's made it perfectly clear he can't love me, and I'm not out to fall in love either.
But I can't stay away from him. He's got this bossy way about him in bed. The word "Sir," falls from my lips, and when he tells me to get on my knees…well, my knees have a mind of their own.
I got this. I can be his slave for a few nights and walk away unscathed.
We get in. Get it on. Get the hell out. Done.
He knows the line between love and lust. It's right between my legs. Now, let's see if that line blurs for me.
Add to Goodreads

I started off my week with CD Reiss's Complete Submission series (Songs of Submission #1-8) and I was so excited to read the complete series (though I still have to go back and read Coda!) I am not a huge fan of serial novellas so am so glad that I had a chance to read this as a whole together. This series is about the relationship between aspiring singer Monica Faulkner and billionaire businessman Jonathan Drazen.
I LOVED the instant connection between these two, that spark of something more and as their relationship grows into a physical relationship, their sexual connection is simply magnetic. Normally I am not  a fan of insta attraction but when done right, I am completely captivated and CD Reiss really made it work. What starts off as a casual Dom/Sub relationship grows as the series continues and I enjoyed reading from both POV of Jonathan and Monica so that we, the reader could watch them fall for each other, feel their protectiveness for one another and even more so, feel the anticipation, the want and desire that they feel for one another. CD Reiss writes the best foreplay EVER! Yes, Jonathan has an ugly past that at times makes him push Monica away but I couldn't imagine 2 people more perfect for one another in every facet of their being.
Ultimately this story is about a woman's acceptance of submitting herself to the man she loves, being comfortable with being in this type of relationship knowing that he will do everything he can to love and protect her. And vice versa, it is also about the struggle of a man, who despite his past is willing to not only fight for the woman he loves but to also in some sense change his ways to be able to become the man that she needs.
Sexy, erotic and boundary pushing – Reiss knows how to seduce the reader into wanting more and the next time I have a break in reading, I can't to pick up Coda to see how this couple will grow.
4 STARS!
♥READ THE SERIES♥
Beg Tease Submit – Books 1-3: Submission Series Bundle #1
Control Burn Resist – Books 4-6: Submission Series Bundle #2 (The Submission Box Set)
Sing Coda Dominance: Submission Series Bundle #3 (Songs of Submission Bundles)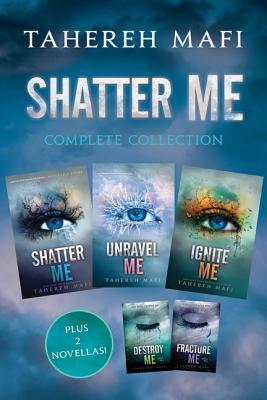 The Shatter Me series is perfect for fans who crave action-packed young adult novels with tantalizing romance like Divergent by Veronica Roth, The Hunger Games by Suzanne Collins, and Legend by Marie Lu. Tahereh Mafi has created a captivating and original story that combines the best of dystopian and paranormal and was praised by Publishers Weekly as "a gripping read from an author who's not afraid to take risks." This collection includes the three novels and two novellas in the series.
Shatter Me: No one knows why Juliette's touch is fatal, but The Reestablishment has plans for her. Plans to use her as a weapon. But Juliette has plans of her own. After a lifetime without freedom, she's finally discovering a strength to fight back for the very first time—and to find a future with the one boy she thought she'd lost forever.
Destroy Me: Set after Tahereh Mafi's Shatter Me and before Unravel Me, the spellbinding sequel, Destroy Me is a novella told from the perspective of Warner, the ruthless leader of Sector 45.
Unravel Me: Juliette is still haunted by her deadly touch. But now that she has teamed up with other rebels with powers of their own, she'll be able to fight back against The Reestablishment to save her broken world. With the help of these new allies, she'll also finally learn the secret behind Adam's—and Warner's—immunity to her killer skin.
Fracture Me: In this electrifying sixty-page companion novella to the New York Times bestselling Shatter Me series, discover the fate of the Omega Point rebels as they go up against The Reestablishment. Set during and soon after the final moments of Unravel Me, Fracture Me is told from Adam's perspective.
Ignite Me: With Omega Point destroyed, Juliette doesn't know if the rebels, her friends, or even Adam are alive. But that won't keep her from trying to take down The Reestablishment once and for all. Now she must rely on Warner, the handsome commander of Sector 45. The one person she never thought she could trust. The same person who saved her life. He promises to help Juliette master her powers and save their dying world . . . but that's not all he wants with her.
Add to Goodreads

This was the first time I have ventured into a Dystopian type of read and while I enjoyed some aspects, there were many things about this series that didn't work for me.
I completely LOVED how the series started out in Shatter Me where we meet Juliette, a girl whose touch is deadly, who is held captive in a cell by The Reestablishment, a new regime looking to change the world to follow their rules. The first book in the series completely captivated me..I felt as though I was watching a movie and I could feel the excitement, the heart palpitations, the anguish and hopelessness. Though when we are introduced to Adam, Juliette's cellmate, the first person to treat her with kindness in years, I felt that sliver of hope that Juliette for once could come out of being so isolated and finally have a friend (maybe even more?).
In Shatter Me, we are introduced to a number of characters including Warren, the leader of The Reestablishment. I have never hated anyone more after first meeting him. When we learn of his plans for Juliette, his ruthlessness, his greed, I hated him with my soul. Destroy Me is his novella where we learn more about his history with his father, the loneliness and abandonment. But from this novella on, I could see what the author had planned out for the remainder of the series and it just went downhill from here.
You see for me, I WANTED it to be Adam – so strong and secure and protective in book 1, who slowly morphed and did a complete 360 into someone who had no depth, was annoying and whiney. While I enjoyed the "newness" and "different" of this series, the writing was spot on, I couldn't help but feel heartbroken that an author would change someone so completely so that readers would want the underdog, someone who I never even saw with Juliette despite maybe them being more alike than what we originally thought.
Yes, this series is about the imminent war, the plight of these people to overcome the destruction of their world as they know it, the fight for the greater good, but in the end, all of that hype and build up was all for nothing as the ending was rushed and was just meh for me. I know I am focusing more on the romance/relationship aspect but it was such a huge downer for me that it completely turned me off.
The writing for the Shatter Me series was definitely good and I would read this author again. I am sad that this series didn't work for me like it did for so many others.
2.5 STARS!
Shatter Me Complete Collection: Shatter Me, Destroy Me, Unravel Me, Fracture Me, Ignite Me