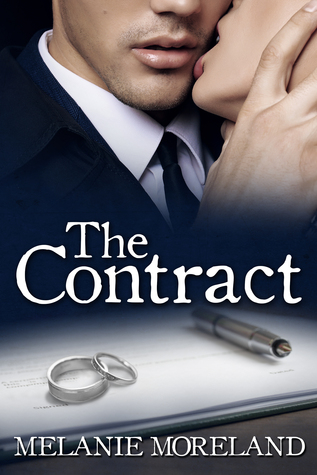 The Contract

by Melanie Moreland
on May 24, 2016
Pages: 371
Buy on Amazon
Goodreads


A tyrant by day, a playboy by night. That is the reputation that precedes Richard VanRyan. He lives life the way he wants, no concern for the opinion of others. He cares for no one, is completely unrepentant, and he has no desire to change his ways.

Katharine Elliott works under Richard as his PA. She despises him and his questionable ethics, but endures all the garbage he sends her way, because she needs the job. Her end goal is far more important than the daily abuse and demands she tolerates from her nasty tyrant of a boss.

Until the day, he asks her for something she never expected. A new role with a personal contract — fiancée instead of PA.

What happens when two people who loathe each other, have to live together and act as though they are madly in love?

Sparks.

That's what happens.

Can the power of love really change a person?

Will they survive the contract?

What do you do when the one person you hate the most becomes the one person you can't live without?
I want to say I adored The Contract!
The blurb caught my eye when the book first released but due to prior commitments, I couldn't dive right in. I then watched this book soar to the New York Times list and stay there and on the USA Today Bestseller list for weeks, all while numerous reading friends whose opinion I value, were raving about it. It made me want to read it even more and yes raised my hopes even higher… well this book did not disappoint!  Because as I said I adored this book. The book opens is Richard's male POV and captivated me from almost the moment I starting reading. It kept me wanting to read and engaged as the story unfolded.
This plot was so well done; I truly believed that these two would enter into this arrangement. Why you ask with all the books about contracts and arrangements would I believe this one? Well, because the reasons make sense, they were crafted as powerful drivers and motivations for each character.
Richard was an amazing male lead. Was he always kind? No, but he was true to the character created and the way his professional life wove into the book worked to portray who he was and why he does what he does.
As the story unfolds, the reason why Katharine does much of what she does and the explanation for many of her actions and reactions early on in the book will touch your heart!
Both characters backstories enabled the readers to see why they are how they are when we meet them and their coming together helps the reader understand that who they become together is just what each was meant to be; really playing into your partner can help you become a better version of yourself.
Richard's career and those who are a part of his professional life are masterfully used to move this book forward and in the resolution at the end.
Ms. Moreland has truly touched me with this story and her gesture to readers after this book's success touched my soul… She wrote a bonus for her readers, a thank you of sorts titled The Baby Clause and then donated the proceeds to charity. I was honored she chose the Keith Milano Memorial Fund as the recipient of that generosity.

★¸¸.•*¨*•★ BUY THE BOOKS ★¸¸.•*¨*•★
Book 1 – The Contract
Book 1.5 – The Baby Clause